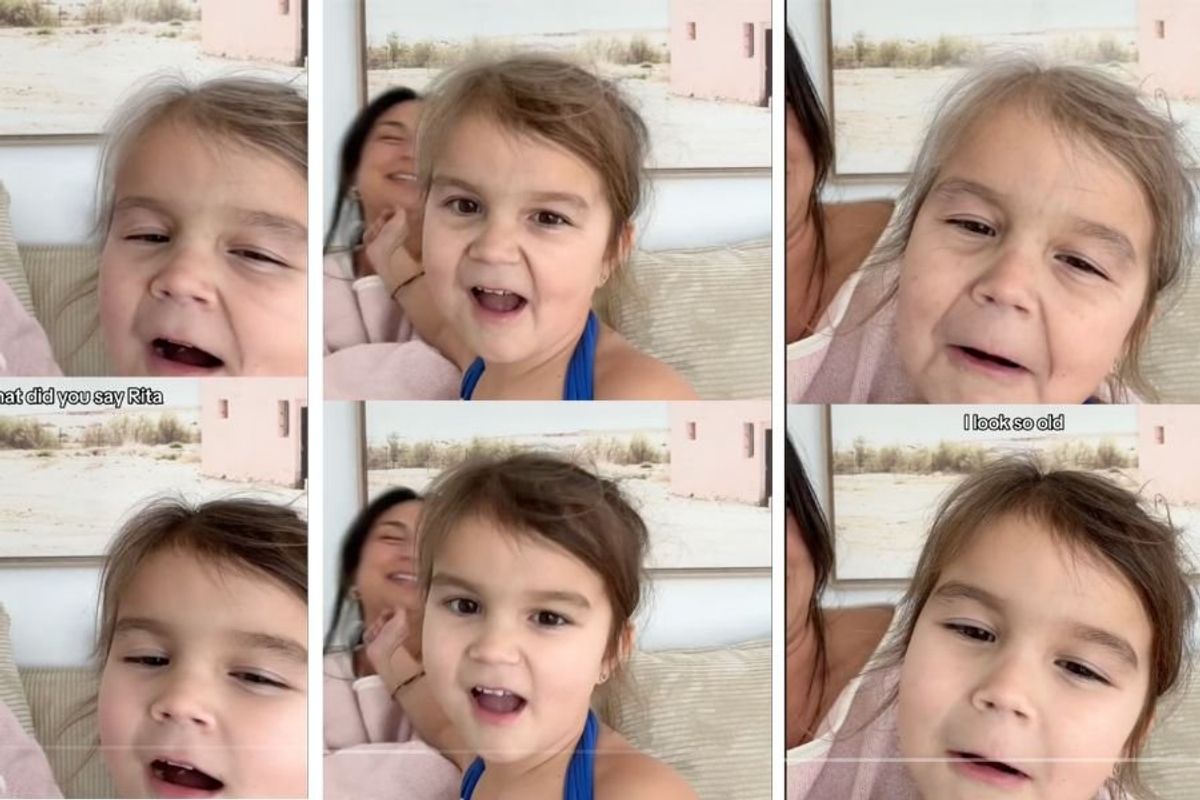 No doubt you've seen people reacting to TikTok's "aged" filter, which shows users what their face might look like many years into the future. It uses the same AI technology that creates those mind-bogglingly realistic beauty photos with zero imperfections or signs of aging, but turns the concept on its head. Less glam, more gray hair and wrinkles.
Generally speaking, the reactions have been…less than welcoming. From celebrities to beauty influencers to just regular folks, this filter has unlocked some deep-seated fears and shame towards aging that continue to exist no matter how much we shout the mantra of "SELF LOVE" from the rooftops.
However, a 5-year-old girl is having the time of her life "aging" herself up, and it's every bit as refreshing as it is wholesome.
---
In the clip, which has already racked up over a million views on TikTok, the girl shoos mom out of the way before impersonating a granny.
Not just any granny, but "Rita," an old lady persona that the cartoon character Bluey puts on as a game with her sister Bingo, who goes by "Rita" during their play pretend time. Yeah, she's impersonating an impersonation. Meta.
"What did ya say Rita..? Pass me my glasses," she says in her best old lady voice, squinty eyes and all, followed by countless giggles.
"The way she knew exactly what to do with this filter. 95 and 5 all at once," her mom wrote in the video's caption.
@reviejane

The way she knew exactly what to do with this filter 😭😂 95 and 5 all at once.
For both this little girl and the granny segments from "Bluey," the dread and disgust is replaced by pure joy and a playful embrace of life's later chapter.
Sure, there's the argument that it might feel a lot more "fun" just pretending, rather than actually experiencing the effects of growing older. But there are also plenty of people in their Golden Years who report feeling healthier, more confident and more fulfilled, so our attitudes toward aging, deeply ingrained as they are, aren't completely accurate.
And perhaps more importantly, can we just not let a filter ruin our day? No matter how realistic it might be, it still doesn't necessarily predict the future. So why not do as the kids do—throw on a granny voice and simply enjoy seeing ourselves through a different lens. It all has value.