Sunseekers, hello! After a little bit of a gap to attend, and subsequently recover from, the great summer vacation destination of the NBA world in NBA Summer League – and then, more refined, WNBA All-Star – we're (I'm) back!
It's been a busy few weeks since we last caught up here and got each other's backs with sunscreen. Most notably, some of the league's biggest stars finally went on vacation! A few to the chagrin of their waiting fan bases, and salivating hopeful future fanbases, because their names are tied up in trade rumors. However, as you know, we don't give a good beach pergola to that kind of stuff here. So please, sit back, imagine you're on a lazy river, and let's dive in.
Damian Lillard
Dame Time said it's Break Time and whisked his beautiful family away for some fun in the sun that included infinity pools, jet skis, golf carts, palatial green lawns in full view of the ocean, and zip lines. I can't and don't ever want to stop watching this video of Lillard slowly rolling (how is he going so slow, isn't the point of those things to go fast? The sheer physical mastery of this man!) down a zipline in sunglasses like he's casually dropping into the most impossible mission of all – having the time of his life.
Rating: Come for the slow zips, stay for the shadow boxing to get himself amped for the slow zips.
Jimmy Butler
https://www.instagram.com/jimmybutler/?hl=en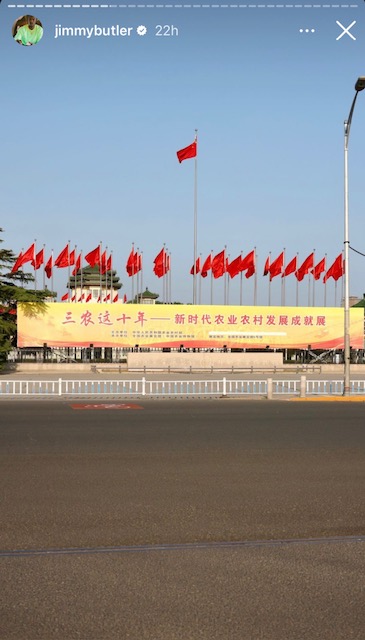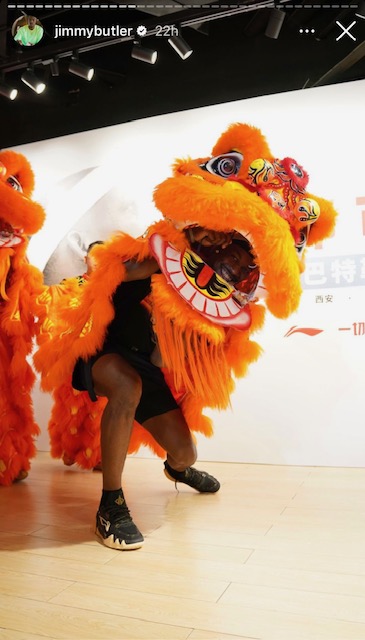 We love our coffee king turned communist king, don't we folks! Jimmy Butler has been in China for what feels like weeks now, as part of his Li Ning partnership. There have been plenty of red flags whipping in the wind, meeting fans, good food, Jimmy dancing as a traditional dragon, and shoes getting thrown at Jimmy's head. Jk, that only happened once and it just seemed like someone got too excited.
Rating: Zhù nǐ yǒu gè yúkuài de xiàtiān! I think.
Devin Booker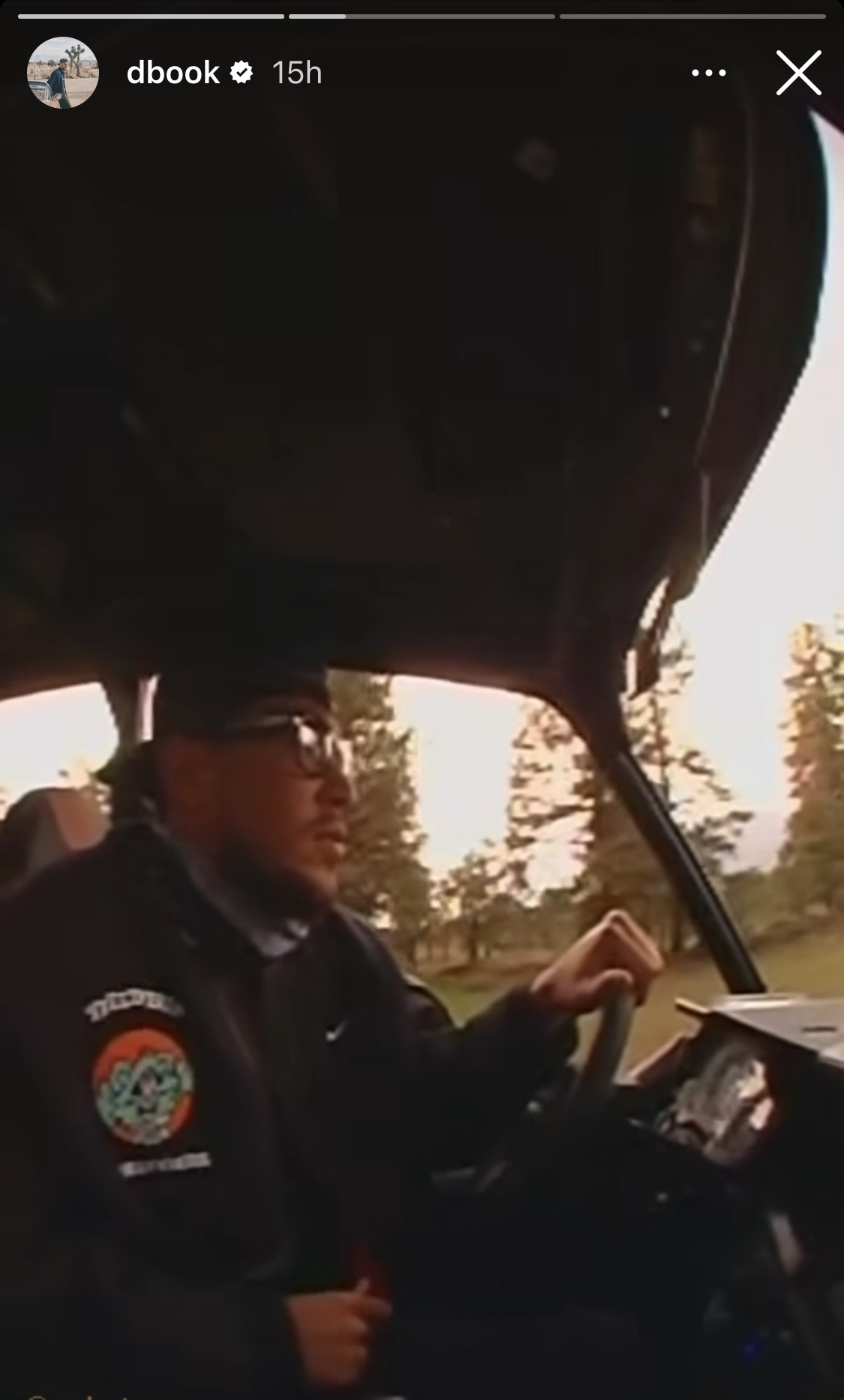 Booker continues his flair for rustic ass trips unbated. This time, he hopped in a dune buggy and trundled around some dirt trails, recording it all the while in a filter that made it look like he was in a Nirvana music video.
Rating: Smells like gasoline fumes and probably pine needles.
Paul George
Podcast P was vacationing in and around Perast, in Montenegro. There, he took a helicopter ride.
Then met a little cat at dinner.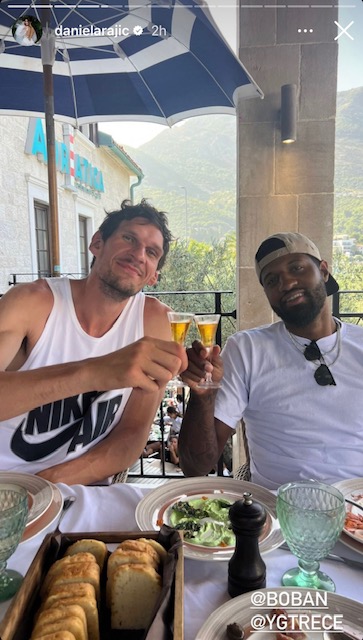 Then, and most importantly, met up with Boban! If there was ever a photo that made you want to believe in a simplified concept of heaven, that is, where people are just waiting for you somewhere nice and smiling when you get there, this one is it.
Rating: Why is the bread box so big and the glasses so small? Who cares, it's heaven!
Donovan Mitchell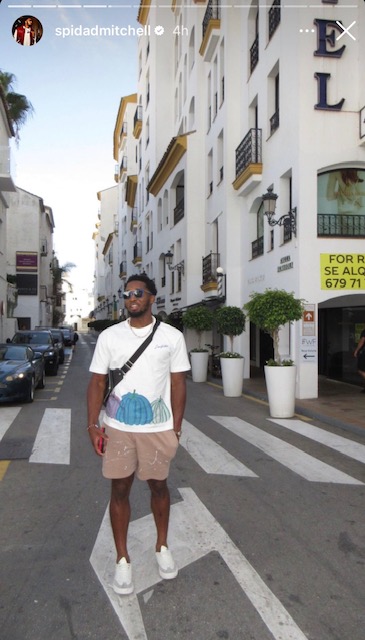 Mitchell was taking part in the NBPA's The Sanctuary program, but once school was out, he took to the Spanish countryside with real emocion.
He made stops in Barcelona, Madrid, got on stage with Arcángel, and has since bopped over to Milan.
Rating: This is really making the most out of a work trip, and we applaud him for it.
Ben Simmons
Nothing like a batch of "Ben Simmons is fishing" photos to let us know that while the natural world may be crumbling around us, the NBA universe is balanced.
Rating: "Catch n cook kind of day" feels like an ominous Bumble caption, but he's put it over the ubiquitous Bumble photo to save everyone some time.
D'Angelo Russell
DLo and his cute fam went to Croatia, and a lot of Lakers fans got upset because he didn't sign his deal yet. Like, DoN'T tHey HaVe DoCuSigN? Like, I'm sure they do but I hope they don't. I hope they've never heard of it. I hope the concept of digitizing a contract and signing it with a generic signature that isn't even your own doesn't exist here and never does. But if they, and by extension D'Angelo Russell, finally do hear about it, this is the photo of him before he launches himself into space because you ruined his vacation.
Rating: Hope you're happy.
Bam Adebayo
Birthdays themselves don't typically make it into SVW, but when you live in Miami and your birthday happens on a boat, where you happily sway toward your birthday cupcake tower and spend a very picturesque hangover the next day, they do.
Rating: The puke emoji really is the icing on this cupcake tower.
Trae Young
Trae Young got married! Quavo performed! His public photos aren't that wild so let's move onto his teammates who were in attendance!
Rating: Trying to decide if a Knicks fan could still do the F Trae Young chant here, but sincerely, like, choking up?
Clint Capela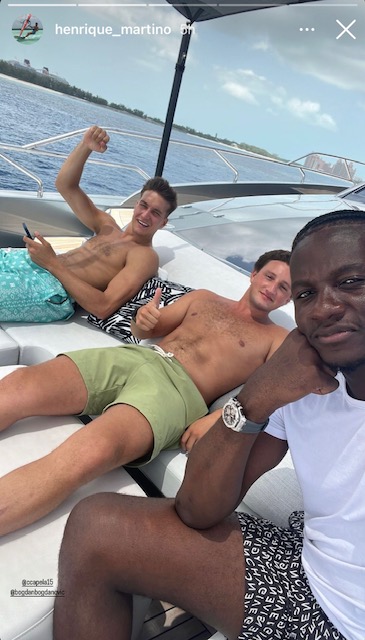 Clint Capela did go to the wedding but before that he also took a cruise around on a boat with Bogdan Bogdanovic. Then posed and caught up with friends and work colleagues at the wedding, like De'Aaron Fox.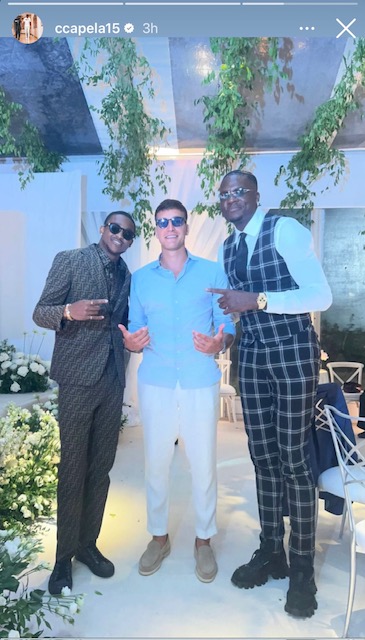 And then he cut a fuuuuuucking rug (captured by Dejounte Murray).
Rating: Look at those goth boots! One unsung hero of summer vacation colliding with a summer wedding is just pulling out the wildest outfits that time, space and occasion would otherwise never allow.
Furkan Korkmaz
I don't really know what to do with this sunglasses dump by Korkmaz other than to say POV: you reading NBA SVW.
Rating: So thanks, Furk, and merry Korkmaz!
Jeremy Sochan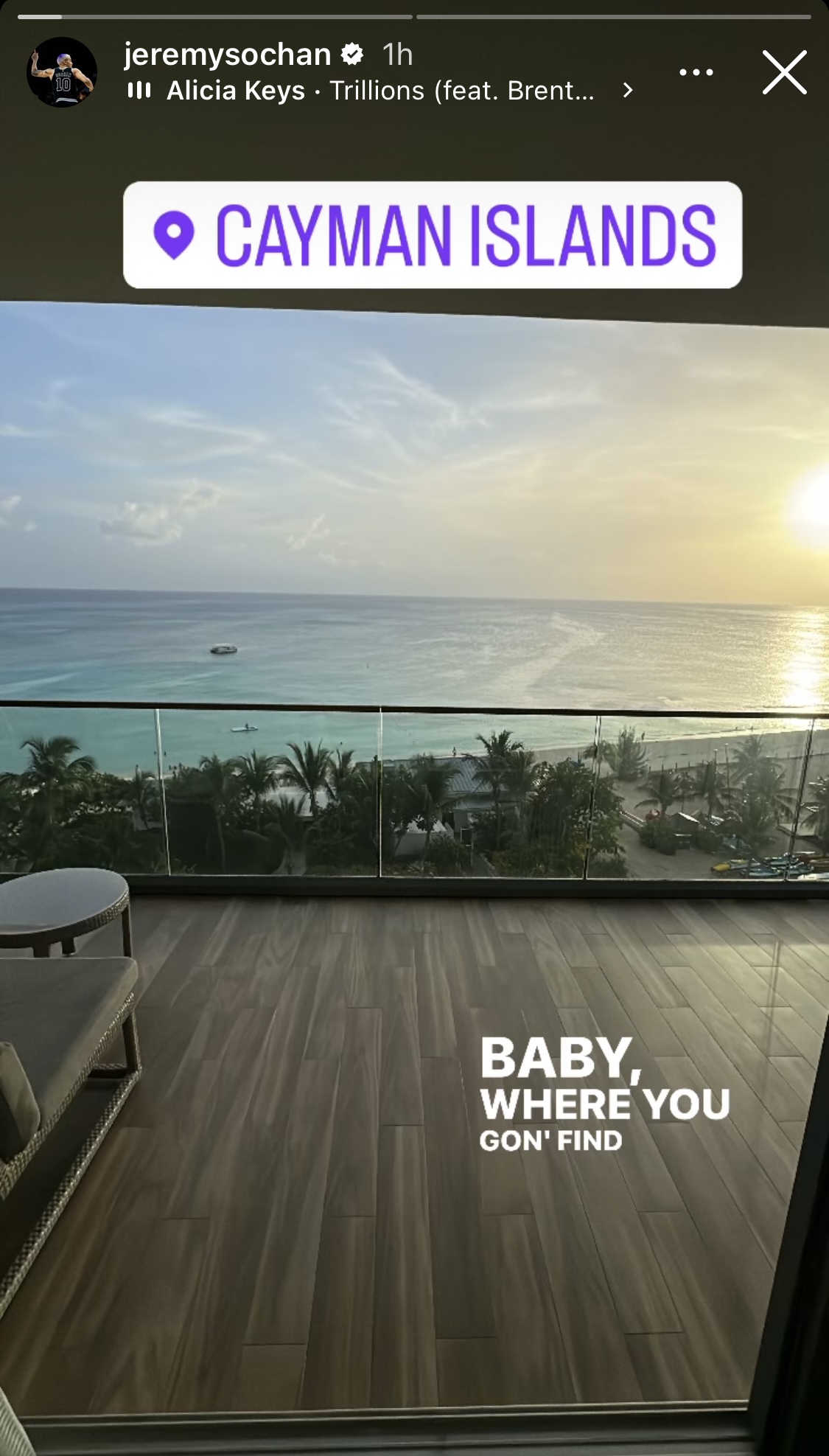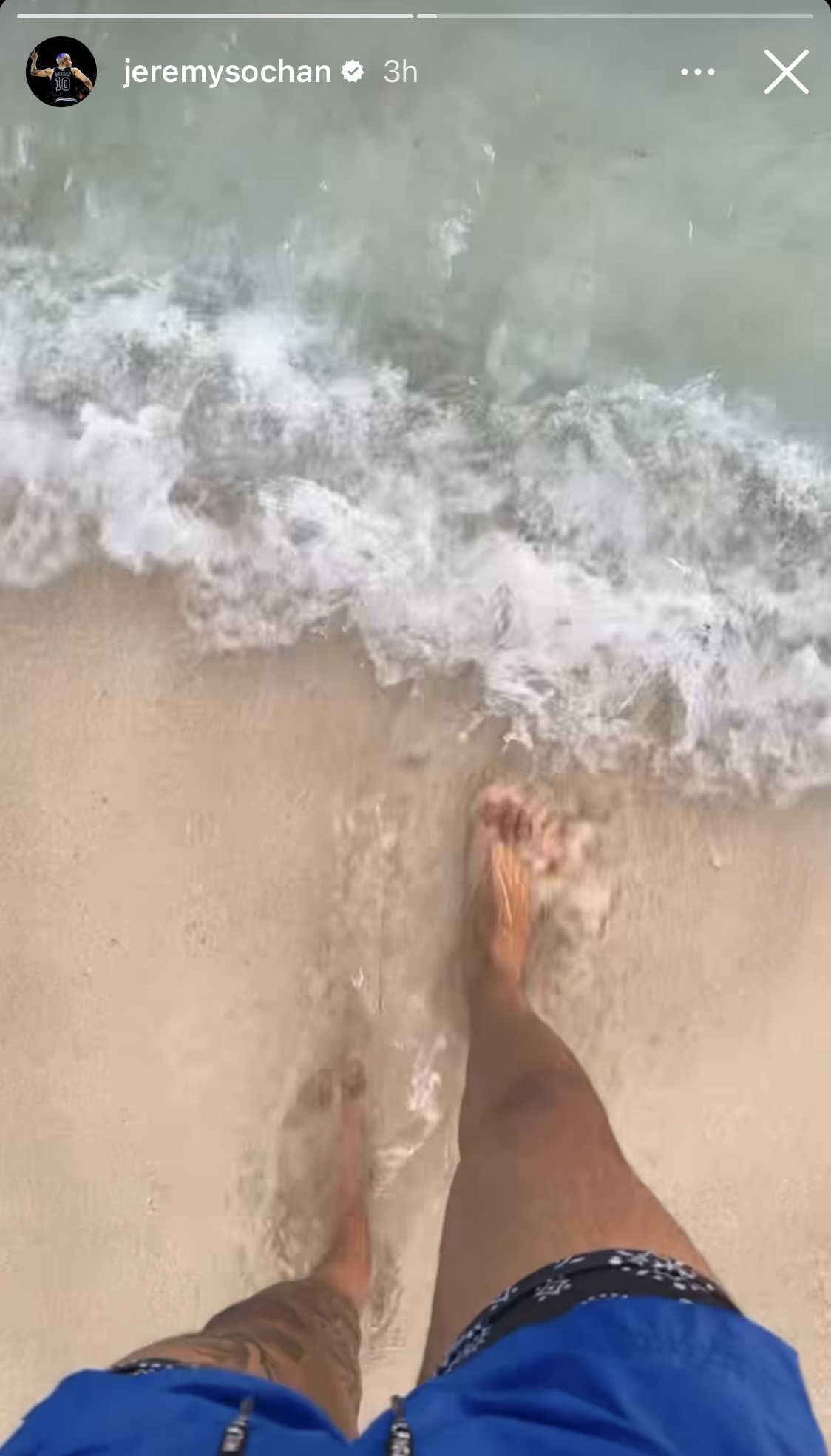 Sochan took a trip to the Cayman Islands and unselfconsciously filmed himself walking into the ocean, which as far as filming yourself walking into the ocean goes, is probably 2nd or 3rd on the list.
Rating: For the full draft, and redraft, you'll have to read this column every summer for the rest of your life.
Pascal Siakam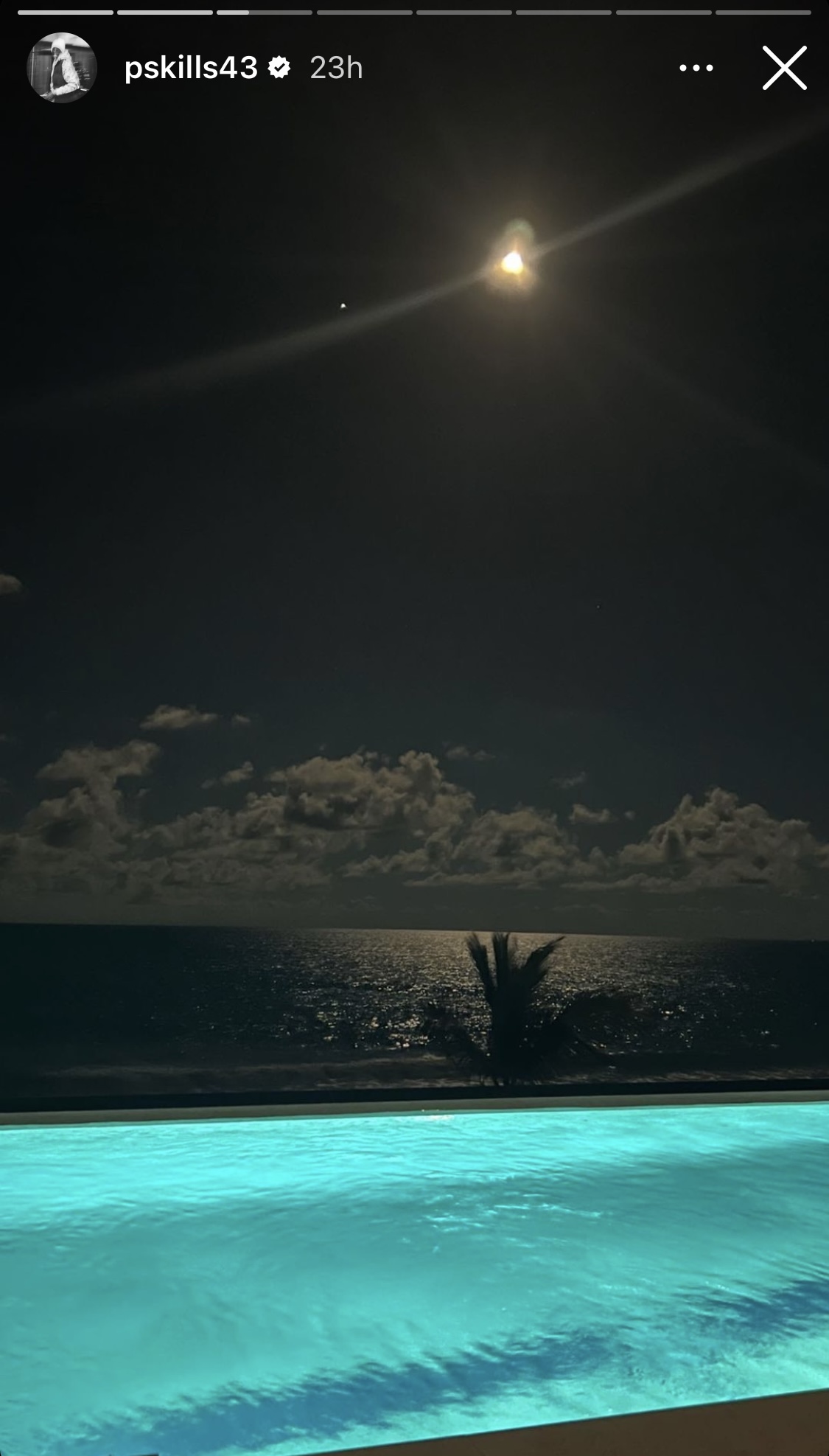 Frankly I think it's pretty smart to just straight up extend your summer vacation when the franchise you belong to starts tossing your name around in trades, and your best friend and longest running teammate decides to leave the country and go play, basically, at the bottom of the same continent you're on.
Rating: Ladies, we know a introspective full moon pic when we see one, don't we!
Boban Marjanović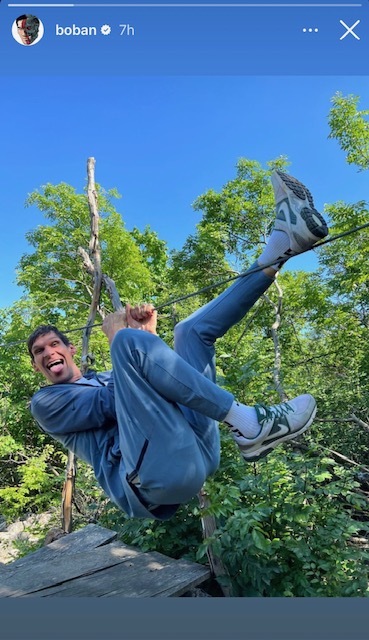 Other than making a cameo in Paul Geroge's vacation and making me briefly consider the concept of heaven, Boban Marjanovic is having a pretty sweet summer unto himself. He went ziplining too, and while it's unfortunately not a video I have to think he went a bit faster than Dame.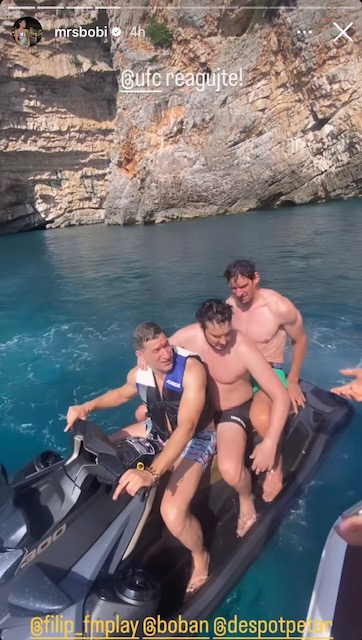 He piled on a jet ski for a Banana Boat Euro remix (yes, the guy driving is bleeding from the head).
And he, a fellow sun seeker, took in the sun.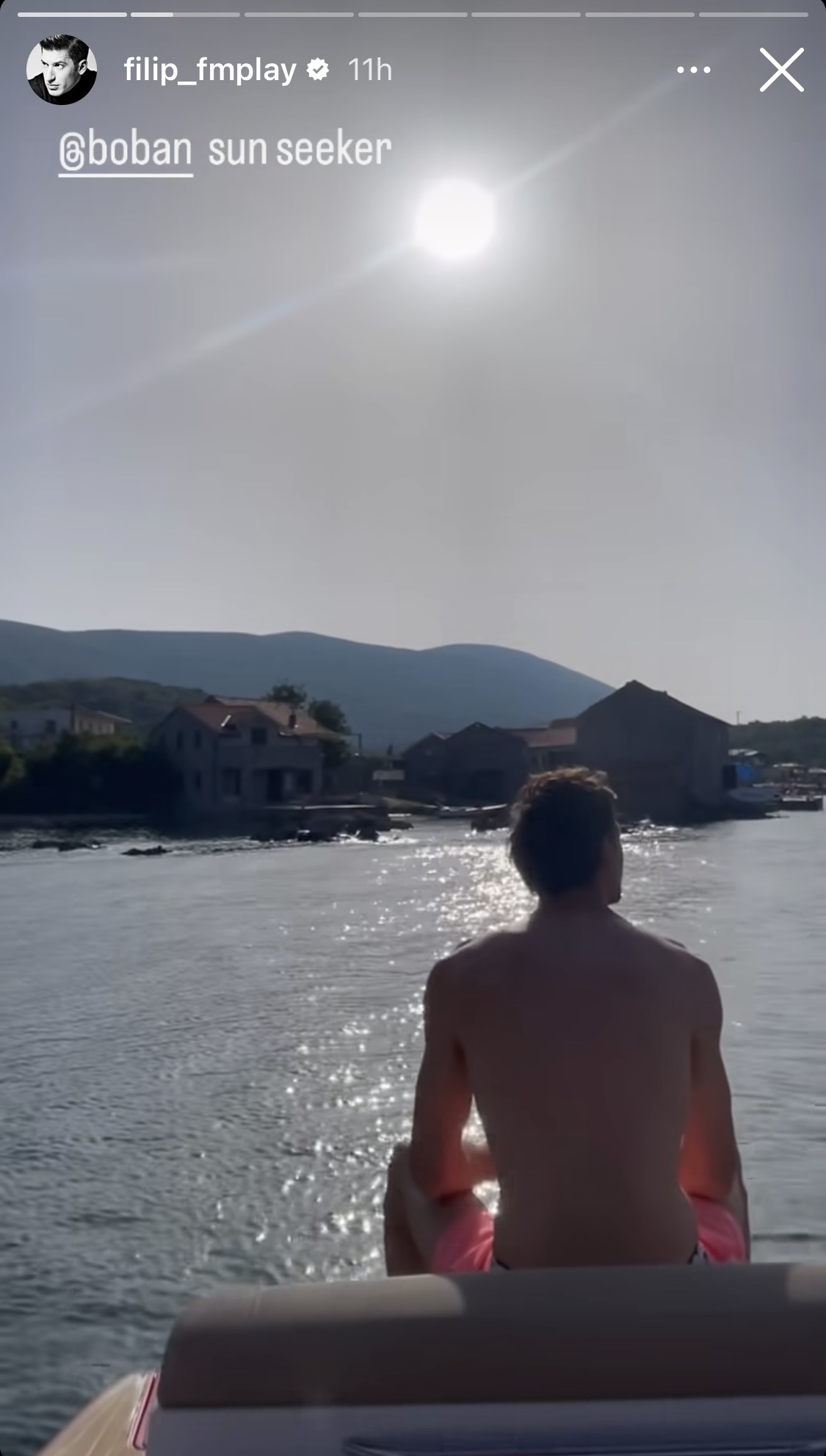 Rating: And it's not even August!
Reggie Bullock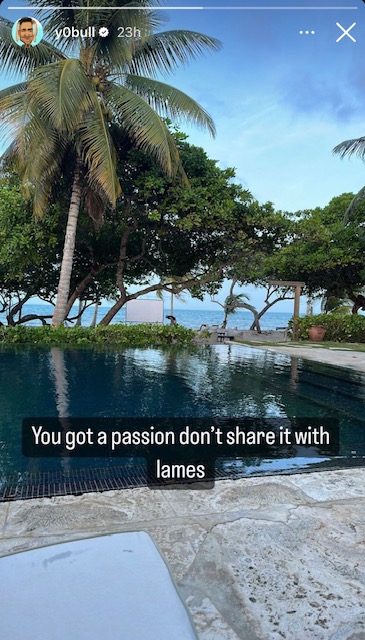 Thank you Reggie.
Rating: I'm glad he didn't extend this to "vacation", because the lames need them to be shared.
Serge Ibaka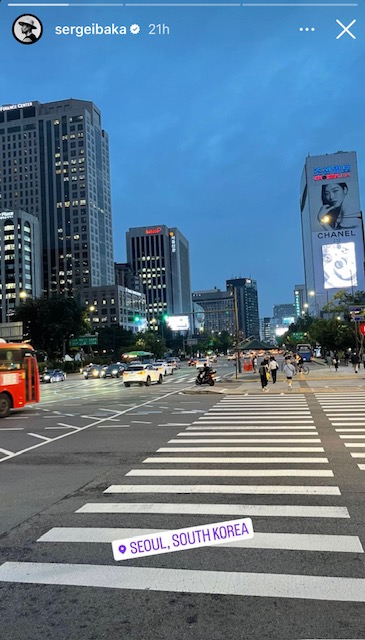 Serge is in Seoul! Not sure why but you know he was looking good and mysterious and probably figuring out how to up his skincare regime.
Rating: If that's even possible????
Myles Turner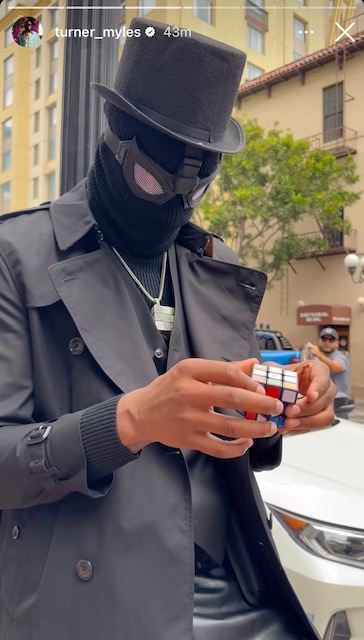 Big news: Myles Turner went to his first ComicCon! Turner, who is a self professed huge nerd, loves lego, Star Wars, and I think some to most of Marvel, so I'm not sure why he dressed up like a goth mime, but it looked like he had a wonderful time.
Rating: I know this character must have something to do with puzzles etc., and while I'll spend way too long geolocating a specific stretch of turquoise waters to figure out where a guy is roving around on a borrowed yacht, I won't look this one up.
Norman Powell
The boy's trip we brought you last dispatch was still going strong, which is great because it gave Powell a chance to bust out all the matching vacation sets he packed.
Rating: Truly nothing worse than not having enough occasions on vacation to wear all your little vacation outfits on!
Jusuf Nurkic
Nurk alert! The big fella was chilling, most likely, on the Adriatic Sea, or else on the shores of a gorgeous Bosnian lake. Look at this sherbert set! Look at this tan! Look at that tiny car and picture him getting into it!
Rating: Tell me it's Leo season without telling me it's Leo season!
Terry Rozier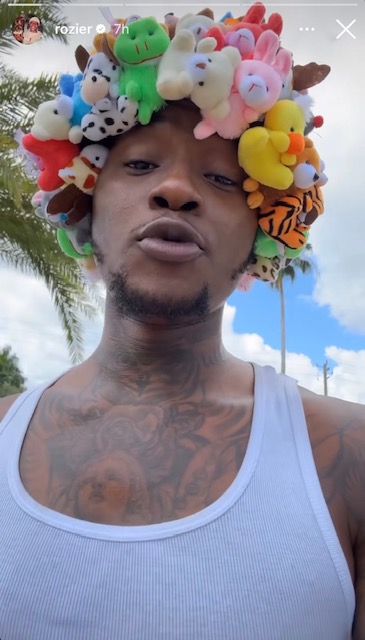 Scary Terry, whomst???
Rating: New NBA heaven is missing one angel.
Frank Ntilikina
May I please draw your attention to slides 2, 5, and 8. If the Tour de France could turn into whatever blissed out bucolic straight out of an Agnès Varda film scene this is, I would start to build bicycles.
Rating: Fun in the grind Positive energy only
Marco Belinelli
Yeah yeah, he's not in the league anymore but is there anyone, anywhere, who doesn't want to know what Marco Belinelli is getting up to in his summers? And can you imagine that person, how bummed out they would be if they found out it was THIS and nobody told them??
Rating: Just happy for them they have this column, and happy for this column that we have Marco Beinelli, shark boy.
Dwyane Wade
Admittedly I watched this one with a bit of a strained smile, like when you watch your parents doing an adventurous (for them) activity and you don't want to betray your concern, because you don't want them to accidentally catch you and go, "What, what?!" and them to take a tumble.
Rating: I know Dwyane Wade can't see me.