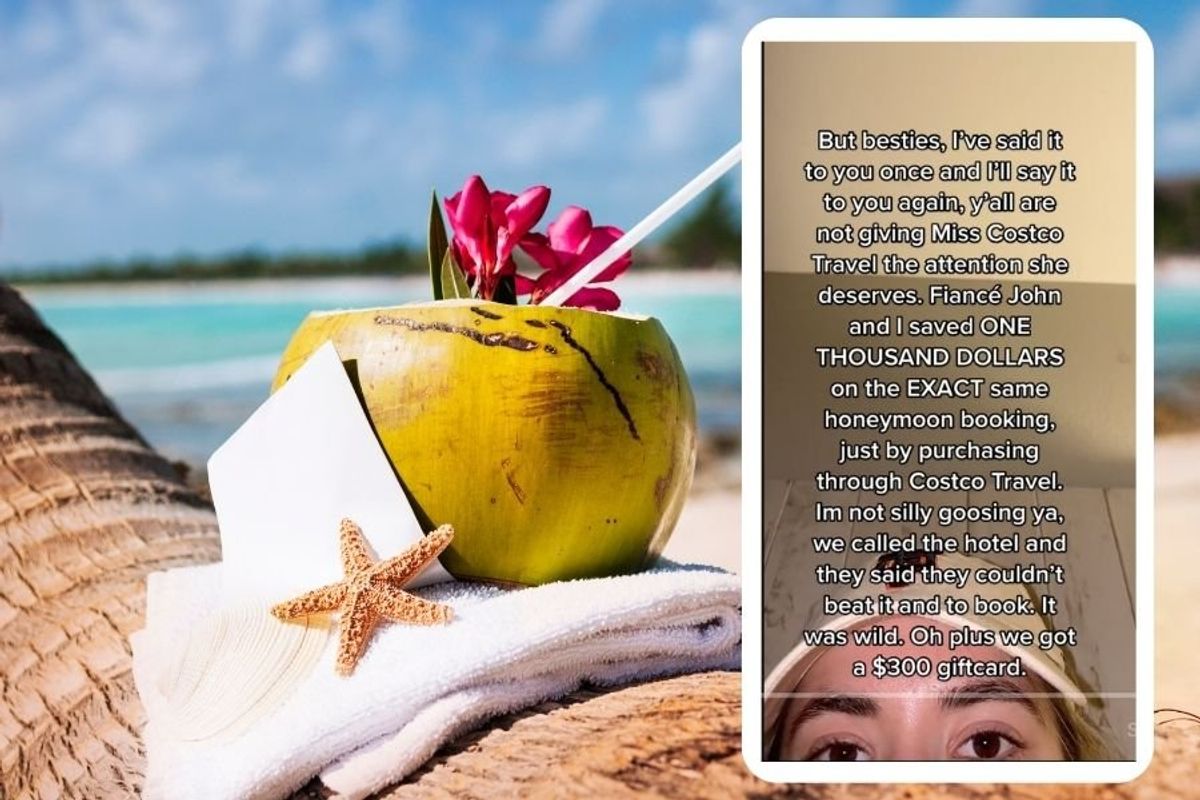 Costco has earned a passionately dedicated following thanks to offering a plethora of quality items at cheaper prices. Legendary cakes, generic products that truly rival their name-brand counterparts, the eternal $1.50 hot dog and soda meal combo…the list goes on and on.
Seemingly anything can be purchased at this magical place without breaking the bank. Even destination honeymoons.
Budget-savvy TikTok creator Avery Perkins recently shared with her thousands of followers how she and her fiancé John Weakley were able to save $1000 on a decadent honeymoon package thanks to Costco Travel.
Actually, make that $1300 with the bonus gift card they received.
---
Costco Travel is a lesser-known member perk that curates vacation packages at a heavily discounted rate. That includes hotels, cruises, theme parks, rental cars, airfare and more. Basically, it's the same bulk-buying concept as purchasing 50 rolls of toilet paper, only applied to galavanting across the globe.
In an interview with Insider, Perkins shared how she and Weakley had heard of Costco Travel but never actually used it until they began planning their honeymoon trip to island of St. Lucia in the Caribbean. The vacation package they settled on was going to cost them $8,700.
Their pastor, who had just returned from a trip to Italy, recommended they try booking through Costco. There they found a resort package identical to the one they had seen elsewhere for $1000 less.
Shocked, Perkins called the hotel to make sure this was the real deal. It was.
"I called the resort itself and I said, 'Hey, is this legit? Is there some caveat or do I need to listen to some presentation or something to save this money?'" Perkins told Insider. "They're like, 'No, not at all. Actually, we can't beat it. The moment you bring up Costco, we just bow out and say, look, we can't price match it, so just go ahead and book through Costco."
Hence why Perkins posted her TikTok, because people "are not giving Miss Costco Travel the attention she deserves."
Of course, this option does come with a few caveats and might not be for everyone.
For starters, Costco Travel doesn't use low cost-carriers like JetBlue or Spirit, meaning you could possibly get a better deal on a package that does offer flights with those airlines. Similar situation for rental cars—it only books through Alamo, Avis, Budget, and Enterprise—and hotels as well.
Plus, as of right now, Costco Travel only seems to have packages in a handful of states, along with Canada, Mexico, the Caribbean and Cook Islands, Costa Rica, Europe, Fiji, Tahiti and maybe a few "additional destinations." Still lots of options, but not all the options.
Regardless, it's great to know that at a time when so many of us are having to be very budget-conscious, the excitement of travel doesn't have to be inaccessible.