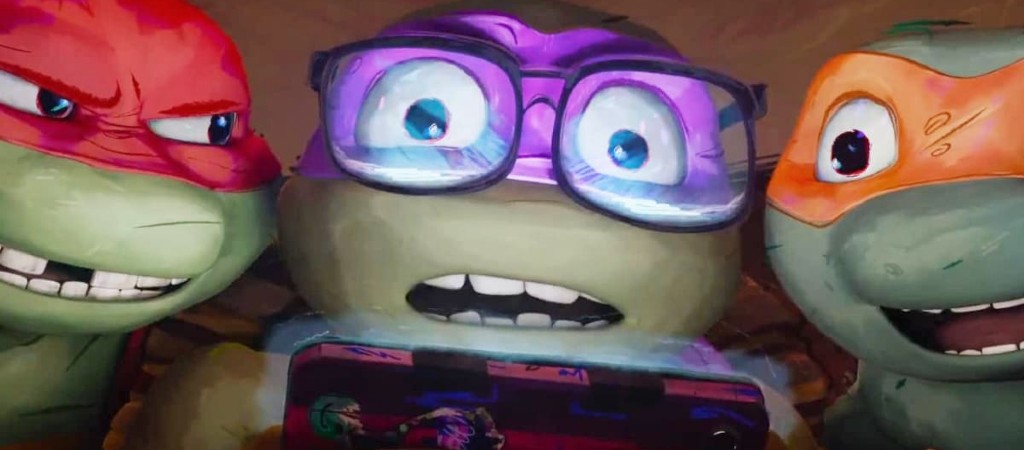 The first reviews for Teenage Mutant Ninja Turtles: Mutant Mayhem are rolling in, and critics are loving Seth Rogen's "fresh" and "unexpectedly funny" take on the classic heroes in a half-shell.
After several live-action attempts, Rogen and director Jeff Rowe decided to roll with a well-received animated approach that brings the Turtles back to their indie comics route. While the film definitely appears to give off heavy Spider-Verse vibes, Mutant Mayhem surprisingly distinguishes itself thanks to the all-star voice cast and Rogen and writing partner Evan Goldberg's script.
You can see what the critics are saying below:
Mike Ryan, Uproxx:
It has a surprising edge for an animated film that the other "live-action" movies don't have. Also, the other ones – I mean both the '90s films* and the Michael Bay-produced movies – I guess they have their moments but they are mostly forgettable and phony. There's a sense of personality and life in the Turtles in Mutant Mayhem that the other movies just seem to try and force. This is the first theatrical Turtles film that comes anywhere close to that feeling in the mid-'80s of something that was weird and underground and a little edgy.
Frank Scheck, The Hollywood Reporter:
The film directed by Rowe (The Mitchells vs. the Machines) and co-directed by Kyler Spears features vibrantly distinctive visuals that perfectly suit the rambunctious and frequently violent proceedings. The dialogue proves consistently amusing (not surprising considering Rogen's participation), and the fact that the young actors voicing the TMNTs were actually teenagers when they recorded their performances infuses a welcome youthful energy to the goings-on. The celebrity performers seem to be having a blast as well.
Peter Bradshaw, The Guardian:
This new animated origin story for the chelonian adventurers is unexpectedly funny, with a rather stylish crepuscular design. You've heard of the Spider-Verse; this is the Turtle-Verse.
Pete Hammond, Deadline:
Rogen's and long time partner Goldberg's script is heavy on pop culture humor in all the best ways, but taking a page as well from the youth emphasis of the Tom Holland Spider-Man as well as the hit animated versions. Teenage Mutant Ninja Turtles: Mutant Mayhem is young to its core, virtually reinventing the concept right down to the casting of the voice actors in the four title roles. Fans will not be disappointed with any of the decisions here, notably the scattershot animation that feels rough around the edges, stylish, anti-CGI blandness, and visually surprising and satisfying.
Kate Erbland, IndieWire:
"Teenage Mutant Ninja Turtles: Mutant Mayhem," the latest entry into the half-shell canon, is another fresh, funny animated outing that breathes serious new life into a classic franchise, proving that even old IP has its legs (claws?). Directed by Jeff Rowe and scripted by Rowe, Seth Rogen, Evan Goldberg, Dan Hernandez, and Benji Samit (Rogen and Goldberg also produced through their Point Grey banner, while Rogen voices the iconic mutant warthog Bebop in the feature), "Mutant Mayhem" will inevitably draw comparisons to the "Spider-Verse" franchise. But it ably stands on its own as a genuinely entertaining film for the whole family.
Germain Lussier, io9:
If a movie can make you smile so much it hurts, it's probably a good movie, and that's absolutely the case with Teenage Mutant Ninja Turtles: Mutant Mayhem. The film is dynamite, perfectly blending a modern, childlike wonder, with a healthy dose of 1990s nostalgia, wrapped in a heartfelt, relatable story about growing up and feeling different.
Clarisse Loughrey, The Independent:
Refreshingly, these teenage turtles are now actually voiced by teenagers. As a result, Leonardo (Nicolas Cantu), Donatello (Micah Abbey), Michelangelo (Shamon Brown Jr), and Raphael (Brady Noon) sound convincingly young and dumb. When Leonardo claims he's got "rizz" (for the oldies, that means "flirtatious charm"), it doesn't sound four years out of date – a near-miracle in the world of studio filmmaking. And when they all start chanting "bacon, egg, and cheese", it's with the impenetrable chaos of four siblings so close that they've concocted their own dialect.
Tomris Laffly, The Wrap:
Rogen and his co-writers—Rowe, Goldberg, Dan Hernandez and Benji Samit—invitingly nod to the essence of the classic "TMNT" and freshen it up with a teen spirit, an inclusive cast and a few amusing internet pop-culture references. These range from funny to tired—one that debates for the millionth time which famous Chris is the best Chris. (Sorry, Evans fans)—and on rare occasion, to SNL-level unfunny. Yet, on the whole, it leaves the right wise-cracking aftertaste that you come to these movies for.
Teenage Mutant Ninja Turtles: Mutant Mayhem slices into theaters on August 2.