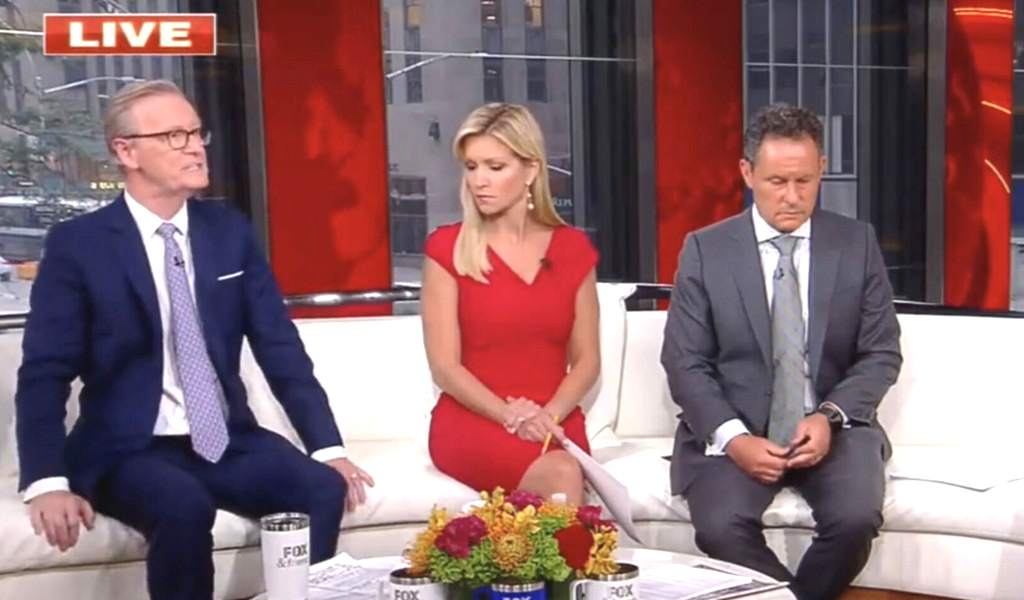 Nearly three years have passed since Steve Doocy first went rogue over Trump on Fox And Friends and sent die-hard MAGA Brian Kilmeade into an aghast tailspin. Since then, they've been mostly divided on the subject of 44, and as Trump's indictments have piled up, there's been quite a contrast to watch between the two co-hosts while Ainsley Earhardt essentially stays out of it.
The last time we checked in on this dynamic, Trump had been indicted a second time, and Kilmeade's spirit visibly deflated while Doocy schooled his co-hosts. Well, the Fox And Frenemies gang is back for more, and after the fourth indictment (involving RICO charges out the tookus), Kilmeade is not feeling great about his hero's fate. He seriously looked like someone swiped his goldfish bowl and gave it a swirlie this morning.
This clip begins with Doocy quoting former U.S. Attorney and Fox News contributor Andy McCarthy, who declared, "The Georgia indictment is the most perilous threat to former President Trump." New Trump attorney Alina Habba disagreed and claimed to have "inside information." Doocy challenged her to produce at least something, to which she declined while (apparently unironically) citing "ethics." And Kilmeade was having a moment:
Trump attorney Alina Habba: "We do not agree that [the Georgia indictment] is a perilous threat, because we actually have inside information."

Fox News' Steve Doocy: "What inside information?"

Habba: "I'm not gonna breach, right? I have confidentiality and I have ethics." pic.twitter.com/GZYgz9rIgy

— The Recount (@therecount) August 15, 2023
His goldfish or his puppy? Maybe both.
He's moving towards the end of the denial phase, yes? Or perhaps he has fast-forwarded into grief. The charges on this indictment are so severe that they could actually put Trump in jail for the rest of his life independent of the other indictments, so Kilmeade must be having a lot of feelings here. He's still kicking a bit, though, while discussing (below) how Trump will need to surrender in Georgia by August 25 and pose for a mugshot.
Fox's Brian Kilmeade: "He's gotta surrender by the 25th … what's the plan?"

Trump attorney Alina Habba: "To surrender. He will surrender. Obviously you see that there's a bit of an ego trip happening in Georgia, where they're saying that they're force him to have a mug shot." pic.twitter.com/EglQjhhYGg

— The Recount (@therecount) August 15, 2023
That mugshot could end up framed in Hillary's house for Christmas.