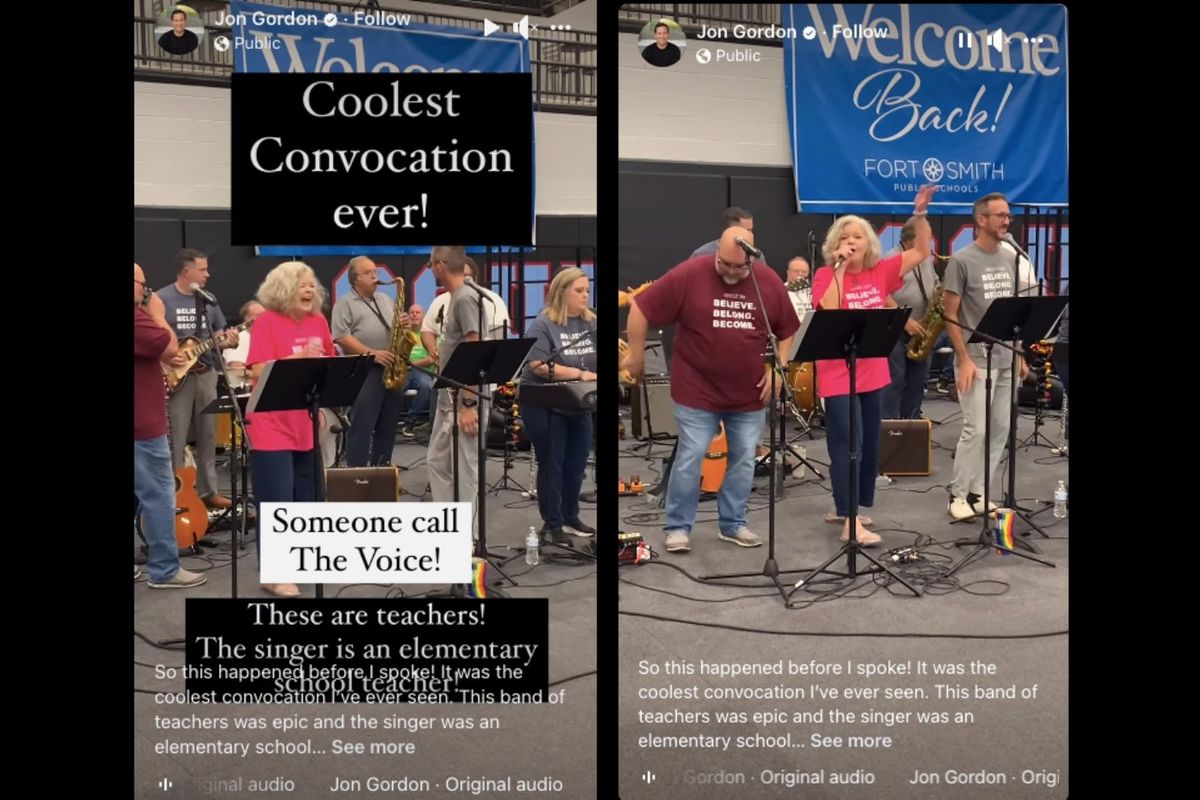 Sometimes a person opens their mouth to sing and their voice blows you away, partly because it sounds nothing like you'd expect and partly because it's just that amazing.
Cue the vocal stylings of Lacey Schaffer-Thomas, a special ed paraprofessional in Fort Smith, Arkansas, whose back-to-school convocation performance with her fellow educators has gone viral.
In a Facebook and Instagram reel shared by motivational speaker Jon Gordon, we see a stage set up on a school gym floor with a group of teachers performing together as a band.
"So this happened before I spoke!" he wrote. "It was the coolest convocation I've ever seen."
A rock band made of teachers is interesting enough, but when the band plays Stevie Wonder's hit "Superstition" and the lead vocalist sound like Janis Joplin reincarnated—"like a legend," as Gordon wrote—you have an incredibly impressive combo.
---
Check out how the students were welcomed back:
People have been blown away by this woman's voice, as evidenced by the comments on Facebook:
"I wasn't expecting that voice to come out of that tiny, beautiful lady!" wrote one commenter. "Loved every minute of this! Ah-mazing, powerful performance! Why is this woman not a well-known, famous name by now?"
"She's not singing, She's SANG'IN! My Lord Ms. Thomas! You were feeling it and you made us feel it too!" shared another.
"She betta SANG!!!!!! I love this idea!!! The kids get to see talent and feel welcomed," wrote another.
"Wow! That poor guy trying to sing with her," sympathized one commenter. "There's no place in there for ya bud! She can handle that on her own! All these little jewels around the world that nobody knows about until somebody puts em on social media."
Schaffer-Thomas' family and friends showed up in the comments, too, with understandable pride:
"My beautiful talented Wife. Lacey is a paraprofessional working with special needs kids. She sings to her students every day and is the most amazing, positive human I know. I am so blessed," wrote her husband.
"That's my momma Lacey Schaffer-Thomas
," wrote her daughter. "She's actually a paraprofessional for an elementary special education class. She's incredible and I'm so proud of her! She's been singing her whole life! The entire band did a phenomenal job!!!
"
The singer herself even chimed in when Gordon asked if he could tag her in the video. "Yes please! I don't know if my heart can take it though.
," she responded. "I'm just overwhelmed with gratitude at all the kind responses this has generated. Thank you so much."
The praise is well-earned, ma'am. Keep on wowing everyone with that gorgeous, edgy voice.