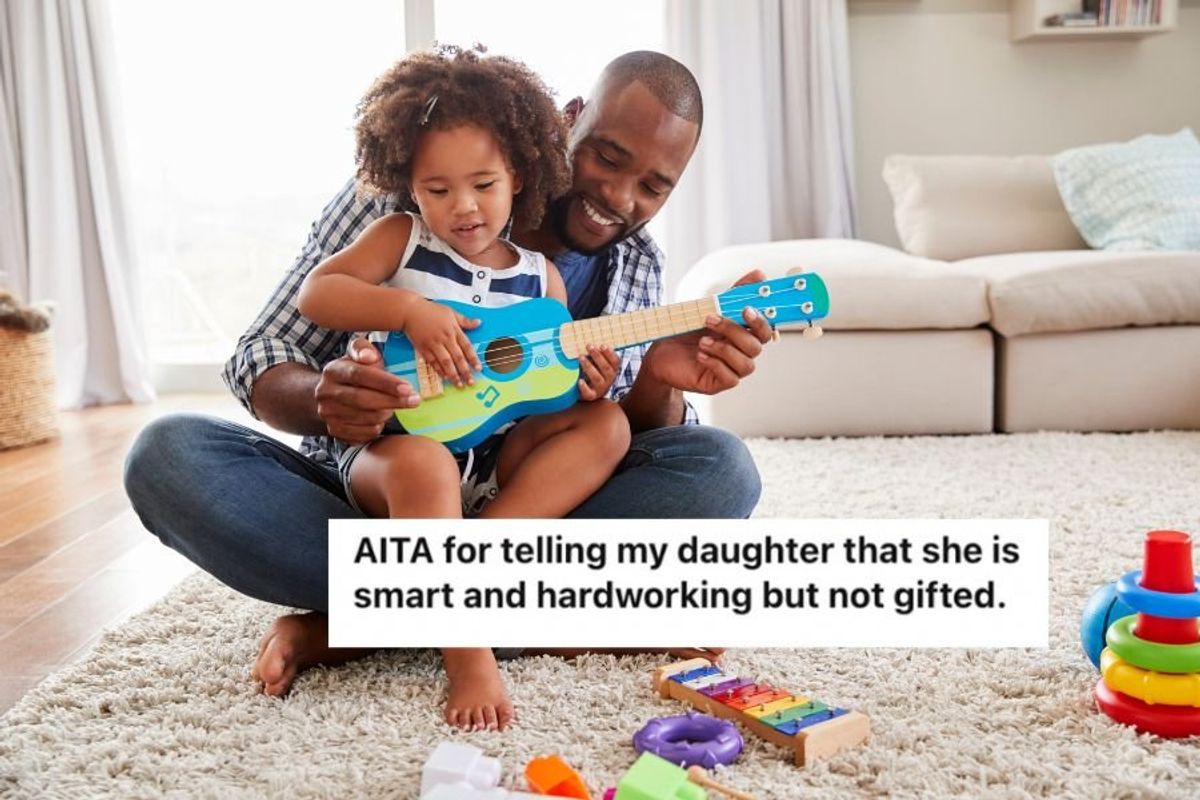 Sure, there are inherent problems that come from assigning children with the label "gifted," among them being the constant pressure to succeed, equating good grades with self-worth, being alienated from peers, and last but not least, having to deal with the psychological whiplash of learning that being "special" doesn't protect you from real-world problems once school is over.
With that said, are parents doing their high-achieving kids a disservice by calling them "gifted?"
One dad seems to think so…although he may be regretting sharing that perspective.
---
On Reddit's Am I The A**hole forum, the dad explained that he and his wife both hold degrees in electrical engineering and have two children—a son, 17, and a daughter, 15.
Their daughter finished high school early and is heading to college at the same time as their son. She's already chosen to study physics and computer science, while their son hasn't picked a major yet.
After commending his daughter for her achievements and saying that she had been in the gifted program at her school, the dad goes on to share a dinner conversation that quickly went south.
"My wife mentioned how proud she was of our daughter and how lucky we were to have gifted children going to good university programs and how not many people can do what our daughter did."
Aw. What a nice mom. Here's how the dad responded.
"I was also very happy but I said that while (daughter) is really hardworking and smart, I would not say that she is actually gifted and others can't do it if they put in the same amount of work," he said. "Her school does a lot to try to admit girls into her program, and my wife helped teach her advanced college level math and physics from an earlier age, she didn't naturally pick it up on her own. If anything being a younger applicant with the same credentials probably helped her stand out more for the admissions committee."
While the dad attests that he was merely trying to avoid the term "gifted" because he had seen how it has "ruined" other people's lives, his intentions didn't exactly pan out.
"Both my wife and daughter are upset at me now, my wife thinks I was trying to put her down which is not true and says she is gifted, while my daughter actually agrees with me but says I should not have said it as she already knows," he wrote.
And therein lies the OP's question: was he the jerk in this situation? Did he unrightfully downplay his daughter's abilities?
According to the folks on Reddit, the answer is unequivocally yes. Not only was the action unnecessary and toxic but it was also deemed as pretty illogical.
"Putting your daughter down served no positive purpose. Discouraging a young teen like that can have serious detrimental effects. Even if she isn't actually gifted, you were the asshole," the top comment read. "That being said, she is gifted. Not every 15-year-old can go to a university to study physics. Not only is she gifted academically, she is gifted with drive and determination. Not everyone has that. And you tried to put her down."
"The very fact that she was able to pick up calculus at an early age is evidence she is gifted. I'm assuming she was doing calculus at age 12-13 if she's already going to college for physics. Anyone doing calculus before high school is gifted, she's several standard deviations higher than the average student," wrote another.
Posts from the amitheasshole
community on Reddit
Several women who worked in STEM also chimed in to point out how the dad's rhetoric reflected sexism.
One person wrote: "I spent my career as a woman in the sciences and I've been around countless guys like you who are quick to praise their little female 'worker bees' as long as they know their place, but who are incapable of acknowledging when a woman is genuinely exceptional. It's especially heartbreaking that you have managed to erode her awareness of her own gifts to the point where she 'actually agrees' with you that she is 'just' a hard worker and not really gifted."
And perhaps the comment to drive it all home:
"The horrible part here is that this message is coming from the girl's own father. He should be her biggest fan, not her harshest critic."
Parents want to do what's best for their kids—setting them up for the highest success while protecting them from potential danger. But sometimes that objective gets warped by a parent's own limited viewpoint. Hopefully, other parents can take this story as a reminder that when their kids are excelling, knocking them down a peg doesn't really do them any favors.