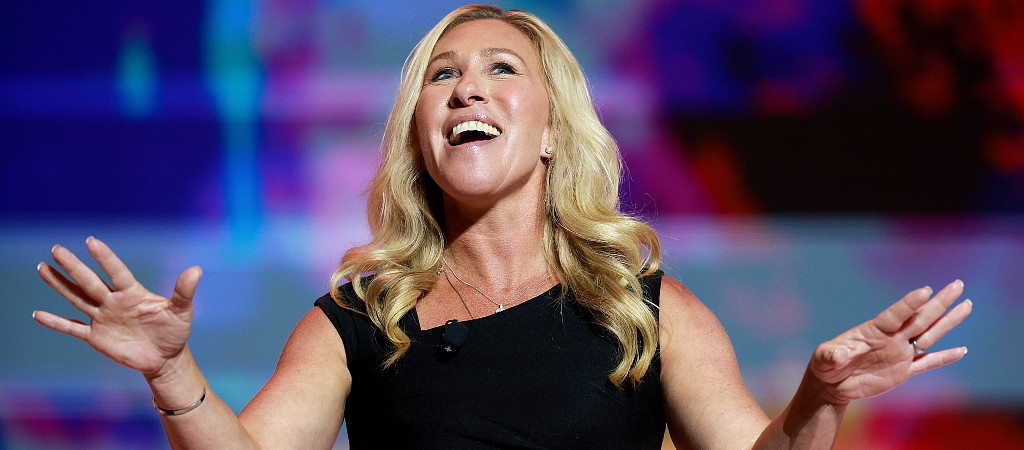 Donald Trump is now on his fourth indictment thanks to the RICO charges he's facing in Georgia, Marjorie Taylor Greene's home state, so what better time to shamelessly throw her hat in the ring to be his new running mate?
The moment came while Greene was busy slamming Republican Governor Brian Kemp for recently repudiating Trump's claims that the "2020 election in Georgia was stolen."
"For nearly three years now, anyone with evidence of fraud has failed to come forward – under oath – and prove anything in a court of law," Kemp tweeted in response to Trump claiming he has proof the Georgia election was rigged. "Our elections in Georgia are secure, accessible, and fair and will continue to be as long as I am governor. The future of our country is at stake in 2024 and that must be our focus."
As a tried-and-true MAGA warrior, Greene was incensed over Kemp's remarks and wouldn't rule out challenging him for Georgia's senate seat in 2026. However, she might too busy working in a little place called the White House.
Via Atlanta Journal-Constitution:
"I haven't made up my mind whether I will do that or not," she said. "I have a lot of things to think about. Am I going to be a part of President Trump's Cabinet if he wins? Is it possible that I'll be VP?"

Greene called serving as Trump's running mate "an honor" and something she would consider "very, very heavily." She'd previously shunned suggestions that she join Trump on the GOP's 2024 presidential ticket.
Heading into the summer, failed Arizona gubernatorial candidate Kari Lake has long been considered the front-runner to be Trump's new running mate on account of her reportedly living at Mar-a-Lago. However, recent reports have suggested that Trump has grown tired of Lake being a "spotlight hound."
Could this be Marj's time to shine? And is she not an even bigger "spotlight hound" than Lake? Seriously, how is that gonna work?