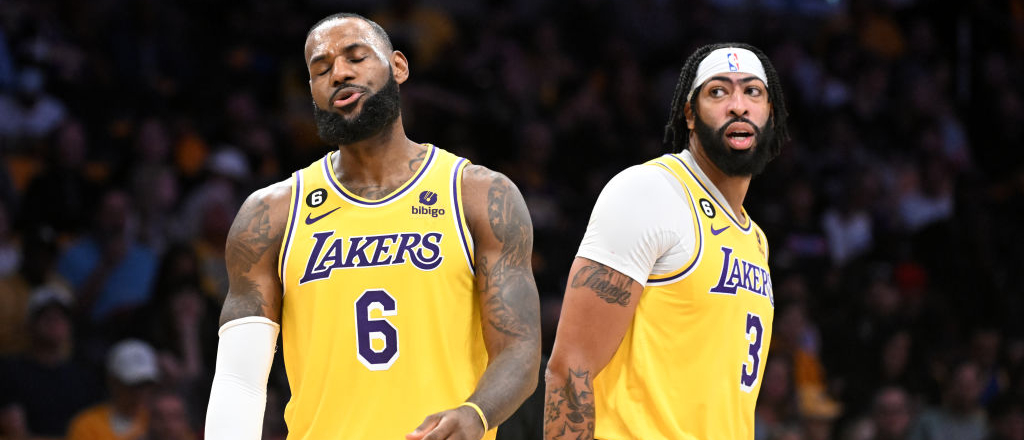 The 2023-24 NBA regular season schedule was released on Thursday afternoon, with all 30 teams getting the dates for their 82-game season (plus a possible two extra games if they can make the finals of the In-Season Tournament).
From a national perspective, the schedule release is best for seeing the games for key dates during the year — Christmas Day, MLK Day, etc. — as well as learning what matchups we will be seeing on national television. This year will look and sound a bit different on ESPN and ABC broadcasts, where Doc Rivers and Doris Burke join Mike Breen in the lead broadcast booth and Ryan Ruocco, Richard Jefferson, and J.J. Redick make up the new No. 2 national team for the four-letter.
As always, ESPN will broadcast games mostly on Wednesday and Friday nights, with ABC beginning Saturday primetime and Sunday showcase games once the NFL season has concluded.
For those interested, here are how many times each team will appear on ESPN/ABC broadcasts, unsurprisingly led by the Lakers and Warriors.
Lakers: 17
Warriors: 17
Suns: 15
Celtics: 15
Nuggets: 13
Knicks: 13
Bucks: 12
76ers: 11
Mavericks: 11
Heat: 10
Grizzlies: 8
Spurs: 7
Clippers: 6
Cavaliers: 6
Kings: 5
Hawks: 4
Pelicans: 4
Thunder: 4
Nets: 3
Bulls: 3
Timberwolves: 3
Jazz: 1
Hornets: 1
Rockets: 1
Pistons: 1
Wizards: 1
Raptors: 0
Blazers: 0
Pacers: 0
Magic: 0
And here are the full schedules for the NBA on ESPN and ABC this coming season (all times Eastern):
NBA on ABC Schedule
12/25
Warriors at Nuggets (2:30 p.m.)
Celtics at Lakers (5:00 p.m.)
1/27
Heat at Knicks (3:00 p.m.)
Sixers at Nuggets (5:30 p.m.)
Lakers at Warriors (8:30 p.m.)
2/3
Lakers at Knicks (8:30 p.m.)
2/10
Suns at Warriors (8:30 p.m.)
2/11
Celtics at Heat (2:00 p.m.)
2/24
Celtics at Knicks (8:30 p.m.)
2/25
Bucks at Sixers (1:00 p.m.)
Lakers at Suns (3:30 p.m.)
3/2
Nuggets at Lakers (8:30 p.m.)
3/3
Sixers at Mavs (1:00 p.m.)
Warriors at Celtics (3:30 p.m.)
3/9
Celtics at Suns (8:30 p.m.)
3/16
Warriors at Lakers (8:30 p.m.)
3/17
Suns at Bucks (1:00 p.m.)
Nuggets at Mavs (3:30 p.m.)
NBA on ESPN Schedule
10/25
Celtics at Knicks (7:00 p.m.)
Mavs at Spurs (9:30 p.m.)
10/27
Heat at Celtics (7:30 p.m.)
Warriors at Kings (10:00 p.m.)
11/1
Pelicans at Thunder (7:30 p.m.)
Clippers at Lakers (10:00 p.m.)
11/3
Knicks at Bucks (7:30 p.m.)
Mavs at Nuggets (10:00 p.m.)
11/8
Spurs at Knicks (7:30 p.m.)
Warriors at Nuggets (10:00 p.m.)
11/10
Nets at Celtics (7:30 p.m.)
Lakers at Suns (10:00 p.m.)
11/15
Celtics at Sixers (7:30 p.m.)
Kings at Lakers (10:00 p.m.)
11/17
Kings at Spurs (7:30 p.m.)
Suns at Jazz (10:00 p.m.)
11/22
Bucks at Celtics (7:30 p.m.)
Warriors at Suns (10:00 p.m.)
11/24
Heat at Knicks (7:30 p.m.)
Spurs at Warriors (10:00 p.m.)
12/1
Grizzlies at Mavs (7:30 p.m.)
Nuggets at Spurs (10:00 p.m.)
12/6
TBD at TBD (7:30 p.m.)
TBD at TBD (10:00 p.m.)
12/15
Lakers at Spurs (7:30 p.m.)
Knicks at Suns (10:00 p.m.)
12/22
Wizards at Warriors (7:30 p.m.)
Bucks at Knicks (10:00 p.m.)
12/25
Bucks at Knicks (12:00 p.m.)
Sixers at Heat (8:00 p.m.)
Mavs at Suns (10:30 p.m.)
1/3
Bulls at Knicks (7:30 p.m.)
Heat at Lakers (10:00 p.m.)
1/5
Knicks at Sixers (7:30 p.m.)
Grizzlies at Lakers (10:00 p.m.)
1/10
Sixers at Hawks (7:30 p.m.)
Pelicans at Warriors (10:00 p.m.)
1/12
Rockets at Pistons (7:30 p.m.)
Hornets at Spurs (10:00 p.m.)
1/17
Bucks at Cavs (7:30 p.m.)
Mavs at Lakers (10:00 p.m.)
1/19
Nuggets at Celtics (7:30 p.m.)
Mavs at Warriors (10:00 p.m.)
1/24
Thunder at Spurs (7:30 p.m.)
Suns at Mavs (10:00 p.m.)
1/31
Suns at Nets (7:30 p.m.)
Nuggets at Thunder (10:00 p.m.)
2/4
Grizzlies at Celtics (6:00 p.m.)
2/7
Hawks at Celtics (7:30 p.m.)
Pelicans at Clippers (10:00 p.m.)
2/14
Bulls at Cavs (7:30 p.m.)
Clippers at Warriors (10:00 p.m.)
2/23
Cavs at Sixers (7:30 p.m.)
Heat at Pelicans (10:00 p.m.)
2/25
Nuggets at Warriors (7:00 p.m.)
Kings at Clippers (9:30 p.m.)
2/28
Grizzlies at Timberwolves (7:30 p.m.)
Lakers at Clippers (10:00 p.m.)
3/1
Mavs at Celtics (7:30 p.m.)
Bucks at Bulls (10:00 p.m.)
3/3
Knicks at Cavs (7:30 p.m.)
Thunder at Suns (10:00 p.m.)
3/6
Grizzlies at Sixers (7:30 p.m.)
Bucks at Warriors (10:00 p.m.)
3/8
Hawks at Grizzlies (7:30 p.m.)
Bucks at Lakers (10:00 p.m.)
3/10
Nets at Cavs (7:30 p.m.)
Timberwolves at Lakers (10:00 p.m.)
3/13
Nuggets at Heat (7:30 p.m.)
Lakers at Kings (10:00 p.m.)
3/18
Heat at Sixers (7:30 p.m.)
Knicks at Warriors (10:00 p.m.)
3/20
Bucks at Celtics (7:30 p.m.)
Grizzlies at Warriors (10:00 p.m.)
3/27
Clippers at Sixers (7:30 p.m.)
Suns at Nuggets (10:00 p.m.)
4/3
Grizzlies at Bucks (7:30 p.m.)
Cavs at Suns (10:00 p.m.)
4/10
Mavs at Heat (7:30 p.m.)
Timberwolves at Nuggets (10:00 p.m.)
4/14
TBD at TBD (1:00 p.m.)
TBD at TBD (3:30 p.m.)