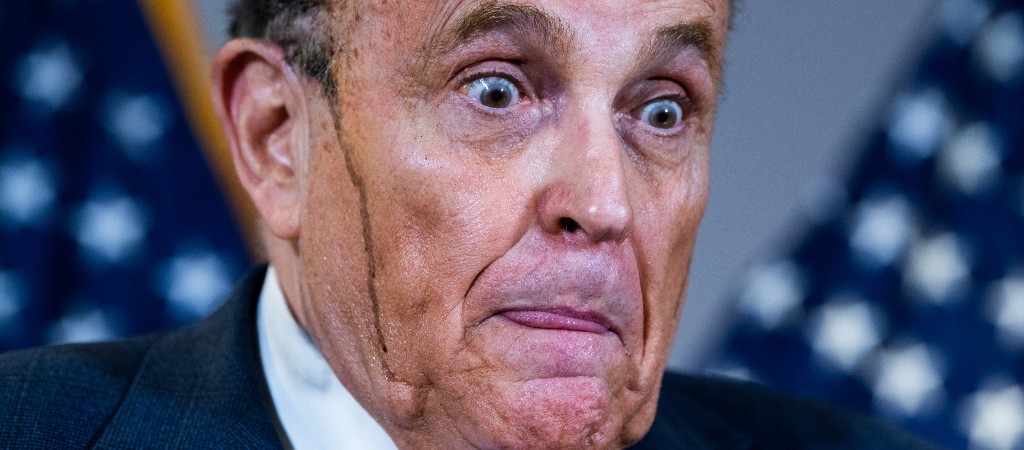 Rudy Giuliani can justifiably take credit for alerting the world to Four Seasons Landscaping's existence, even if that was an inadvertent accomplishment. He also let the world know that it's worth checking yo' hair dye before melting in front of the entire world. And before he became known as "America's Mayor" in the wake of 9/11, Rudy built his reputation upon claims that he was the one who had the idea to use RICO (as a U.S. attorney) to put mobsters behind bars for lengthy federal sentences.
Back in Rudy's 2002 memoir, he boasted, "I dreamed up the tactic of using the federal Racketeer Influenced and Corrupt Organizations Act to prosecute the Mafia leadership." The thought of that feat biting him in the butt due to being indicted as one of Donald Trump's alleged co-conspirators to overturn democracy? Pretty absurd. The discovery that Rudy largely embellished his "pioneering" of the use of RICO in high-profile mob cases? Even funnier. The Daily Beast did the legwork and spoke to two legal scholars who told it like it really is. One of them. G. Robert Blakey, is credited as the foremost expert on RICO because he actually drafted the statute:
Blakey, a law professor at the University of Notre Dame who has also taught at Cornell University, drafted the Organized Crime Control Act of 1970 on a yellow legal pad. Title IX of the act was RICO.

"Giuliani falsely says he got the idea of using RICO against the mob himself because he read a biography by the head of one of the crime families," Blakey, 87, told The Daily Beast this week. "That was his story."

Blakey said that he has not previously challenged Giuliani's account because what most mattered to him was that RICO had been used with devastating effect against the Mafia.
Blakey reveals that he was motivated to come forward after seeing Rudy brag about his RICO prowess in a livestreamed rant this week. As well, Blakey reveals how and where he drafted that RICO statute, which he says was motivated while considering previous failed prosecutions of mafiosos as well as the Nuremberg trials against Nazis.
From there, Ronald Goldstock, a mentee of Blakey, was the actual "pioneer" in question. He advised Giuliani on how RICO could be used to accomplish those now-infamous mob convictions. He also told The Daily Beast that he didn't come forward when Rudy claimed credit because "I didn't need the accolades for it… I was happy that it was brought." Now, however, the pair reveals that they saw Trump's rise to the presidency as akin to the behavior of a mob boss. Years later, Trump tried to overturn democracy and ended up allegedly violating RICO, and Giuliani was right there with him. Full circle, if you will.
(Via The Daily Beast)