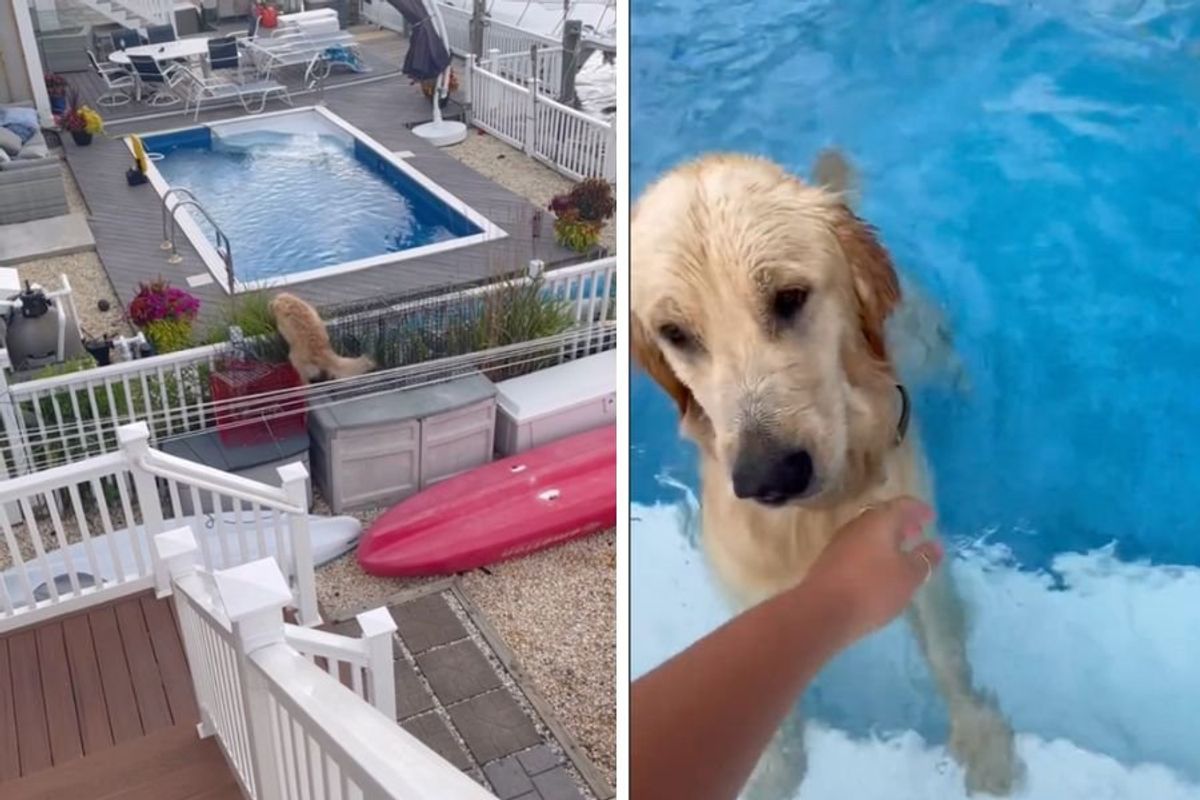 Sometimes you just want to go for a dip, especially with how uncomfortably hot it can get in summer. Unfortunately, not everyone has a pool in their backyard, and for most, that would be the end of the idea—but not for a dog named Zepp.
Zepp decided that he wanted to go for a swim, but since there was no pool in his yard, he plopped over the fence into his neighbor's yard to splash around theirs. His owner saw Zepp's extracurricular activity on her security cameras and decided to share on social media.
The video posted to her TikTok account, Errieting, shows the Golden Retriever climbing and sort of flopping over the fence to get to the neighbor's pool. Once on the other side of the fence, Zepp went for a swim, but things got amusing when the doggy-paddling pup refused to leave the water.
---
Zepp's owner filmed herself trying to get the dog out of the pool, and as soon as she got close enough to grab his collar, he swam away. At one point, he looked like he was mimicking a human by sitting up and using his front paws to splash as if taunting his mom.
@errieting

escaping into the neighbors pool #dog #goldenretriever #fyp #michaelphelps
Clearly, Zepp had no interest in leaving the pool, and now that he knows he can get over the fence, he will likely make unscheduled visits to the neighbors. So instead of fighting the inevitable, Zepp's mom and the neighbors worked together to do a POV video of Zepp sneaking in for a swim from the neighbor's angle. It's an adorable must-see below.
@errieting

THE NEIGHBOR'S POV… you asked, we listened. #fyp #comedy #funny #goldenretriever #puppy #dogsoftiktok #dog #funnyanimals #funnydog