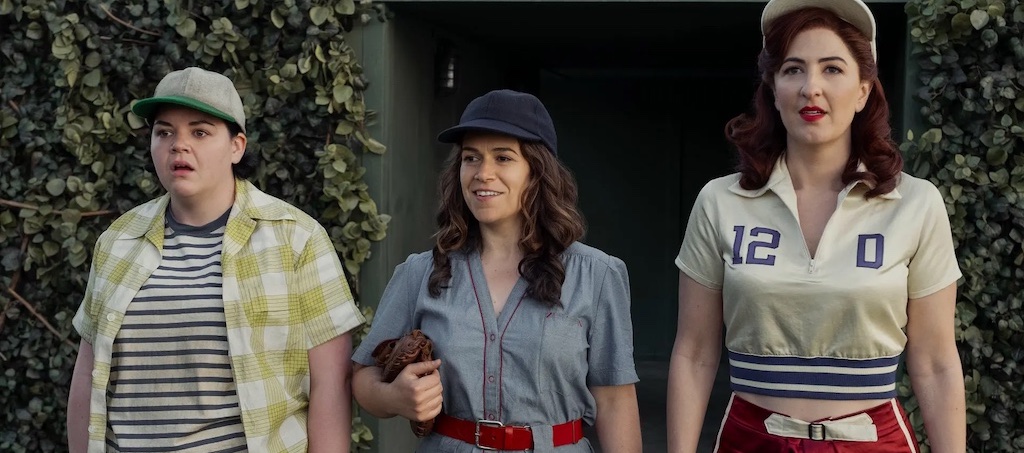 Last week Amazon cancelled what was supposed to be a short second season of A League of Their Own, the streamer's queer-themed reboot of the beloved 1992 baseball saga. The main reason they cited was the two-pronged WGA/SAG-AFTRA strikes that have ground Hollywood to a halt. Now one of its creators/stars is calling that reason some big ol' BS.
As per Deadline, Abbi Jacobson, who created the show with Mozart in the Jungle's Will Graham, took to Instagram soon after the news broke to express her sadness — and her thrill at getting to create a new version of an older fave.
"To blame this cancellation on the strike, (which is an essential fight for fair wages, protections and working conditions, etc…) is bullsh*t and cowardly," Jacobson wrote. "But this post isn't about all that. About all the ways this show has been put through the ringer. Not today."
Jacobson went on to gush about the "special show" she was "lucky to make with so many incredibly talented artists and actors and writers and crew." She called it "a show I'm so proud of. Filled to the brim with stories worth telling. Full of so much heart and soul and value."
In addition to co-creating the new A League of Their Own, Jacobson played Carson, catcher for the Rockford Peaches, a woman's team in the All-American Girls Professional Baseball League, which began in 1943 as many of the nation's men were abroad fighting in World War II. The league lasted through 1954.
Jacobson and Graham's A League of Their Own, which had its share of weird haters, was supposed to get a second, four-episode round that would wrap the story up. The scripts had even been finished before the WGA strike began in May. After Amazon nixed that closer — saying that because of the strikes the show wouldn't even air until 2025, when they allegedly already have plenty of original content — the showrunners said they would shop it around, attempting to find a new home.
(Via Deadline)