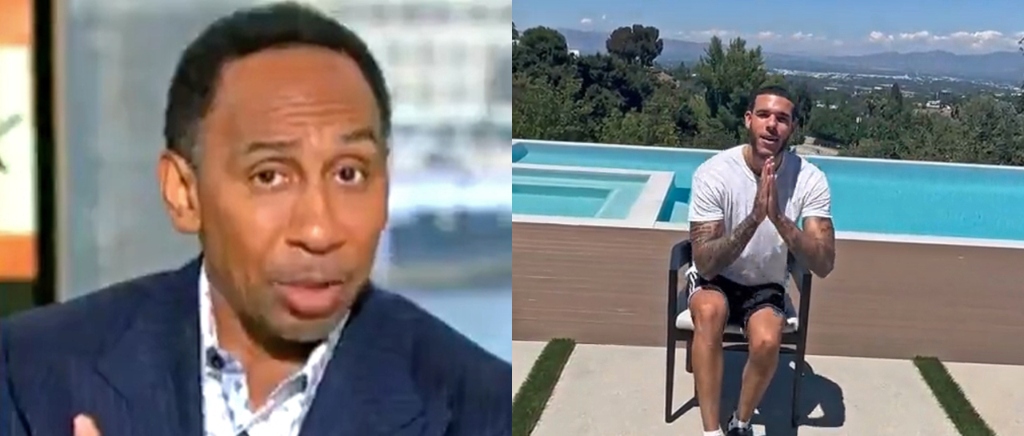 Lonzo Ball will spend the 2023-24 season continuing his rehabilitation from a torn meniscus back in January 2022, as he will miss a second consecutive full season with the Bulls due to setbacks in his recovery.
Recently, Ball opened up about feeling bad for the Bulls, noting he felt they'd built a "perfect team" around him to maximize his unique talents, as evidenced by their hot streak to start the 2021-22 season that had them in first in the East prior to his injury. Since, the Bulls have been unable to replace Ball and have struggled, and will enter this season once again facing an uphill climb to crack the East playoff race without Ball's services.
We have rarely gotten positive updates about Lonzo's knee over the past two years, and on Tuesday, Stephen A. Smith stated on First Take that he's heard it's difficult for Lonzo to even stand up after he's been sitting down.
"I don't think he'll ever be the same… I've heard that it's even hard for him to get up from the sitting position… I'm really, really sad for him."

Stephen A. Smith on Lonzo Ball missing another NBA season after his latest knee surgerypic.twitter.com/d5HjCyXfTK

— ClutchPoints (@ClutchPoints) August 22, 2023
There were reports a year ago that Ball still experienced discomfort going up and down stairs, so this certainly didn't seem out of the realm of possibility, but it did paint a picture of a player that was unlikely to return to the floor. Ball, however, has been emphatic that he'll make a return to the court one day in the future, and didn't appreciate this latest update from Smith that he wanted to prove was false. Ball posted a video to Twitter on Tuesday afternoon showing himself standing up and sitting down multiple times using only his injured left leg, while telling Smith to check his sources and to "stop yapping."
This is now back-to-back days where an athlete has gone on Twitter to shut down a Stephen A. report, as Stefon Diggs did the same on Monday after Smith said he wants out of Buffalo. For Ball, this seems to have been almost a cathartic post to make because he hasn't really had much positive news to share with the world about his knee, but being able to show himself doing single leg squats in and out of a chair represents the most positive thing we've seen from Ball in more than a year. He might be a ways away from being back on the court, but it certainly seems as though his latest surgery has cleared up the lingering pain he's dealt with and, hopefully, that's the first step towards him making a full recovery, even if a delayed one.