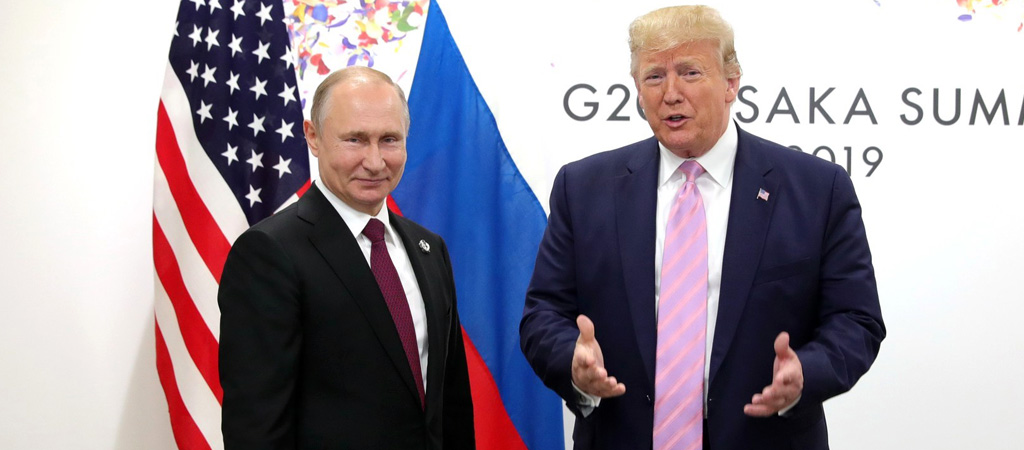 Former political BFFs Vladimir Putin and Donald Trump are both having less than ideal 2023s. The latter, of course, has been indicted four times, which is almost an impressive run if you really think about it. (So much winning.) The former thought he was gonna storm into Ukraine in early 2022 and instantly take over, which obviously has not happened. And now, Putin has been experiencing severe Russian ruble woes, so he's probably very distracted. Perhaps even too distracted to think about his old buddy Trump, who recently bragged that he was "the apple of Putin's eye."
Well, Putin is on Trump's mind. In response to learning that he'll have to pay $200,000 bail bond in Georgia, Trump is responding by essentially mocking Fulton County DA Fani Willis. On his Truth Social platform, he painted a little fantasy about hanging in a fancy gold suite in "Russia, Russia Russia… with Vladimir." Ladies and gents, here's a former U.S. president's words:
The failed District Attorney of Fulton County (Atlanta), Fani Willis, insisted on a $200,000 Bond from me. I assume, therefore, that she thought I was a "flight" risk – I'd fly far away, maybe to Russia, Russia, Russia, share a gold domed suite with Vladimir, never to be seen or heard from again. Would I be able to take my very "understated" airplane with the gold TRUMP affixed for all to see. Probably not, I'd be much better off flying commercial – I'm sure nobody would recognize me!
In addition to posting bond, Trump will apparently also not be allowed to post about his Georgia case, which (as federal lawyer Ron Filipkowski notes below) does not seem likely to be something he can cope with.
There is a zero percent chance this dude won't violate the bond conditions his lawyers just agreed to. The only question is whether they will enforce them when he does. pic.twitter.com/n31MGs250F

— Ron Filipkowski (@RonFilipkowski) August 22, 2023
How long can he last… 5, 10 minutes? We should soon find out.