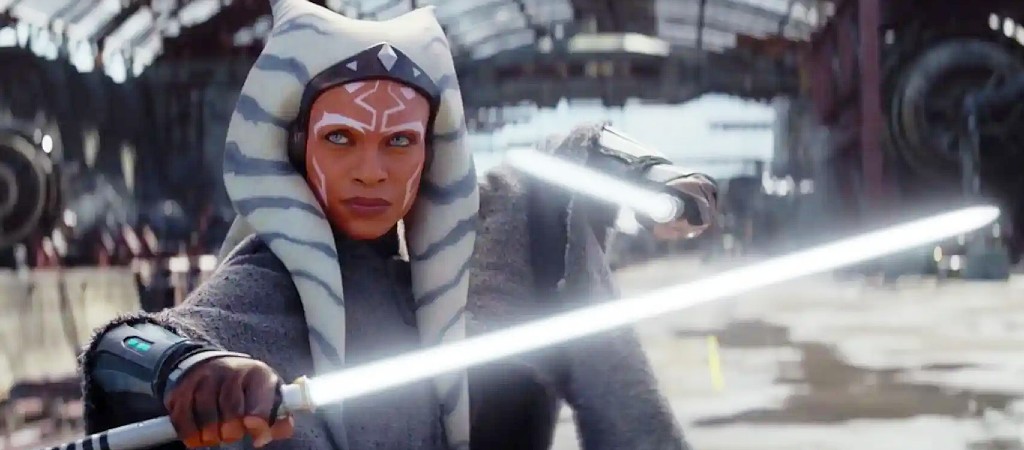 Ahsoka has arrived, and already, the latest live-action Star Wars series has proven to be a worthy challenger to The Mandalorian. Up until its lackluster Season 3, the bounty-hunting series has been the crown jewel after launching Disney+ and delivering juggernaut ratings for the burgeoning streaming platform. That could change as Ahsoka is proving to be a hit with both critics and audiences.
The new series starring Rosario Dawson as the title character has debuted with a "Certified Fresh" on Rotten Tomatoes. Ahsoka currently has a 93% rating from critics and 90% from audiences. In comparison, The Mandalorian has a 90% rating, The Book of Boba Fett has 66%, and Obi-Wan Kenobi is sitting at 82%. (Interestingly, the highest rated Star Wars series on Rotten Tomatoes is Andor with a whopping 96%.)
Bucking the Wednesday morning release strategy, Ahsoka dropped its first two episodes on Tuesday night and Star Wars fans were here for the lightsaber-heavy adventure that catches up with the former Jedi. As the apprentice of Anakin Skywalker before he turned to the Dark Side and became Darth Vader, Ahsoka had a front row seat for both the fall of the Jedi and the rise of the Empire.
In her new series, Ahsoka is dead set on preventing the latter from happening again and will travel to the farthest reaches of the galaxy to stop the Empire from returning to power following the events of Return of the Jedi. However, she can't complete the task alone, and Ahsoka is forced to enlist allies from her past, which is easier said than done.
Here are some fan reactions to Ahsoka:
First episode of #Ahsoka is breathtakingly beautiful and I'm in tears with how well done they've brought the animation to real life! A sweet and fitting tribute to Ray Stevenson and an amazing cliffhanger.
•#Ahsoka #AhsokaTano pic.twitter.com/kfPePjD3Xa

— NathanMorty (@NathanMort2) August 23, 2023
Don't think I'll ever get over this #Ahsoka pic.twitter.com/4wfQ3Ar2Pp

— Sidney IS EXCITED FOR AHSOKA (@rosariosgarden) August 23, 2023
Mary Elizabeth Winstead, making goggles look sexy AF since 2010.#Ahsoka pic.twitter.com/SjbeDw5TZB

— ERod (@ERodBuster1) August 23, 2023
The first two episodes of #Ahsoka just deliver on every front. Everything that made Rebels so special is beautifully translated into live action, and the heart and soul of this incredible story remains strong. Filoni has done it once again.

— Noah (@keldorjedii) August 23, 2023
It was at the opening crawl I knew, STAR WARS WAS BACK! #Ahsoka pic.twitter.com/UIAgeP1Jbn

— BLURAYANGEL (@blurayangel) August 23, 2023
Leading into #Ahsoka my biggest concern was Hera. Not because I doubted MEW but the clips/images I saw just didn't feel like Hera. But having seen the 2 eps now, she pulled it off, it works, feels right

I enjoyed the 2 eps, ready for more.

Also, the music is fantastic pic.twitter.com/CLM8W8vYwK

— Bryan Ward (@bryaneward) August 23, 2023
I think one thing I really loved about the first 2 episodes of #Ahsoka is that the show really isn't afraid to take its time. Each scene and moment feel appropriately drawn out and we get to sit with the characters for longer than any moments in Mando ever allowed pic.twitter.com/CHFWLeJCXs

— Babu (@BabuNick77) August 23, 2023
I just watched the first 2 episodes of Ahsoka and holy shit how good Rosario Dawson is leaning into this role

The best piece of media so far this year #Ahsoka #AhsokaTano pic.twitter.com/2Z9ijbrPVI

— AJ (@aj1_rad) August 23, 2023
The first two episodes of Ahsoka are now streaming on Disney+.