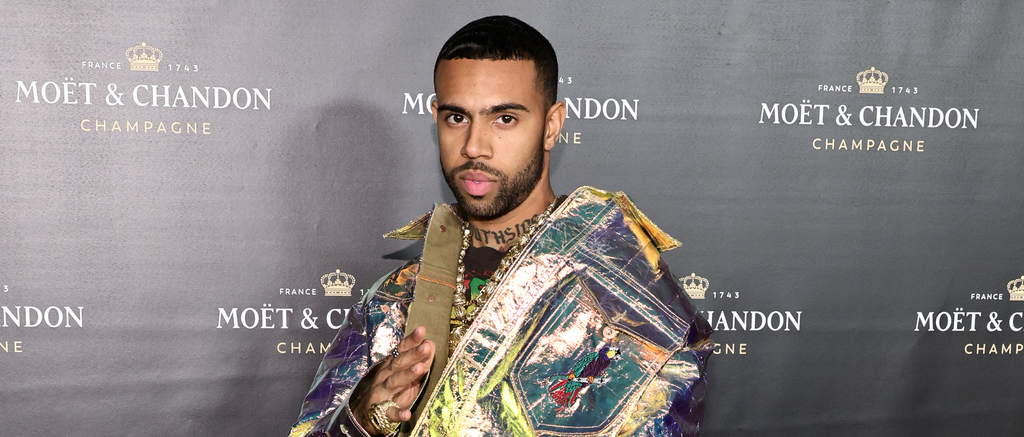 It has been a little over six years since Vic Mensa released his debut solo album, The Autobiography. While he's currently celebrating the 10-year anniversary of his beloved mixtape Innanetape alongside Chance The Rapper's coinciding Acid Rap 10th anniversary shows, he's also now promoting the long-awaited follow-up to The Autobiography, entitled simply Victor. Vic shared a trailer for the album on Instagram which finds him sitting for a portrait in an art studio, rapping one of his new songs. The album's title and release date are revealed at the end: Victor is due on September 15.
Vic later shared the cover art, which is the portrait being painted in the trailer. In the caption, he explained, "For my 2nd studio LP I wanted the cover to depict me in a raw human form, displaying my rebirth and reformation. I was inspired by the egyptian book of the dead and the legend of osiris."
Although it has been a long gap between albums for the multifaceted Chicago artist, that time wasn't spent idly. Since The Autobiography, Vic has released four EPs, Hooligans, V Tape, I Tape, and most recently, Vino Valentino. He also dropped the rock experiment project, 93Punx. He's released three singles ahead of his new album: "Strawberry Louis Vuitton" with Thundercat, "Swish" with longtime collaborator Chance The Rapper and G-Eazy, and "Eastside Girl" with Ty Dolla Sign.