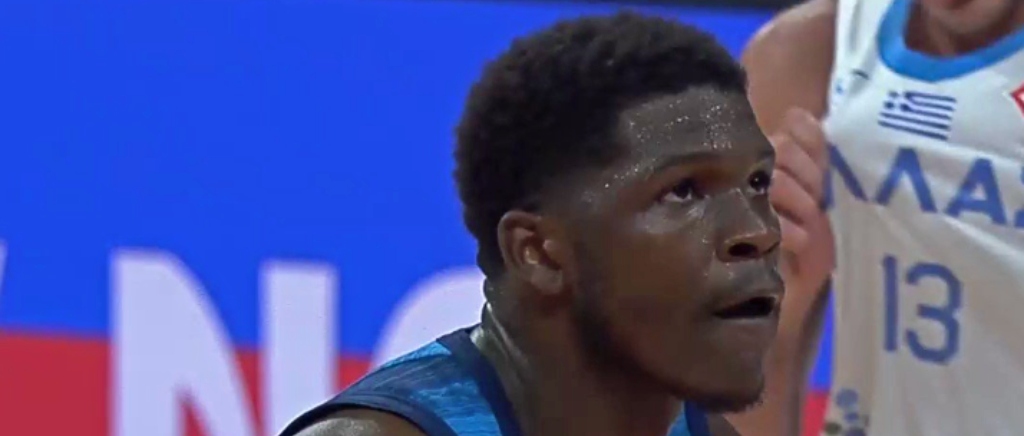 USA Basketball got off to a much better start to their second game of group play, taking a 50-37 halftime lead on Greece, a vast improvement over falling in an early double-digit hole to New Zealand. The Americans would continue pouring it on in the second half, running away to another comfortable win, this time by a 109-81 margin.
It was a balanced effort from Team USA, as nine different players scored at least eight points, with Austin Reaves (15 points), Jalen Brunson (13), Anthony Edwards (13), and Bobby Portis (10) all reaching double figures. While Edwards had assumed the mantle of lead star for Team USA in tune-up play, through two games in the World Cup, he has not tried to be overly assertive, allowing for the American squad's overall talent to overwhelm opponents. Against Greece, he didn't have his best, going 4-of-11 from the field, but chipped in three assists and two rebounds to go along with his point total, as well as authoring the funniest moment of the game by far.
A fan from Greece was very loudly screeching during free throws — a la Diar DeRozan in the play-in — and after sinking a free throw in the third quarter, Edwards turned to the stands and screeched back.
Anthony Edwards gives it back to the shouting fan #FIBAWC pic.twitter.com/wN4e8ukPDC

— FIBA Basketball World Cup 2023 (@FIBAWC) August 28, 2023
I love that there's that much passion at the World Cup for a fan to be in the upper deck doing anything he can to try and help his team, and I love that Anthony Edwards' response was to simply scream his loudest back at them after hitting a free throw. It's incredible, and my main takeaway is if the Raptors had Anthony Edwards they would not have lost to the Bulls in the Play-In.