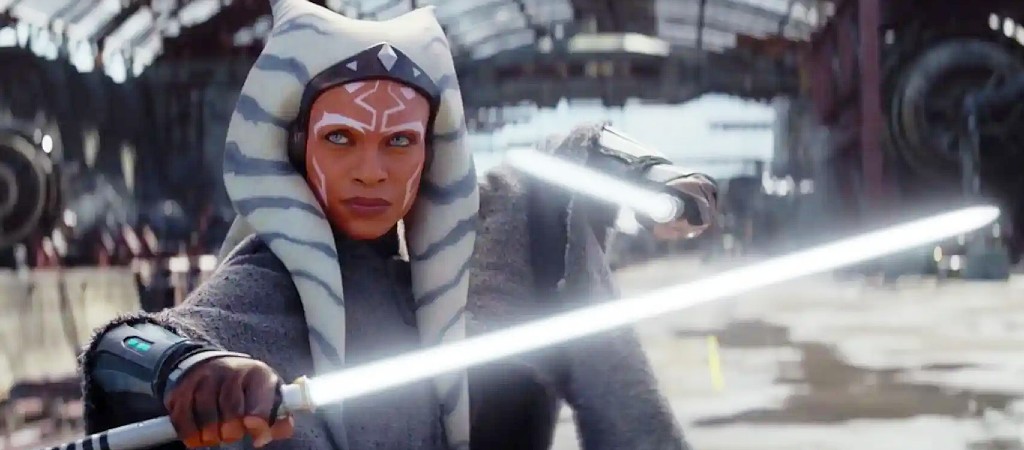 Disney+'s highly-anticipated series Ahsoka finally landed on the streamer last week, so all you Jedi nerds can rest easy knowing that at least someone is out there protecting the galaxy far far away. The series is centered on the young Jedi Ahsoka Tano, played by Rosario Dawson, who was first introduced in The Clone Wars back in 2008 as Anakin's apprentice with a much cooler hairstyle.
Apparently, Disney+ is so confident in Ahsoka's streaming numbers it decided to share them with the world, which is a first for the streamer. According to The Hollywood Reporter, the first episode racked up 14 million views worldwide since its debut, but it's not that simple. Disney+, like Netflix, counts a "view" by dividing the total viewing time by the run time, which means 14 million views of the episode, which ran 56 minutes, would mean 784 million minutes of views worldwide.
But it's still not that simple: the total viewing time doesn't necessarily account for families, multiple viewers, or a single person re-watching. One thing's for certain: a lot of people checked this show out, or Ewan McGregor watched the episode a dozen million times in order to support his wife, Mary Elizabeth Winstead.
The series follows Ahsoka (Dawson) who is searching for Grand Admiral Thrawn, played by Lars Mikkelsen, who has been missing for over a year after the events of Star Wars: Rebels. Ahsoka enlists help from her former apprentice and Mandalorian warrior Sabine, played by Natasha Liu Bordizzo, in order to track down Thrawn. Mary Elizabeth Winstead, Ray Stevenson, Ivanna Sakhno, Diana Lee Inosanto, and David Tennant also star.
While the first episode was definitely a hit, the streamer has yet to release any information about episode two, which dropped the same day. Maybe they are giving Ewan a break so he doesn't feel too bad about not getting another Obi-Wan season.
New episodes of Ahsoka drop on Disney+ on Tuesdays.