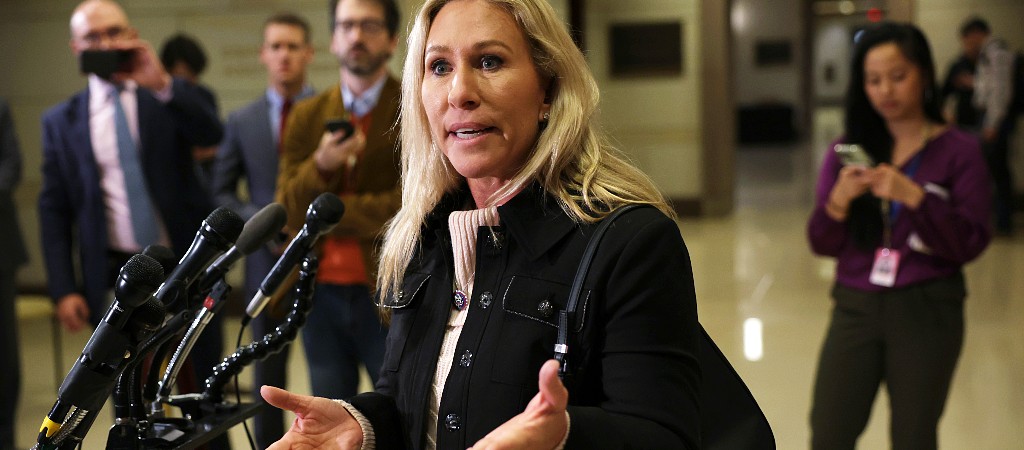 Marjorie Taylor Greene has literally been trying to impeach Joe Biden since his first day in office. However, her fellow Republicans have yet to find compelling evidence to warrant pulling the trigger, and not without lack of trying. Congressional inquiries into Hunter Biden's business dealings have not produced a smoking gun or any evidence that GOP members promised, which you'd think would slow down Greene's zeal for impeachment. Not so much.
While appearing on Real America's Voice, Greene railed against her own party for not impeaching Biden just to see what might happen. Via Raw Story:
"I can't comprehend that we need any more evidence," Greene gasped. "An impeachment inquiry is just asking the question, we're just asking members of Congress, do you think we should inquire about impeachment? It's not saying, do you want to impeach? It's that, should we just ask the question?"

"And at this point right now, I'm like, what the hell is wrong with Republicans that we can't just, hey guys, maybe ask the question," she complained.
Still hopping mad that the GOP isn't risking an impeachment vote that could easily blow up in their face, Greene continued to insult her own party by way of her Georgia constituents. Or at least the ones who aren't constantly flipping her off.
"I've been at home hanging out with all of the great, wonderful, normal people that actually have a brain and have common sense and are asking me every day, 'Marjorie, when is Congress going to move on with this impeachment inquiry?'" Greene said. "And I can't comprehend [why] we haven't done it yet."
(Via Raw Story)