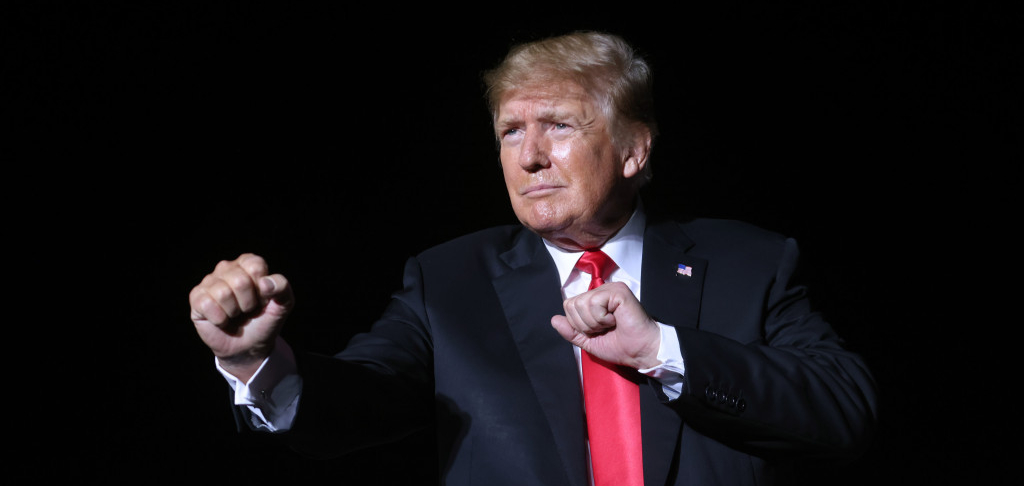 There have been plenty of over-the-top reactions to Donald Trump's escalating legal woes. There've been calls for civil war, or at least, as per Kari Lake, a "fist fight." Others, like his wife, have simply brushed it off. Others are simply cringe-inducing. Perhaps the biggest face-palm of a reaction to Trump being arrested and booked in Georgia last week, complete with a mugshot, came from the MAGA network One America News, who aired a rap video so embarrassing even staffers are appalled.
The video in question finds notoriously self-owning Trump rapper Forgiato Blow joining forces with OAN star Dan Bell for the song "Real America." Over an epic two minutes, Blow raps things like, "If questioning the outcome of the election is a crime then give me life!" He does so, of course, while wearing a t-shirt emblazoned with Trump's mugshot. At one point 83-year-old OAN owner Robert Herring shows up, bearing sunglasses and, for some reason, a flak jacket.
The Daily Beast spoke to some OAN staffers, and they didn't like it much either. Some of them walked out during filming, which was done last minute, prompting those that stayed to simply roll with it.
But the reviews afterwards from the staff weren't very fresh. Some of the vitriol was directed at the host that let it happen. "I need to leave OAN ASAP! I am sick and tired of Dan Ball's antics, and so are so many others," another OAN anchor told the Beast.
Others, including both current and former staffers, were so appalled by the "bizarre" video they said they were "officially taking OAN off my resume after watching this."
But at least in terms of metrics, it was a success. In a statement Ball gushed, writing, "We'd like to thank all the American Patriots out there who downloaded the song 'Real America'! Within the first 24 hours of the songs release we reached #11 on the Top 100 ITunes billboard charts in the Rap/Hip-Hop genre, all thanks to you! God Bless you."
You can watch the video below, if you dare.
(Via The Daily Beast)