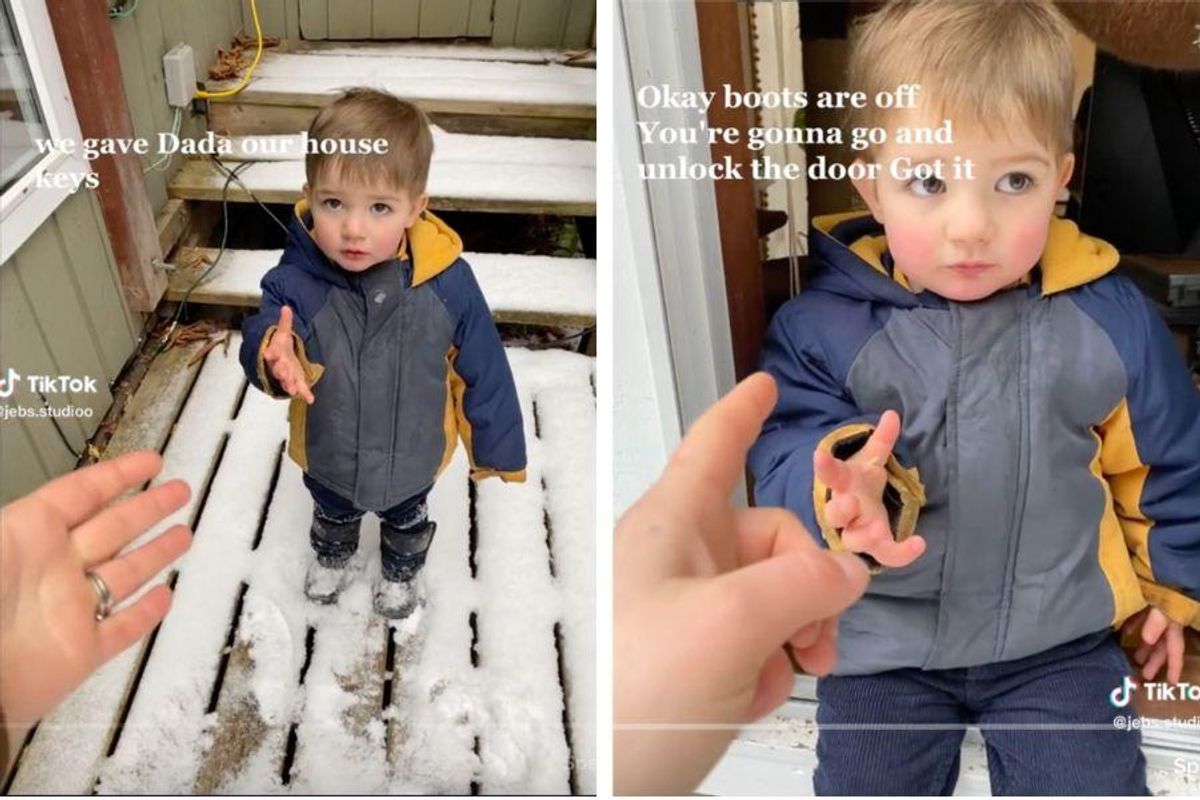 Would you be considered human if you haven't locked yourself out of your house at least once? One mom on TikTok found herself in quite the predicament with only her toddler to "mission impossible" his way to unlocking the house door to let his mom, @gesikaaaaaa, inside. The video starts with the camera pointed at a rosy-cheeked toddler on a snow-covered porch.
The boy looks to be no older than 2 or 3 but he's an expert at following directions … sort of. It's all still pretty new to him and, as anyone who's ever interacted with a toddler knows, multistep directions are not the way to go. They tend to hear one thing only and even then are apt to be distracted by a stray piece of lint and not be able to finish the task.
Everything is new to a toddler and it doesn't take much to distract them. And just about anything can be a toy. So when this mom helped her son through an open window in an effort to guide him through the process of unlocking the door, classic toddler cuteness ensued.
---
The desperate mom explains in the video that she left one window unlocked and you can see immediately that there's no way an adult could fit through the small space without injury. So instead she uses her toddler to do it and once he's inside the house his instructions are to get a chair … he finds a bowl. His mom tells him, "Focus. Focus. Grab the chair and take it to the door."
What do you know? That sweet boy did just as he was told. Until he found a rock. Mom quickly refocuses the boy and the chair is back on the move, then he finds the fireplace tongs and takes a break to play with the fireside tools stand. Eventually the little guy succeeds in his mission but the journey there was the cutest maze of side quests you'll ever see.
Watch him rescue his mom below:
@gesikaaaaaa

Thank god for tiny humans #bne #lockedout #tinyhuman #mamashelper #breakingin #DoTheSmartThings #toddlercomedy #kidtok
This article originally appeared on 1.4.23