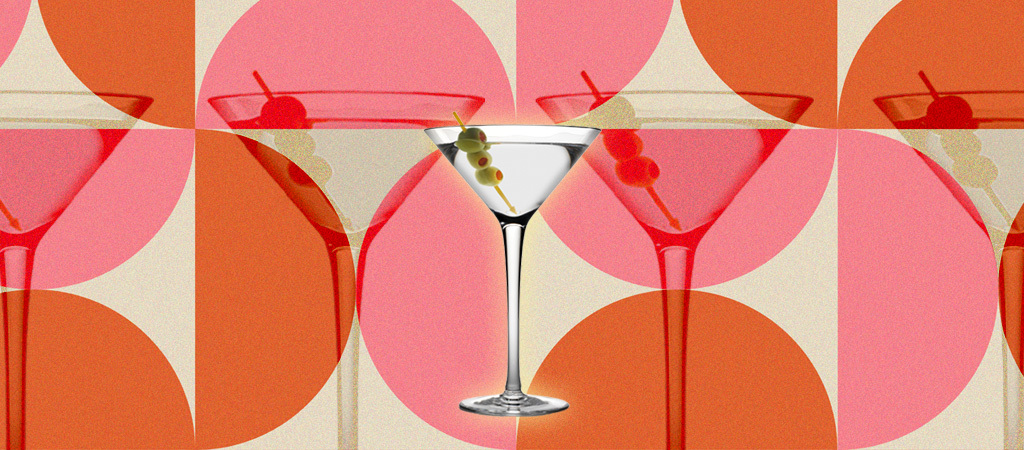 When it comes to classic cocktails, few are as well-known and easy to make as the martini. Simply put, it's a gin (or vodka if you prefer) and dry vermouth-based cocktail. At its bare bone, that's really it. You might add an olive or a lemon twist (or a blue cheese stuffed olive if you're feeling wild) as a garnish to complement the flavors. Some add a bit of olive juice.
But for the most part, it's just a simple way to make the gin shine. Simple, elegant, and perfect.
Like many cocktails, the drink enjoyed by James Bond who preferred his "shaken, not stirred," has mysterious origins. Some believe that it was invented by well-known bartender Jerry Thomas at the Occidental Hotel in San Francisco in the 1850s. Others believe that it was invented in the town of Martinez, California during the Gold Rush era. Regardless of when it was invented and by whom, it's been a constant favorite in the cocktail world ever since.
If you want to whip up some martinis today, we have a simple, classic recipe for you. A few years ago, our own Zach Johnston created this recipe for the best martini ever. You can find it below:
Ingredients:

3-oz. dry London gin
0.5-oz. dry vermouth
1 dash Angostura Bitters
Ice
Lemon Peel

Preparation:

Prechill glass, jug, spoon, jigger, and strainer in the freezer overnight. Prechill the vermouth and gin in a fridge overnight. Remove the tools and glass from the freezer and the spirits from the fridge when ready to mix. Use the fruit peeler to peel a thumb-sized section of lemon rind. Add the vermouth to the glass and wash it out by swirling it around and then discard the vermouth in the sink. Add the gin and bitters to the cocktail jug with a hand full of ice. Stir until the cocktail is ice cold — about 15 to 20 seconds. Strain the cocktail into the waiting glass. Express the lemon oils over the cocktail and discard peel. Serve.
While you can spend the rest of your days imbibing the classic, simple, traditional version of the martini. One of the best things about this epic cocktail is its versatility. That's why we requested fresh riffs on the drink from some well-known bartenders. Keep scrolling to see some truly elevated martinis, then decide if you want to get funky or stick to the tried and true.
Chihuahuan Martini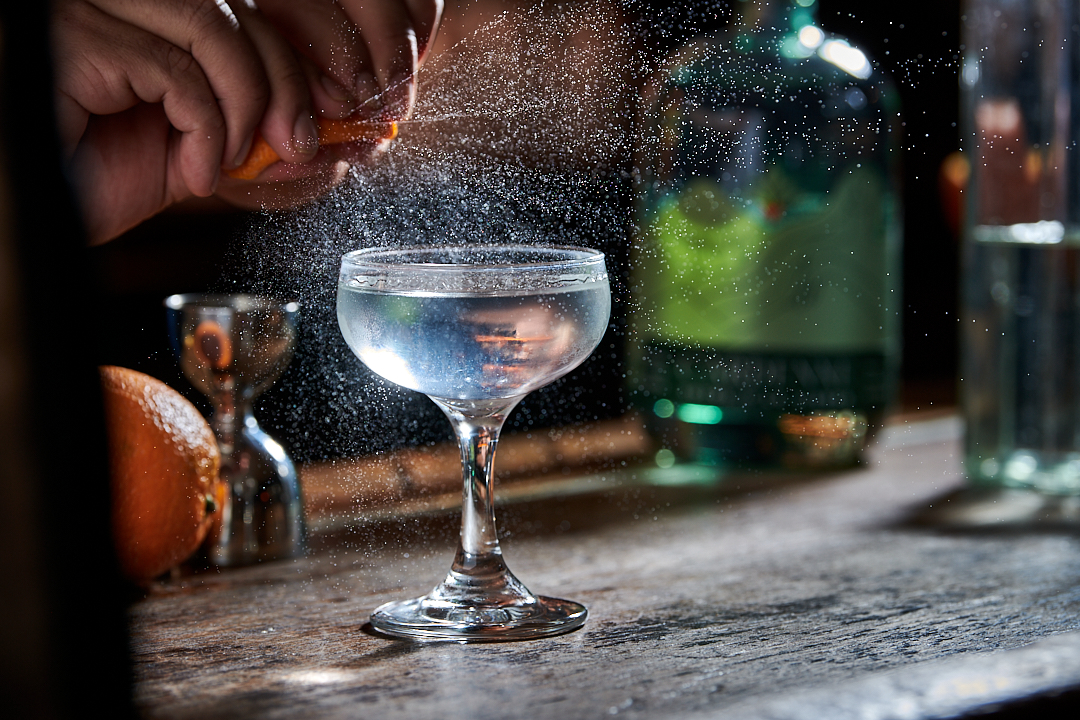 By Alex Dominguez, head bartender at Bar Calico in New York City
Ingredients:
2 oz. Cardenxe de la Sierra
1 oz. Chareau Aloe vera
1 bar spoon Combier orange
Preparation:
Stir in a mixing glass for about 40 rotations and then strain into a cool Coupe Glass. Express an orange twist and add to the drink.
The Chihuahuan Martini is a riff on a martini using Sotol as its base spirit. Cardenxe de la Sierra has an intense Evergreen forest feel to it. Using Chareau aloe vera liqueur we accentuate these flavors and add more cool and refreshing notes to it. A small bar spoon of triple sec and an orange peel add orange notes to the sip for a light citrus note at the front. – Alex Dominguez, head bartender at Bar Calico in New York City
The Amalfi Martini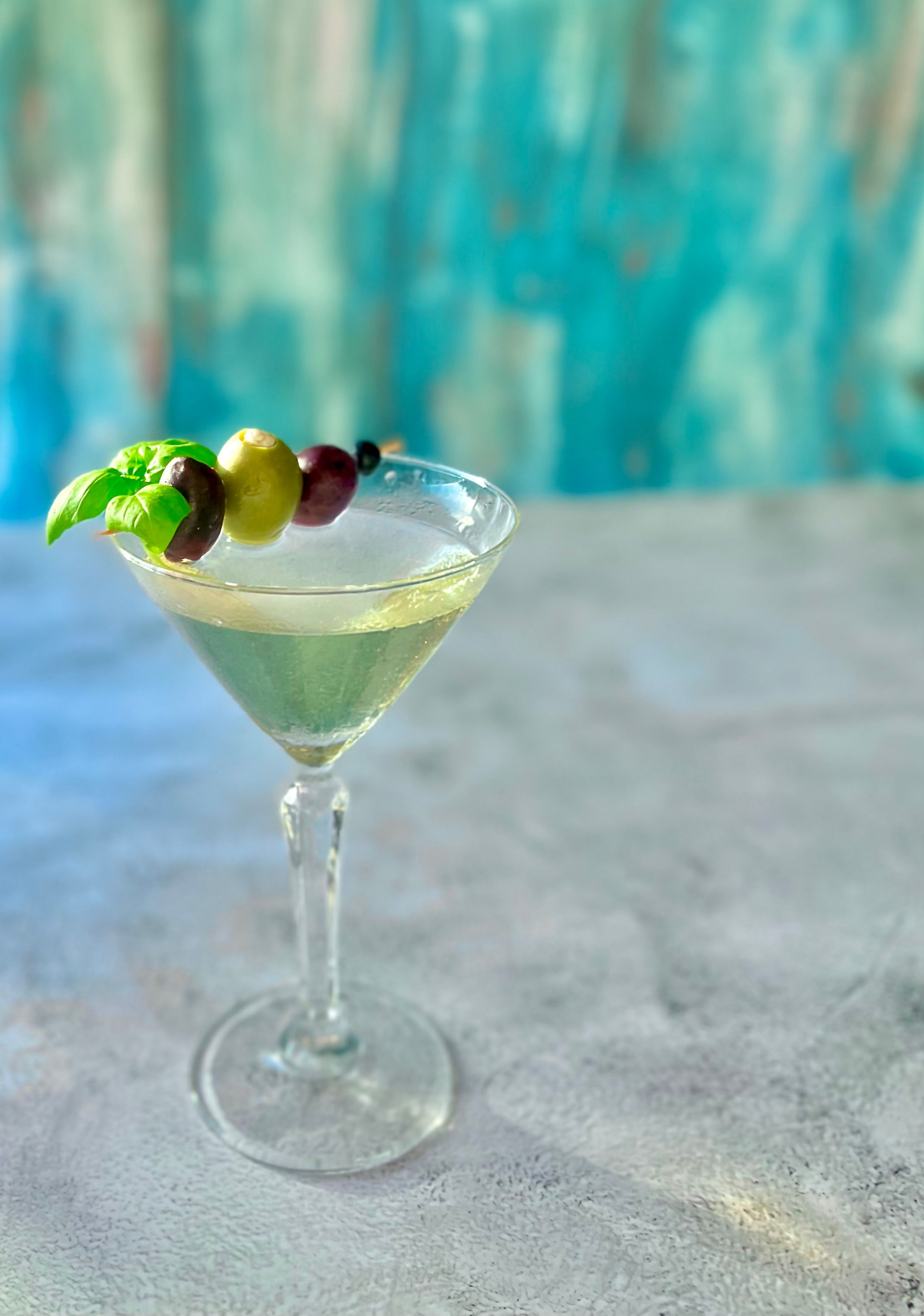 By Claire Mallett, bar director at Catch One in Los Angeles
Ingredients:
2.5 oz. Malfy Con Limone Gin, infused with Basil
0.25 oz. Carpano Dry Vermouth
2 bar spoons of Premium Olive Juice
3 Drops of Basil Infused Olive Oil
Fresh Basil
Stuffed Olives & Feta Stuffed Kalamata Olives
Preparations:
Pour the basil-infused* gin, vermouth, and olive juice into a stirring glass with ice and stir. Pour into a chilled Martini glass. Take a dropper and gently drop three drops of the basil-infused** olive oil. Garnish with the sprig of fresh basil, two stuffed Kalamata olives & one feta-stuffed green olive.
* Basil Infused Gin Instructions:
Place 10 fresh basil leaves in the bottle of gin. Put the bottle in a cold dark place for 24 hours and strain the gin through a cheesecloth or coffee filter to remove the basil leaves.
** Basil-infused olive oil instructions:
There are basil-infused olive oils that you can purchase. If you would like to make your own, use one cup of fresh basil leaves for every 2 cups of olive oil. Blanch the basil leaves by submerging in boiling water for 10 seconds followed by a quick dip in an ice bath. Add the leaves and olive oil to a blender and blend until completely smooth.
Inspired by the flavor profiles of the idyllic Amalfi Coast of Italy. Utilizing the fresh tastes of lemon, basil, olives, and feta cheese. Malfy Con Limone Gin is distilled just outside the city of Torino on the Amalfi coast. It is a very light citrus-forward gin, with low juniper notes that won't fight against the fresh sweet peppery oils of the basil infusion. Just a touch of olive brine adds a saline balance to the Martini. Dirty Sue's Feta Stuffed Olives make the perfect garnish for this Mediterranean Martini riff. – Claire Mallett, bar director at Catch One in Los Angeles
Palm Springs Martini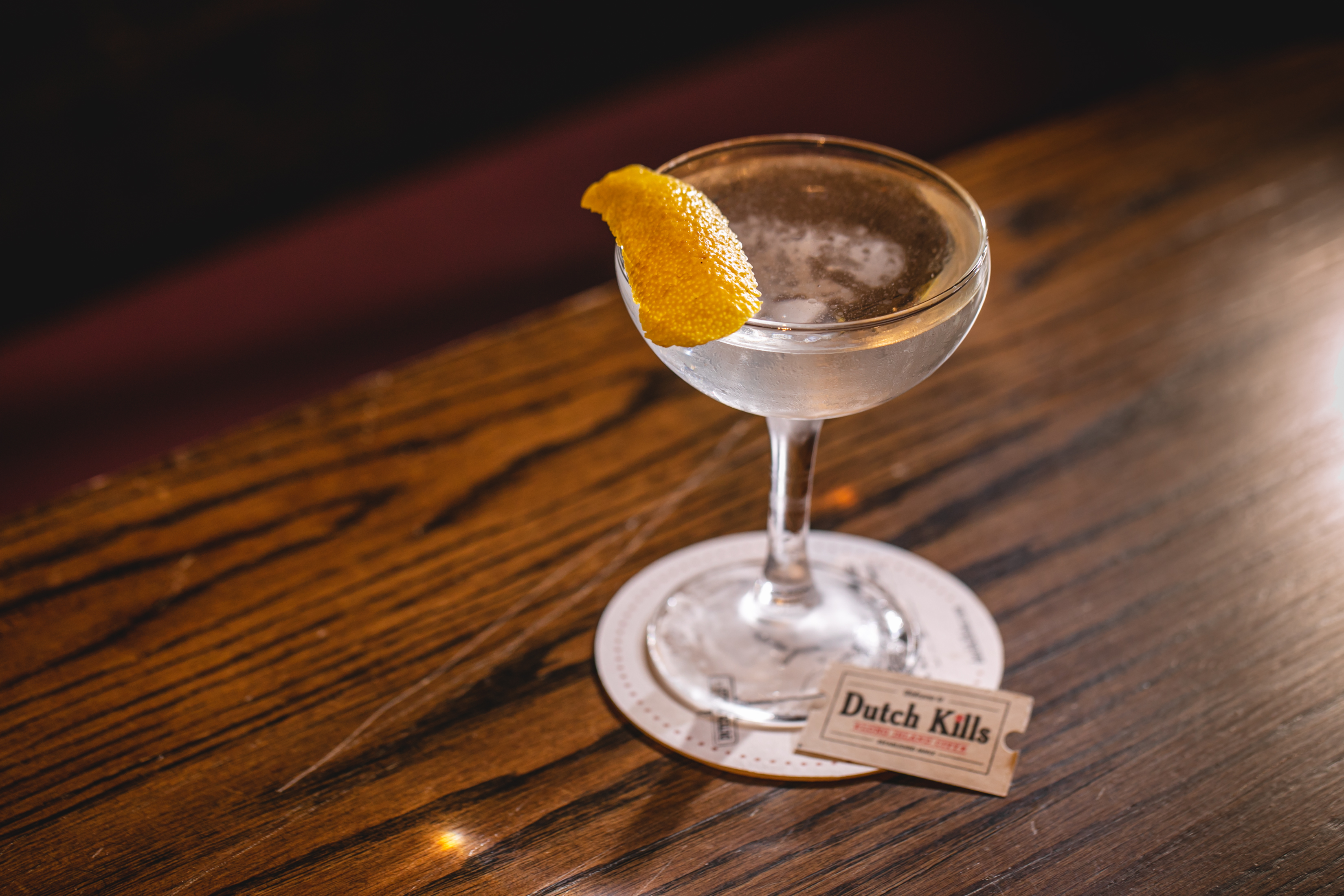 By Matty Clark, bartender at Dutch Kills in Queens, New York
Ingredients:
2.75 oz. Vodka
3/8 oz. Blanc Vermouth
3/8 oz. Ælred Melon Aperitif
2 Dashes chocolate bitters
2 dashes sea salt
Preparation:
Stir with ice, and strain into a chilled coupe. Garnish with a lemon twist.
It's a bright twist on the vodka martini with notes of fresh Charentais melon and chocolate. Ideal for steamy summer nights — but just as invigorating for brunch the morning after. Precisely what you need at your Palm Springs pool party. – Matty Clark, bartender at Dutch Kills in Queens, New York
Martini Swizzle
By Alex Barbatsis, head bartender at The Whistler in Chicago
Ingredients:
1.5 oz. Plymouth Navy Strength Gin
1 oz. Cocchi Extra Dry Vermouth Di Torino
0.25 oz. Combier Liqueur
2 drops of saline (4:1 water to salt)
Preparation:
Combine ingredients in Collins glass, fill with crushed ice, and swizzle. Express a lemon peel around the rim of the glass and discard. Garnish with a Castelvetrano olive skewer.
I love martinis, but they are a bit tough to drink in the heat of the summer. I use crushed ice and a navy strength gin to keep it cold while keeping the bite of a martini. The orange liqueur adds a bit of body and the Cocchi Extra Dry Di Torino Vermouth balances everything out. Plus, the bit of saline solution gives it a whisper of a dirty martini. — Alex Barbatsis, head bartender at The Whistler in Chicago
Botanist Martini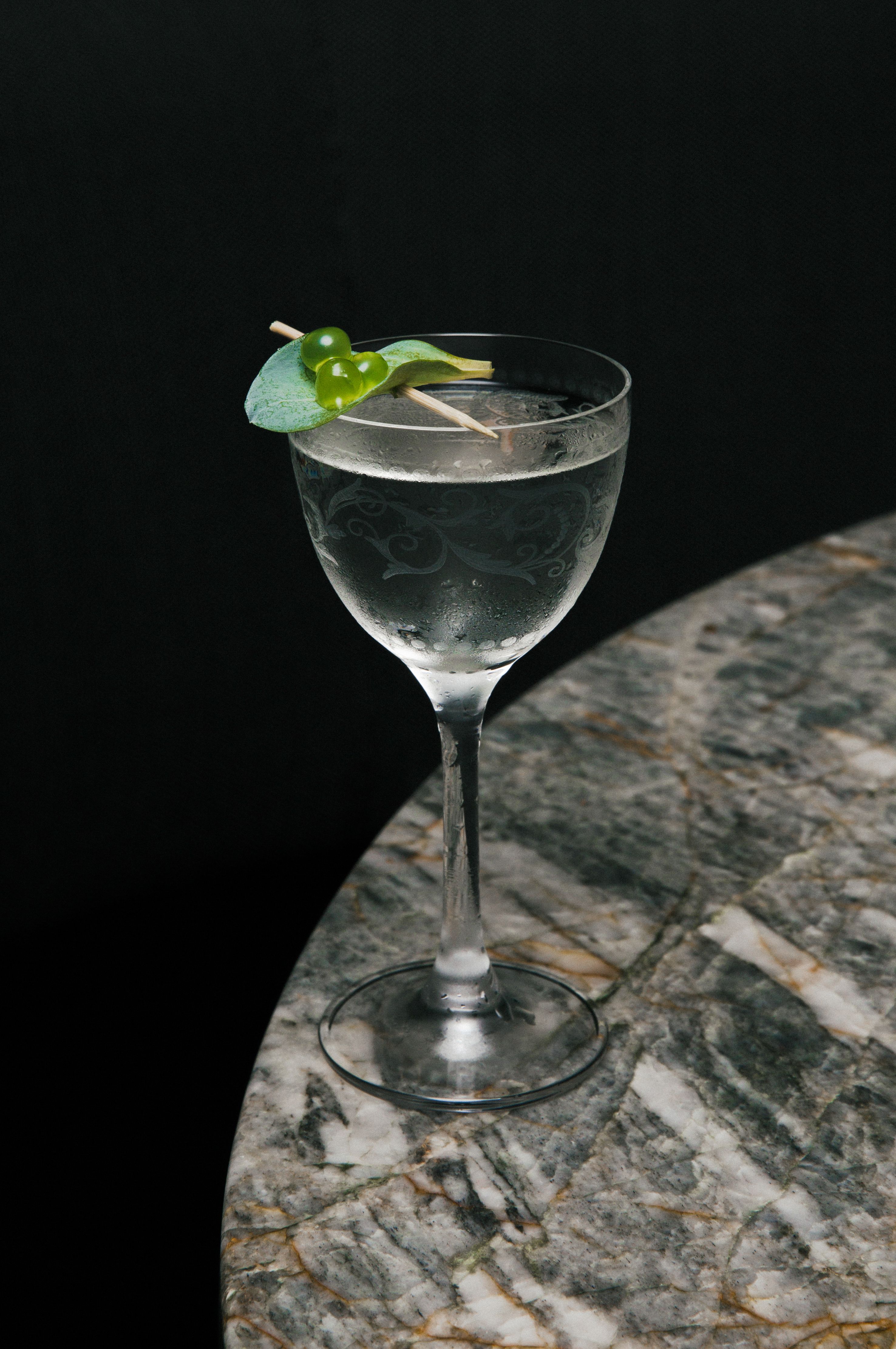 By Jeff Savage, head bartender at Botanist in Vancouver
Ingredients:
(Batched: Yields one bottle)
7 oz. Longtable London Dry Gin
7 oz. St George Terroir Gin
4.5 oz. Berry Bros and Rudd No. 3 London Dry Gin
3 oz. Noilly Prat Dry Vermouth
1.5 oz. Tio Pepe Fino Sherry
7 oz. Reverse Osmosis Water
Preparation:
Combine all ingredients together and stir until fully combined. Keep in the freezer until ready to serve. Garnish with cucumber balls (Jeff uses spherified cucumber compressed with absinthe, elderflower, salt, and cucumber juice).
The Botanist Martini is a fun riff on the classic. We use a unique blend of three different gins that create a strong base for the cocktail. At Botanist, we like to use ingredients that evoke the feeling of being in the Pacific Northwest, which we've done by incorporating spruce, verbena, and elderflower into the martini. The result is an herbaceous and bold twist on the beloved drink. – Jeff Savage, head bartender at Botanist in Vancouver
Saint Theo's Martini
By Simon Sebbah, beverage director at Saint Theo's in New York City
Ingredients:
2 oz. Grey Goose Vodka
2 oz. Blend of equal parts Dolin Dry Vermouth and Noilly Prat Extra Dry Vermouth
2 dashes of Lemon Bitters
Preparation:
Add all ingredients into a small mixing glass with ice, stir for 20 seconds until chilled, then strain into your martini glass without ice. Add garnish of Saint Theo's Pickled Onion and enjoy.
A well-made martini is the perfect drink for celebrating with friends after a long day at work or just sipping at home. Everyone has their own take on the classic cocktail; ours at Saint Theo's is a combination between a vesper and a smooth, dry martini. —Simon Sebbah, beverage director of Saint Theo's
As if (Martini)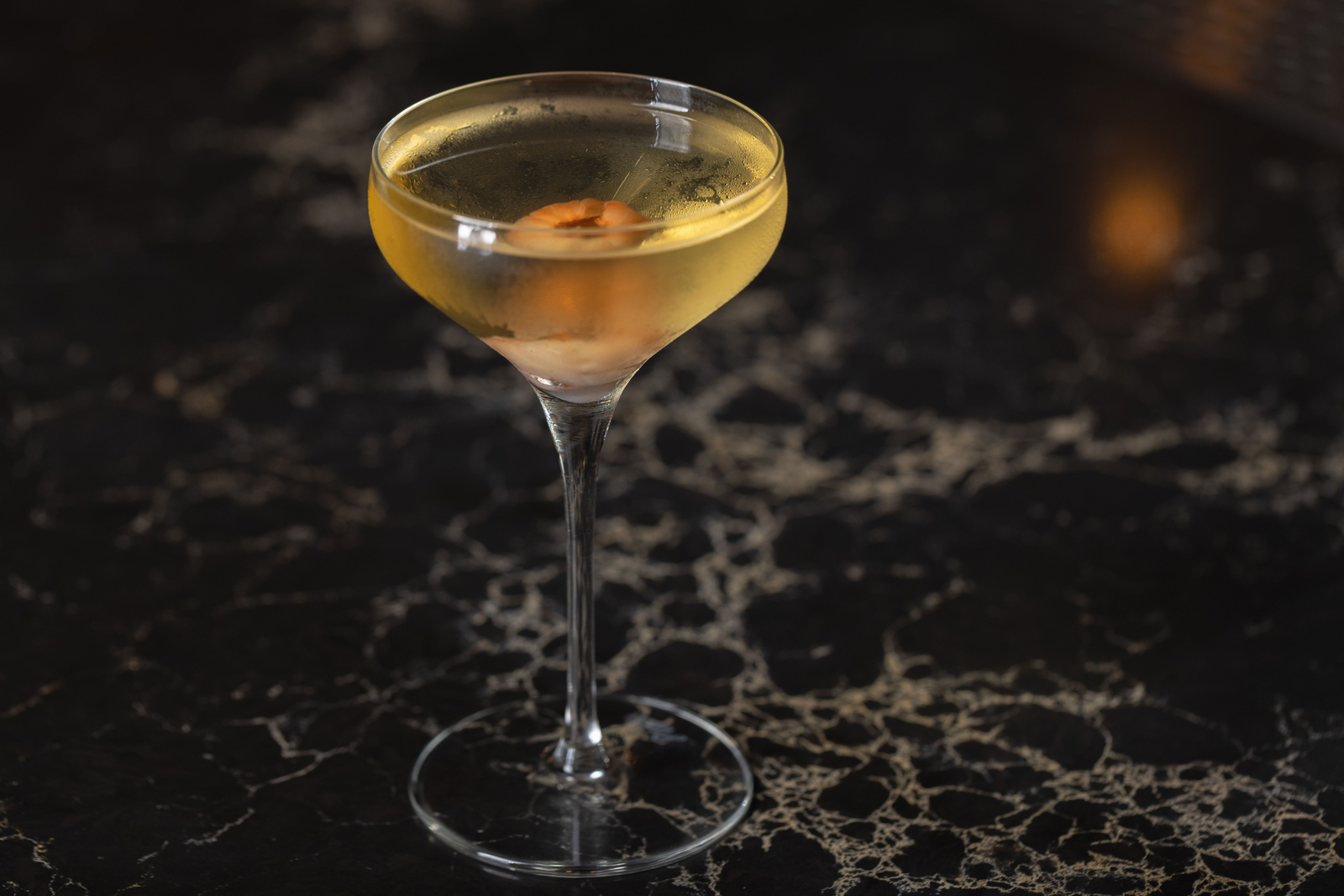 By Marshall Minaya, beverage director at Madame George in New York City
Ingredients:
1.5 oz, Monkey 47 Gin
.75 oz. Lychee Black Tea infused Dolin Blanc Vermouth
.25 oz. Giffard Lichi-Li
.5 oz. Blanc Verjus
Preparation:
Add all ingredients to a mixing glass, fill with ice, and stir till diluted. Strain the martini into a chilled martini glass. Garnish with fresh lychee.
We have a cocktail named 'As If', and this martini variation plays on the ever-famous "Lychee-Tini." Our reworked classics use a bit more traditional methods of building though, so with that in mind, this martini is built with a traditional martini in mind. We have a Gin base, using Monkey 47, and our blanc vermouth is infused with Lychee Black Tea, amplified with a touch of Giffard's Lichi-Ali liqueur. We use verjus to provide acid to our cocktail without the use of fresh citrus. The idea of a cocktail like this is to have your memory start jumping to times and places where you had your first "tini" or smelled your parents and thought "ugh! How do you drink that?!'' -Marshall Minaya, beverage director at Madame George
Principe Martini
By Alan Wither, bar manager at Principe in New York City
Ingredients:
3 drops Colatura
.25 oz. Dry Marsala
.25 oz. Cocchi Americano
.25 oz. Noilly Prat Dry Vermouth
2 oz. Vodka infused with Olive leaf
Preparation:
Combine all ingredients in a mixing glass. Fill with ice and stir for thirty seconds. Strain into Nick and Nora or Coupe glass. Garnish with olive.
Olive leaf vodka:
Infuse 20 grams of olive leaf with one liter of vodka at room temperature for three hours. Strain.
Martini variations are everywhere. For this cocktail, we wanted to do something different but at the same time very recognizable. Infusing the Vodka with Olive leaf gives these savory earthy qualities without the salinity of a dirty martini. – Alan Wither, bar manager at Principe in New York City