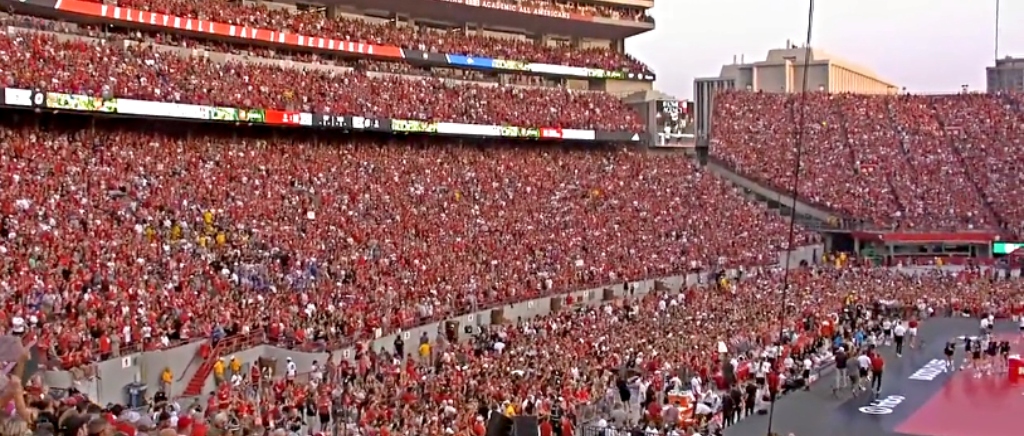 On Wednesday evening, the Nebraska women's volleyball team got set to play Omaha in a very different setting than they were used to. Volleyball is wildly popular in Nebraska, and the Huskers decided that after selling out their arena they should try playing a game inside Memorial Stadium, which is getting set to be filled on Saturdays for football.
The result was one of the most incredible scenes you'll see this year in sports, as 92,003 packed their way into a football stadium to watch a women's volleyball match, setting a new world record for the most people to attend a women's sporting event of any kind, anywhere.
Husker Nation, you've done it.

The WORLD RECORD for a Women's Sporting Event lives in Lincoln.

Today's attendance: 9⃣2⃣,0⃣0⃣3⃣

There is NO PLACE like Nebraska. pic.twitter.com/lQFguWHyp8

— Nebraska Volleyball (@HuskerVB) August 31, 2023
Nothing like a @Huskers tunnel walk. @HuskerVB x @HuskerFootball

: @BigTenNetwork pic.twitter.com/y8HnYSGBiK

— Big Ten Network (@BigTenNetwork) August 30, 2023
It's incredibly cool and the clips from the match are pretty wild, as it's an absolute sea of red in the crowd, with stands built up next to the court and then the normal football seats packed as well.
Andiiiiiiiii.

What a bullet from the freshman! pic.twitter.com/4UEFSNn8B2

— Nebraska Volleyball (@HuskerVB) August 31, 2023
The first set goes to the Big Red!

And would you take a look at that crowd. pic.twitter.com/Av0SDE9Q2t

— Nebraska Volleyball (@HuskerVB) August 31, 2023
92,003 in attendance.@HuskerVB breaks the world record for the largest crowd ever at a women's sporting event @espnW | #ThatsaW pic.twitter.com/ChyhUCvaAZ

— ESPN (@espn) August 31, 2023
Unsurprisingly, the Huskers dominated the match, as the No. 4 team in the country rolled through the first two sets, winning both at 25-14 a piece. It was quite the showing both from the team and gave the Nebraska faithful a good reason to have made their way to a record-setting evening. The pressure is now firmly on Matt Rhule and the Nebraska football team to give those same fans something to cheer about the next time they head to Memorial Stadium, now that they've gotten a refreshed taste of what dominance can look like in that building.