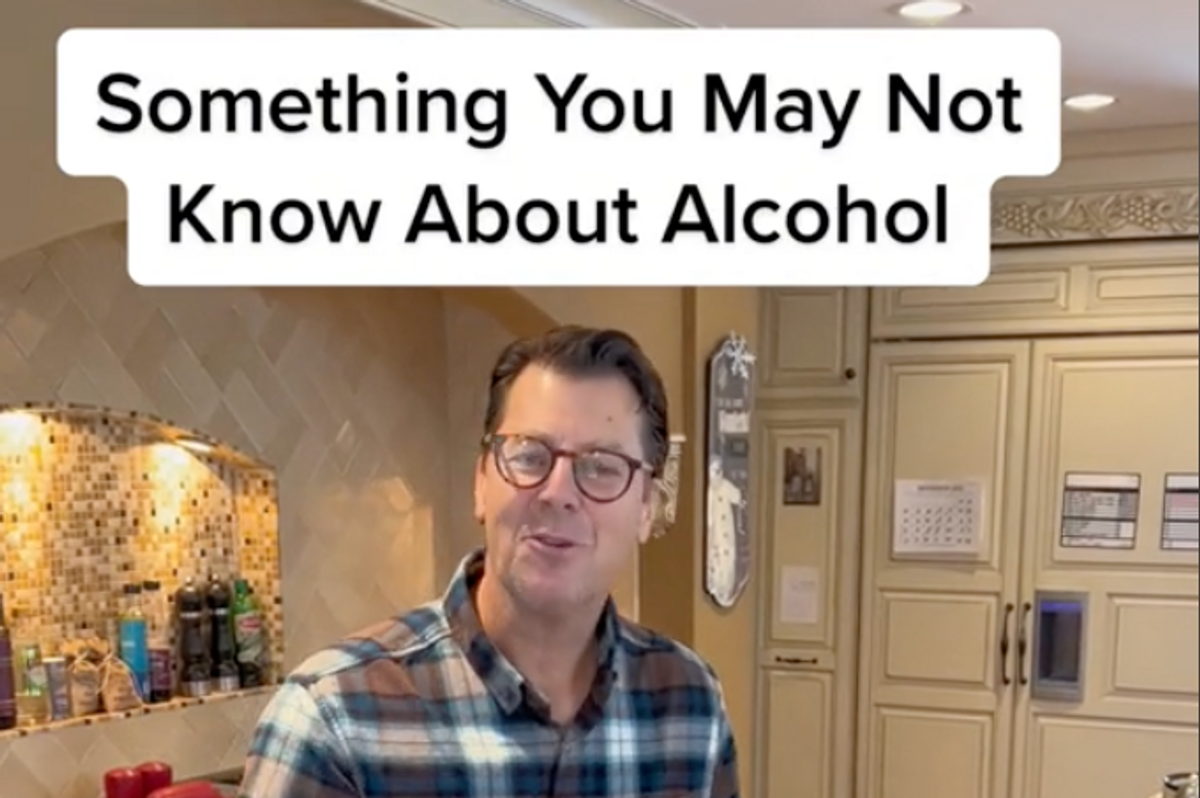 New Year's Eve is often a night filled with celebratory shots and champagne toasts. But as the party night fast approaches, one doctor is gently reminding folks the importance of partying responsibly during the holidays. Really, it's a piece of advice that's important all year long.
Dr. Brian Hoeflinger, an Ohio based neurosurgeon with over two decades of experience, has a TikTok channel filled with educational videos and lifestyle tips. But it's his latest clip explaining just how long it takes our bodies to break down alcohol that has gone viral.
In the video, which was shared on Christmas Day, Dr. Hoeflinger sets the scene of a party where "a lot of drinks are going down" by setting up a bunch of shot glasses filled with water.
"Say you're having five drinks in the first hour," he says, taking five fake, water-filled shots. "As you're taking them, that alcohol is building up in your system fast. [It] goes to your brain within five minutes and starts to affect you."
---
The same can't be said for other parts of the body. As Dr. Hoeflinger noted, "your liver only metabolizes one ounce of alcohol per hour." And according to Northwestern Medicine, that process only begins 20 minutes after consumption.
Hoflinger continues, "I've got five ounces of liquor in my system right now, and at the end of the hour I'm only going to burn off an ounce…so I'm going to have [four] ounces left in my bloodstream."
Of course, there are different factors—such as body mass, hormones, medications, etc.—that affect someone's rate of absorption. And yes, we might be able to form a functional tolerance where behaviorally, we show no signs of intoxication. However, even with all these variables, for the most part all bodies are affected by alcohol similarly. In other words, your blood alcohol level will be more or less the same, and the risks will remain even if you don't "feel drunk."
Hoeflinger continues, saying "the party's rockin', so we're gonna have some more," while taking three more shots and reminding viewers that he still has only burned off one ounce of liquor during the hour that's passed.
Now he's had a total of eight ounces of alcohol in two hours. He's burned off two, but still has six ounces left in his system—meaning that in this scenario, it will take another six hours to completely burn off.
In hour three, Hoefligner takes one shot since the party is "winding down." This brings him up to a total of nine ounces of alcohol over three hours. His liver has metabolized three ounces, leaving him (still) with six ounces of liquor left in his bloodstream.
"You're going to be drunk well into the wee hours of the morning, it doesn't wear off," he warns, noting the common misconception people have that "they stop drinking an hour or two and can hop in the car and drive." But in reality, "you can't do that as you're still drunk five, six hours down," he explains.
Dr. Hoeflinger concludes his video by saying:
"For this holiday season the whole point is I really want to tell people that's how alcohol can stack up in your system easily when you're drunk and you won't know it and it won't wear off for hours and hours down the road." This is followed by an urge for people to take an Uber or Lyft home to avoid potentially taking their own or another's life.
The informative clip, which has been viewed over 13 million times, received a flood of praise from viewers online, especially from parents with kids of a drinking age.
"This is the first time I have ever had anyone explain this in this way. I am forwarding this to my son," wrote one parent.
It also resonated among designated drivers. One person commented "thank you for caring and educating. I'm the sober ride. I've seen the devastation from drinking and driving."
The topic hits Dr. Hoeflinger on a personal level as well. In a previous video, he shared that he lost his 18-year old son, who died nearly a decade ago from drunk driving. Coming from a medical professional, the plea to not drink and drive is important to hear. But as a parent, it hits different. As he shared in the clip, "losing somebody you love is one of the worst experiences you can have in your life."
Though Hoeflinger focused on the effect of liquor in his party example, the principle applies to wine and beer as well. Healthline recommends only having one large glass of wine every three hours, and one pint of beer every two hours.
It also gives some best practices to avoid intoxication, including:
Eat at least 1 hour before drinking.
Sip your drinks slowly.
Avoid shots, which you're likely to down rather than sip.
Don't drink more than one standard drink per hour.
Alternate between alcohol and nonalcoholic drinks, preferably water.
Limit or avoid carbonated drinks, like champagne, sparkling wine, and cocktails mixed with soda.
Sit down when drinking, since doing it while standing tends to make people drink faster.
And of course, don't be afraid to get another ride home. For New Year's Eve (and beyond), feel free to kick back and have fun. But let's look out for one another by doing it safely.
This article originally appeared on 12.31.22