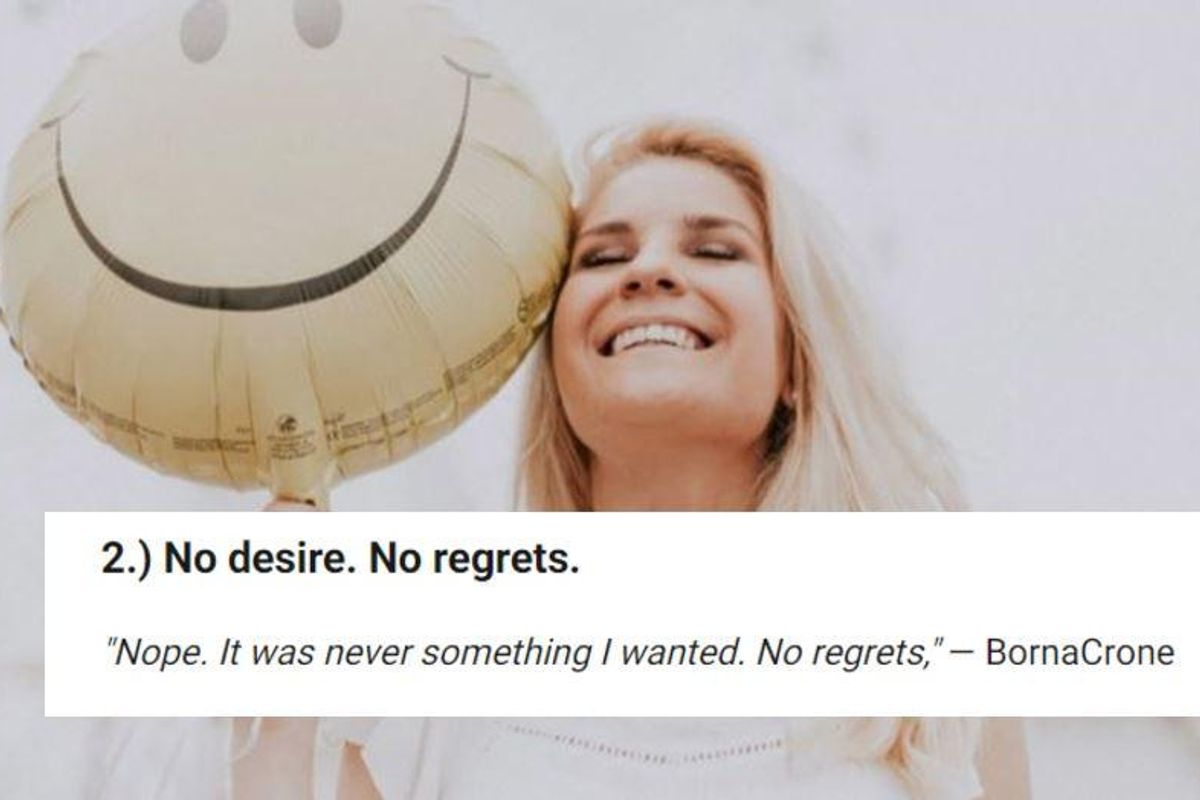 People who decide not to have children are often unfairly judged by those who chose a different life path. People with children can be especially judgmental to women who've decided to opt out of motherhood.
"You will regret it!" is one of the most common phrases lobbed at those who choose to remain childless. Why do people think they'll have such awful regrets? Because they often say they'll wind up "lonely and sad" when they're older.
They also say that life without children is without purpose and that when the childless get older they'll have no one to take care of them. One of the most patronizing critiques thrown at childless women is that they will never "feel complete" unless they have a child.
However, a lot of these critiques say more about the person doling them out than the person who decides to remain childless. Maybe, just maybe, their life is fulfilling enough without having to reproduce. Maybe, just maybe, they can have a life full of purpose without caring for any offspring.
Maybe the question should be: What's lacking in your life that you need a child to feel complete?
---
Studies show that some people regret being childless when they get older, but they're in the minority. An Australian researcher found that a quarter of child-free women came to regret the decision once they were past child-bearing age and began contemplating old age alone.
People revealed the reasons they've decided to be childless in an article by The Upshot. The top answers were the desire for more leisure time, the need to find a partner and the inability to afford child care. A big reason that many women decide not to have children is that motherhood feels like more of a choice these days, instead of a foregone conclusion as it was in previous decades.
Reddit user u/ADreamyNightOwl asked a "serious" question about being childless to the AskReddit subforum and received a lot of honest answers. They asked "People over 50 that chose to be childfree, do you regret your decision? Why or why not?"
The people who responded are overwhelmingly happy with their decision not to have children. A surprising number said they felt positive about their decision because they thought they'd be a lousy parent. Others said they were happy to have been able to enjoy more free time than their friends and family members who had kids.
Here are some of the best responses to the Askreddit question.
1. Never had any desire.
"I explain it to people like this – you know that feeling you get where you just can't wait to teach your kid how to play baseball? or whatever it is you want to share with them? I don't have that. Its basically a lack of parental instinct. Having children was never something I aspired to. My SO is the same way.
"Don't get me wrong, I have nothing against children. And I get really angry at people who harm them or mistreat them. I just never wanted my own." — IBeTrippin
2. No desire. No regrets.
"Nope. It was never something I wanted. No regrets." — BornaCrone
3. Mixed feelings.
"I have mixed feelings. I don't care much for children and I think it would have been disastrous for us to have them. I was also able to retire at 52. Pretty sure that wouldn't have happened with kids. So yeah, absolutely the right decision.
But I love my family and I do wonder what it would be like to have my own, to teach my child the things I know and not to be without someone who cares about me at the time of my death.
"But again, absolutely the right decision and at 55 I'm very happy NOT to have them. This is reinforced every time I'm exposed to other people's kids." — ProfessorOzone
4. They never visit.
"My wife worked at a nursing home for years. Imagine seeing for years that over 95% of old people never have family visit. Till they die and people want a piece of the pie. This when I learned that the whole 'well who is gonna visit you or take care of you when you're older' line is complete bullshit. We decided to not have kids ever after that. Made great friends and saw the world. No regrets." — joevilla1369
5. It wasn't an option.
"I don't necessarily regret not having them, but I regret the fact that I wasn't in a healthy enough relationship where I felt I COULD have children. I regret not being stronger to leave the abuse earlier, if I had been stronger, I think maybe I could have had the choice at least. So yeah… I have regrets." — MaerakiStudioMe
6. Grandkids are cooler.
"No. I knew what I was getting into when I agreed to marry my husband. He had two sons from his first marriage and a vasectomy. He was worried because I was so young (comparatively, he's 10 years older). I did think it over seriously and concluded that a life with him compared to a life without him but (perhaps!) with a baby I didn't even have yet was what I wanted. It worked out for us, we've been together for 26 years. As a bonus I have 9 grandchildren. All the fun without the work of the raising!" — Zublor
7. I'd be a bad parent.

"Not one bit. I have never believed that I would be a good parent. I have a short temper, and while I don't think I would have been physically abusive, my words and tone of voice would be harsh in a very similar way to my own father. I wasn't happy growing up with that kind parent and I wouldn't want to subject any child to that kind of parenting." — Videoman7189
8. I'd rather be the cool aunt and uncle.
"No and I found a partner who feels the same. We are the cool aunt and uncle." — laudinum
9. Loneliness is underrated.
"54 yrs.old. I've lived the past 30 years alone. Presently my dog and I are chillin' in a nice hotel on a spur of the moment vacation. I'd maybe be a grandfather by now?! I can't imagine what it would be like to have family. I picture a life lived more "normally" sometimes. All sunshine and roses, white picket fence, etc. but I realize real life isn't like that. No I don't regret being childfree or wifefree for that matter. My life can be boring at times but then I look back at all the drama that comes with relationships and think I've dodged a bullet. I spent 20 years trying to find a wife to start a family. Then I realized the clock had run out, so fuck it, all the money I'd saved for my future family would be spent on myself. Hmmmmm…what do I want to buy myself for Christmas?" — Hermits_Truth
10. No diaper changes and no regrets.
"Nope. I never had the urge to change diapers or lose sleep, free time and most of my earnings. Other people's kids are great. Mostly because they are other people's. When people ask 'Who will take care of you when you're old' I tell them that when I'm 75 I will adopt a 40-year-old." — fwubglubbel
11. Zero desire.
"I'm 55 (F) and never wanted children. I just don't much like them, and 20+ years of motherhood sounded (and still sounds) like a prison sentence. Maternal af when it comes to cats and dogs, but small humans? No chance.
"And I'm very happy to be childless. Cannot imagine my life any other way." — GrowlKitty
12. D.I.N.K.
"Dual income no kids = great lifestyle!" — EggOntheRun
13. Some regrets
"Over 50 and child free. My only regret is that my wife would have been a great mother, and sometimes I feel like I deprived her of that, even though we both agreed we didn't want kids. Sometimes I wonder if I pushed her into that decision. She works with the elderly every day and sees a lot of lonely folks so it gets to her sometimes. I was always afraid I'd screw up the parenting thing, so I was never really interested in the idea. I'm a loner by nature though." — Johnny-Virgil
This article originally appeared on 02.08.22