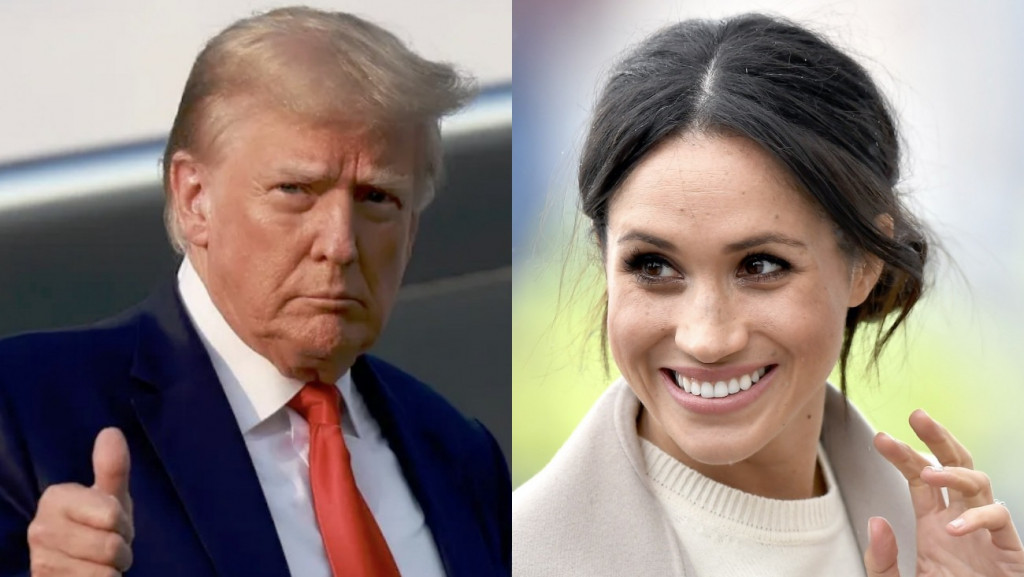 Donald Trump wants to Make America Respect the Queen Again.
The former president, who loves getting arrested, Diet Coke, and his family in that order, appeared on Hugh Hewitt's conservative radio show The Hugh Hewitt Show on Wednesday. After a question about the 50th anniversary of the Battle of the Sexes, for some reason, Trump was asked if he would do an on-camera conversation with Prince Harry and Meghan Markle, who "don't like you much," the host added, helpfully.
"Well, I don't know that they don't like me," a sleepy-sounding Trump replied. "I said that I don't think they are very appropriate what they're saying, what they're doing, and I didn't like the way she dealt with the Queen. I became very friendly with the Queen. She was an incredible woman. At 95, she was so sharp. She was 100 percent. When you watch Biden, you say this is a different planet."
Trump thinks Harry and Markle, who stepped down from their royal duties in 2020 for a life of not making podcasts, treated Queen Elizabeth with "great disrespect, and I didn't like it. And I didn't like the idea that they were getting U.S. security when they came over here. No, I think it's not a good situation going on with the two of them, but I didn't know that they don't like me. Somebody mentioned it might be possible. They wouldn't be the only ones."
Hewitt: But I mean, that would get ratings, wouldn't it?

Trump: Oh, if you want to set it up, let's set it up. Let's go do something. I'll, I'd love to debate her. I would love it. I disagree so much with what…
On a scale of 1 to 10, how pissed is Piers Morgan about Trump not asking him to set up a debate with Markle? I'd say at least 12.
Donald Trump tells Hugh Hewitt he would "love to debate" Meghan Markle:

"I didn't like the way she dealt with the queen … I'd love to debate her. I would love it. I disagree so much with what they're doing." pic.twitter.com/vc7KpzTaeJ

— The Recount (@therecount) September 6, 2023
(Via The Recount)