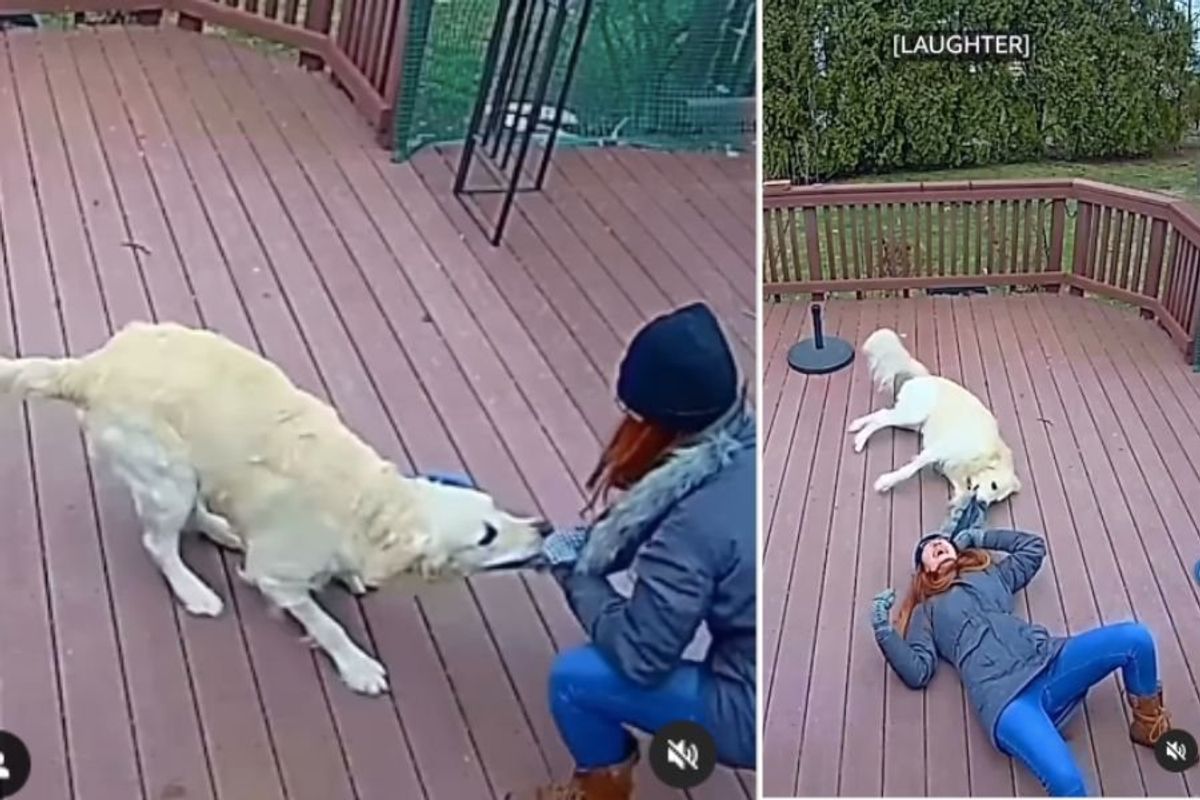 Golden Retrievers have a reputation for being good-natured, friendly, reliable dogs, making them ideal family pets. But even the most affable of good doggos turns into a die-hard tug-of-war warrior when presented with a furry pull toy.
That's a bit of an issue when they mistake the fur lining of a coat hood for a toy—and even more of an issue when the coat is attached to a human.
Dog owner and TikTok user @justttmakayla shared a hilarious encounter with Grissom, her Golden Retriever, that was captured on her Ring camera. In the video, Grissom grabs hold of her coat hood, perhaps heroically saving her from the squirrel that was clearly attacking her, or perhaps assuming she was offering it to him as a toy (because why else would fur exist?). Once he had a hold of it, the tug-of-war began.
---
"No one prepares you for what to do if this happens!" the woman exclaims as Grissom takes hold of her hood. "This is not how I want to go out, Grissom!"
She tries to wrestle the hood away from the dog, but as anyone who has played with a dog could anticipate, that just makes him pull back. It doesn't take long before she collapses into peals of laughter as her tail-wagging pup takes her for a ride around her deck.
Watch:
People in the comments, for the most part, were in stitches right along with her.
"Grissom was really doing all of this just to hear the laugh," wrote one commenter on Instagram. "He succeeded 😂😂😂😂."
"Her laughter is so infectious, it's hard not to smile hearing it 🥰," shared another."
"I just couldn't stop laughing once she started," added another. "I think it's her ability to see the absurdity and humour in the situation maybe? Whatever it is ❤️❤️."
Someone else wrote a brief ending to the story: "😂 …..And she died laughing with her best friend…"
But a few expressed concern that the dog wasn't going to let go, citing bad behavior and dangerous habits. However, as others pointed out, at no point did he appear to be aggressive. His body language is playful, and he even lay down to take a break from what he apparently thought was a pretty fun game right in the middle of it. She clearly wasn't afraid, and if she hadn't been laughing hysterically, she probably would have thought to take the jacket off to free herself.
Most people, however, simply delighted in the joy of a human enjoying a silly moment with her dog. And the woman herself addressed some of the concerns in a follow-up video in which she shared some terrible comments people have left calling for her to be violent with Grissom, writing, "Owning a reactive dog isn't easy. It requires a lot of patience and a lot of training. But we are a team and Grissom is the best dog with the most loving heart."
She also shared how she has been working with Grissom with a great deal of love and patience to work through his reactive tendencies:
@justttmakayla

Replying to @katiejohnson7862 I am so thankful that I get to be Grissom's owner🤍 #reactivedogawareness #reactivedogtraining #leashreactivedog #leashreactivity #positivereinforcementdogtraining #clickertraining #goldenretrieverlifestyle #goldenretrieversrule #goldenretrieversoftiktok #reactivedogsaregooddogs #englishcreamgolden #womansbestfriend
She and Grissom do make a good team, and if her laughter is any indicator, there's plenty more fun to be had for these two.