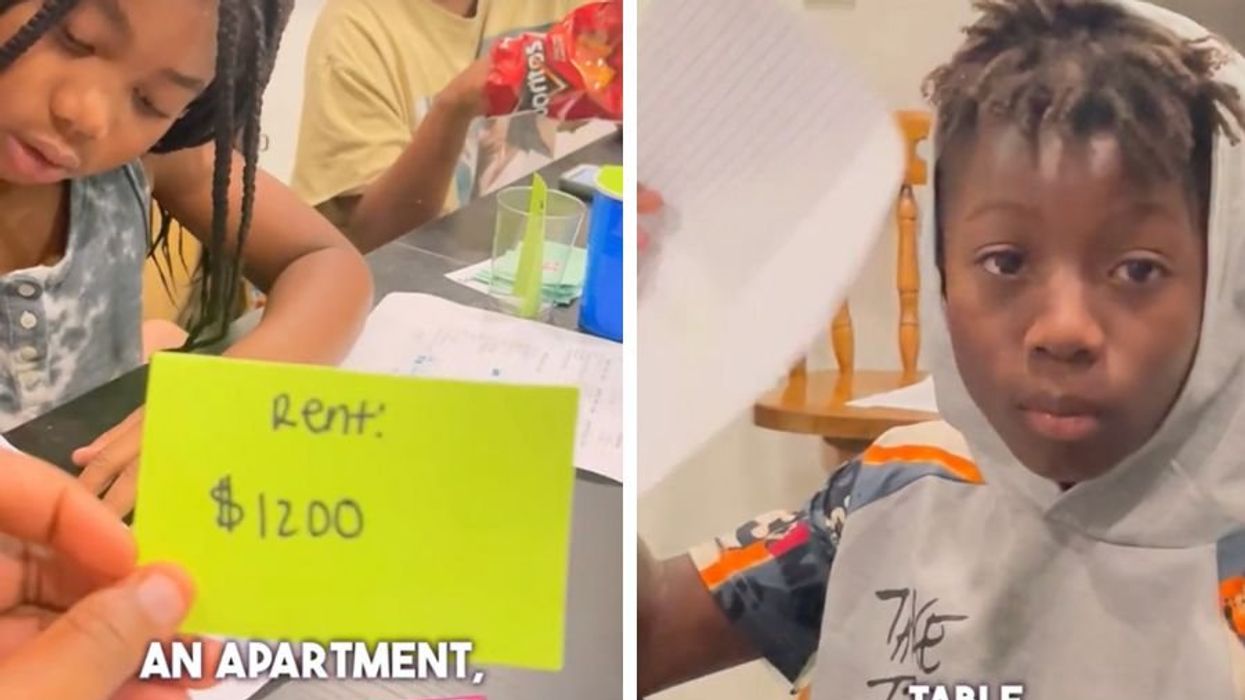 Kids, as much as we love them, they're like our little broke best friends. They seemingly always want something and have little to no concept on how much money things cost.
There are some parents that start explaining how finances and budgeting works at an early age so kids know what to expect. It also likely helps them understand that parents don't have an infinite amount of money to spend on unnecessary items. Ariel B. is a mom and content creator that created budgeting worksheets for her children to use to learn how to budget and uploaded the video to TikTok.
Let's just say, the kids were a bit stressed before they even finished the worksheet.
---
The mom of four gathered her children around the table with budgeting worksheets and a $3,000 imaginary budget, which is based off of a $15 minimum wage plus an additional $500. Ariel explained the average cost of rent in their area and instructed her kids to look up the average cost for utilities in an apartment.
"How long are you leaving your lights on," one of her daughters asks. To which Ariel responds, "well, all of our lights are on in here and you don't seem to mind."
At one point in the video, they're discussing a food budget when one of her children says he will eat take out daily. Reality quickly set in when Ariel encouraged them to crunch some numbers.
"That's too much money, actually," the younger daughter exclaims. "I just won't eat lunch. I'll just eat a big breakfast. I probably won't eat breakfast."
@the_arielb

Teaching my kids budgeting💰 FREE PDF 🔗 in bio ❤️
In another video, one of the children is appalled that they would be expected to pay first and last month's rent when moving into an apartment. The older daughter is simply flabbergasted at the lack of available money.
"I have nothing. I have no money at all. And I don't know what to do about it," the girl says. I cut all of my ones and I'm already on a bike. Like I don't know what to do. Like what else can I do?"
Oh, little ones, welcome to Adulting 101. These kids are likely thanking all of the stars in the sky that this was just an imaginary situation and not something they need to worry about for a long time.
@the_arielb

Teaching my kids budgeting, they only have $3,000 a month. 💰 FREE PDF 🔗 in bio ❤️