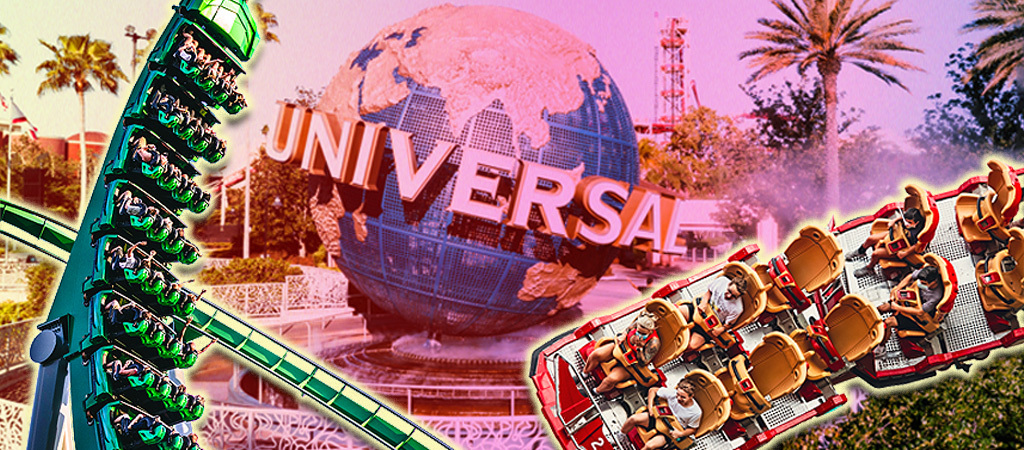 Hello. My name is Josh and I am a roller coaster wimp. This is not easy for me to disclose — unless I'm at a theme park with someone and they ask if I want to go on something called The Spine Buster. Then I'll be the first to admit that I hate coasters.
Simply put, they're not for me. I do not enjoy dropping 100 feet in the air, or going from zero to 50 MPH in a matter of seconds, or regretting not putting my keys in a locker when I had a chance. And yet, I still love Universal Studios, a theme park known for its coasters. Is it because I have a nostalgic affection for Jimmy Buffett's "Fruitcakes" music video (RIP)? Yes. But also, there are other things at the park for my fellow roller coaster skeptics — the dozens of us — to do.
Here are some suggestions, based on a recent visit to Universal Orlando Resort in Florida.
1. Ride non-roller coaster rides, obviously
One of the reasons why I prefer Universal to, say, Six Flags is because of the wide array of rides. It's not just coasters. There are water rides (Jurassic Park River Adventure), dark rides (Transformers: The Ride 3D, The Amazing Adventures of Spider-Man), motion simulator rides (The Simpsons Ride), log flumes (Dudley Do-Right's Ripsaw Falls), stunt shows (The Bourne Stuntacular), the Dr. Seuss-themed Seuss Landing, all the old comic strip characters like Heathcliff and Sluggo in Toon Lagoon, and Race Through New York Starring Jimmy Fallon, which isn't technically "good" but is so weird that it needs to be experienced at least once.
There's also The Wizarding World of Harry Potter, which is one of the most impressive achievements in any theme park I've been to. Take the train from Hogwarts Express from King's Cross station to Hogsmeade; explore the castle in Harry Potter and the Forbidden Journey; drink a Butterbeer; or check out the animatronics on Hagrid's Magical Creatures Motorbike Adventure.
Not bad, right fellow coaster babies?
2. The food and drinks (and old Simpsons clips)
The nice thing about not riding roller coasters is that you can eat and drink as much as you want, and not have to worry about it, uh, coming back up. My picks at Universal Florida are Mythos, an immaculately themed sit-down restaurant with fake rocks galore; anywhere in the Wizarding World that serves the lager-style Dragon Scale Beer; and the The Simpsons food court with Krusty Burger, the Frying Dutchman, and Cletus' Chicken Shack, as well as Moe's Tavern.
One of my favorite things to do at Universal is order a Duff Lite and watch clips from classic-era episodes of The Simpsons. Could I do this at home? Yes, but it's more fun (less depressing) at a theme park bar.
3. Visit during Halloween Horror Nights
Universal has numerous themed events throughout the year, but the best of the bunch is Halloween Horror Nights. I wrote a little about the experience in the introduction for my interview with The Last of Us co-creator Neil Druckmann, but there are scare actors roaming the grounds, elaborate haunted houses, and so many Chuckys. Should I look into why I'm terrified to ride Revenge of the Mummy, but I'm totally chill when it comes to murderous maniacs holding a knife in my face? Next question.
This year, Halloween Horror Nights has mazes themed around Stranger Things, The Last of Us, The Exorcist, Child's Play, and the Universal Monsters, as well as original concepts with B-movie names like Bloodmoon: Dark Offerings and YETI: Campground Kills. It's a blast. And a good excuse. "Oh dang, I really wanted to do The Incredible Hulk Coaster with you, but we gotta get in line for The Last of Us house."
4. Do the E.T. ride over and over again
Universal Orlando debuted on June 7, 1990. Only one opening day ride is still active: E.T. Adventure. The dark ride is goofy and dated and hardly thrilling — and that's why I love it.
I love the recorded message from Steven Spielberg ("Trouble" "That's right, E.T."). I love the fake pine forest smell in the queue. I love Botanicus (shout out to Podcast the Ride) and the baby ETs and the way ET says your name at the end of the ride but only when he feels like it.
There will come a day when E.T. Adventure is bulldozed for a Minions petting zoo (you know Universal has their finest scientists working on a formula to make real Minions), which is why we need to find the Holy Grail and give it to Spielberg. As long as he's around, E.T. Adventure isn't going anywhere.
5. Maybe try a non-scary "junior roller" coaster?
On my final day at Universal, I arrived early to secure a spot on Harry Potter and the Forbidden Journey, one of my favorite rides in the park. You travel through Hogwarts on what feels like a floating car seat, dipping and dodging from spiders, Dementors, the Whomping Willow. It's great. But because I was there too soon, I had about 20 minutes to kill. That's when I knew it was time to face my irrational fear. Across from Forbidden Journey is Flight of the Hippogriff, which Wikipedia humiliatingly describes as a "junior roller coaster." It's a gateway coaster for children — or an adult who would rather sit through Jurassic World Dominion again than ride the VelociCoaster.
It was now or never. After strongly considering never, I stepped into the queue, sat down on the coaster, and prepared for the worst.
The ride was over in less than 80 seconds with no major drops, vertical loops, or anything remotely scary. Take it from me, an adult with student loans and car payments, and the six-year-old sitting behind me: it was fun. I wasn't ready for Hagrid's Magical Creatures Motorbike Adventure this visit, but I will be next time.