Scotch whisky is the biggest style of whiskey in the world. It's not even close. That means that there's a lot of it on shelves (even in the U.S. where it's solely an import). When there's an overabundance of anything, finding the best is a crapshoot without some guidance. Scotch is no different and, trust me, there's a lot of shitty Scotch whisky on shelves right next to killer bottles (and plenty of mids).
A great way to avoid the shit is to pay attention to the big spirits awards like the New York World Spirits Competition. This year's results were just released with a solid yet short list of some seriously amazing Scotch whiskies on it.
I was a head judge at this year's competition, so let me give a little foundational information before we dive in. The whiskeys I'm listing below are all the Scotch whiskies that made it to the finals or "Sweeps" round and then won the best of their category. To achieve that, each pour had to go through a lot of double-blind tastings. First, the pour had to be awarded gold medals from every judge on the panel both unanimously and anonymously. Once the "double gold" was confirmed, those judges had to decide whether or not to send the pour to "Sweeps" (the finals). Then those award-winning pours were double-blind-tasted again by all of the judges to decide which was the best in their category.
Then they were double-blind tasted again against all the whiskeys for the best overall whiskey of the year. It's a lot.
Spoiler alert, a Scotch whisky did not win the best whiskey of 2023 in New York (we'll be announcing that whiskey here next week). But a handful of great Scotch whiskies did make it to the finals and those are the ones I'm breaking down below with my own tasting notes while calling out the best of each category. Let's get into it!
Also Read: The Top 5 UPROXX Scotch Whisky Posts of The Last Six Months
Double Gold Medal Blended Scotch — Fior Blended Scotch Whisky
ABV: 43%
Average Price: $44
The Whisky:
This new blended Scotch whisky is an American-driven expression. The brand was created by retired US Marine Major Eric Dominijanni who fell in love with scotch while stationed abroad. The whisky in the bottle is a blend of Highland and Speyside Scotch whiskies (malted barley and grain whiskies) that are vatted, proofed, and bottled to highlight bold flavors for an American audience.
Tasting Notes:
Nose: There's a clear sense of rich and almost creamy maple syrup on the nose with hints of seared vanilla pods, old cinnamon bark, and dark chocolate-covered espresso beans with a thin whisp of campfires smoldering on a cold fall day.
Palate: The taste opens with that dark chocolate layered with cinnamon malt cakes, salted candied almonds, rum raisin, and old oak staves with another whisper of those soft campfires in the distance.
Finish: The cinnamon goes deeper toward clove and allspice on the finish as the chocolate and vanilla create a creamy finish with plenty of soft maltiness and cold smoke.
Bottom Line:
This is a subtle and balanced malt with just enough smoke to be clear and present but never overwhelming. This works really well over some ice or in a cocktail.
Best Blended Scotch — The Sassenach Blended Scotch Whisky
ABV: 46%
Average Price: $119
The Whisky:
Yes, Scotch whisky has celebrity white-labeled brands too. This one comes from Outlander star Sam Heughan. The whisky's recipe/build is under wraps so there's not much more to say besides that Sam Heughan is not simply slapping his name on a bottle. He's fully involved in the process as a deeply caring whisky fan who wants to put something special on the shelf.
Tasting Notes:
Nose: Lemon drops and Almond Joys drive the nose with a hint of floral honey, bourbon vanilla, and dried apricot next to deep maltiness and a hint of oak.
Palate: That apricot gets leathery on the palate as the malts arrive with plenty of honey and cinnamon-forward spice next to a hint of eggnog nutmeg.
Finish: The finish is concise with a little cinnamon, honey, and almond rounding things out.
Bottom Line:
This is a concise and well-rounded whisky. The vibe is very slow sipping (especially over a rock) but this whisky also makes a killer cocktail.
Double Gold Medal Distiller's Single Malt Scotch — Glenmorangie Highland Single Malt Scotch Whisky The Cadboll Estate Aged 15 Years Batch #3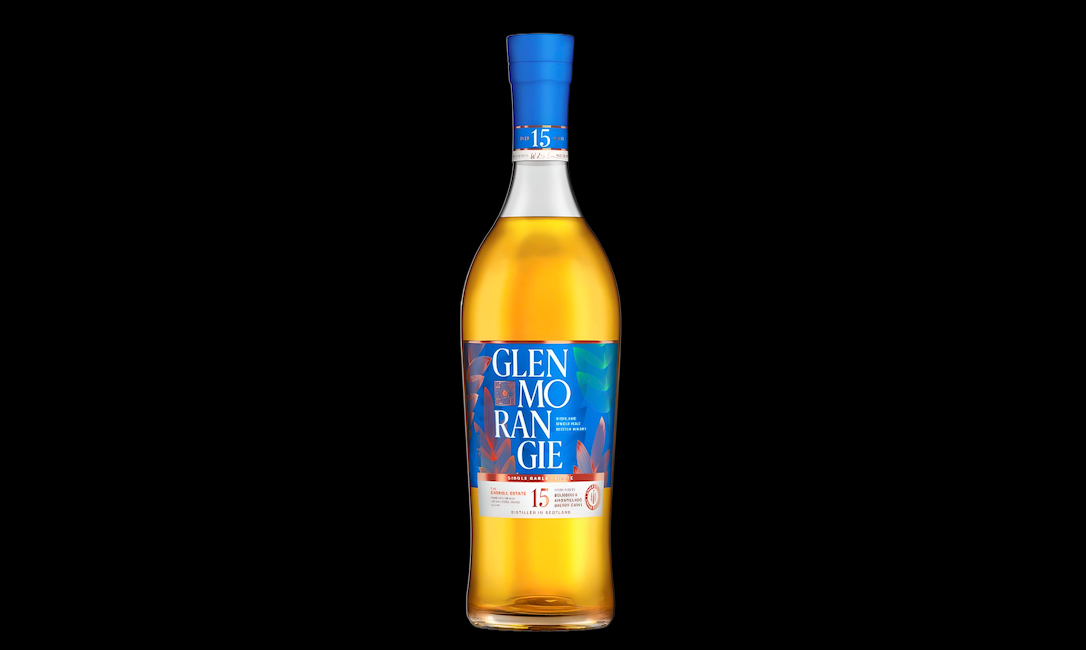 ABV: 43%
Average Price: $99
The Whisky:
The new batch of Glenmorangie's beloved Carboll Estate is here. This year's edition is made with two barley harvests from Glenmorangie's own estate-grown barley (on the Carboll Estate). Once distilled on Glenmo's iconic copper pot stills, the whiskey is aged in American oak (ex-bourbon casks) primarily. The final batch is vatted with a few barrels of Amontillado sherry casks as well.
Tasting Notes:
Nose: Beautiful notes of hazelnut bathed in floral honey drive the nose toward stewed peaches over buckwheat pancakes, soft jasmine, and a hint of cold slate slick with rainwater.
Palate: The floral honey opens the palate toward fresh gingerbread, Nutella, and clove-laced orange layered into toffee dropped in roasted almond with this fleeting sense of summer herb gardens and bright yellow nasturtiums.
Finish: A touch of toasted coconut adheres to the gingerbread and toffee on the finish with a dash of bourbon vanilla, creamy mocha latte, and old oak stave.
Bottom Line:
This is delicious malt. It's balanced sweet malt with real depth. Overall, sip it slowly and then use it in your favorite whiskey cocktails.
Double Gold Medal Distiller's Single Malt Scotch — Glenmorangie Highland Single Malt Scotch Whisky Aged 18 Years
ABV: 43%
Average Price: $149
The Whisky:
Glenmorangie has a wide range of whiskies to choose from. The whisky in this bottle is aged for 15 years in ex-bourbon casks. Then a portion of those casks is re-barreled into sherry casks for three years. That whisky is then batched back with the rest of the bourbon barrels to create this release.
Tasting Notes:
Nose: Honey dominates the nose with mixed nuts and dried fruits, kind of like a homemade trail mix without the M&Ms.
Palate: The taste holds onto those rich honey notes and adds in a late-fall sense of wet, falling leaves with a soft nuttiness and almost savory fruitiness (not quite a squash but not as sweet as a fig either).
Finish: A very, very small whisper of cherry or applewood smoke arrives to usher in a slow finish of salted caramel, more of that bespoke trail mix, and a final note of sherried malt.
Bottom Line:
This is a great after-dinner sipper. Add a little water or a single rock to really let it bloom in the glass and then take your time with it.
Best Distillers' Single Malt Scotch & Best Scotch of 2023 — Ardbeg 25 Years Old Islay Single Malt Scotch Whisky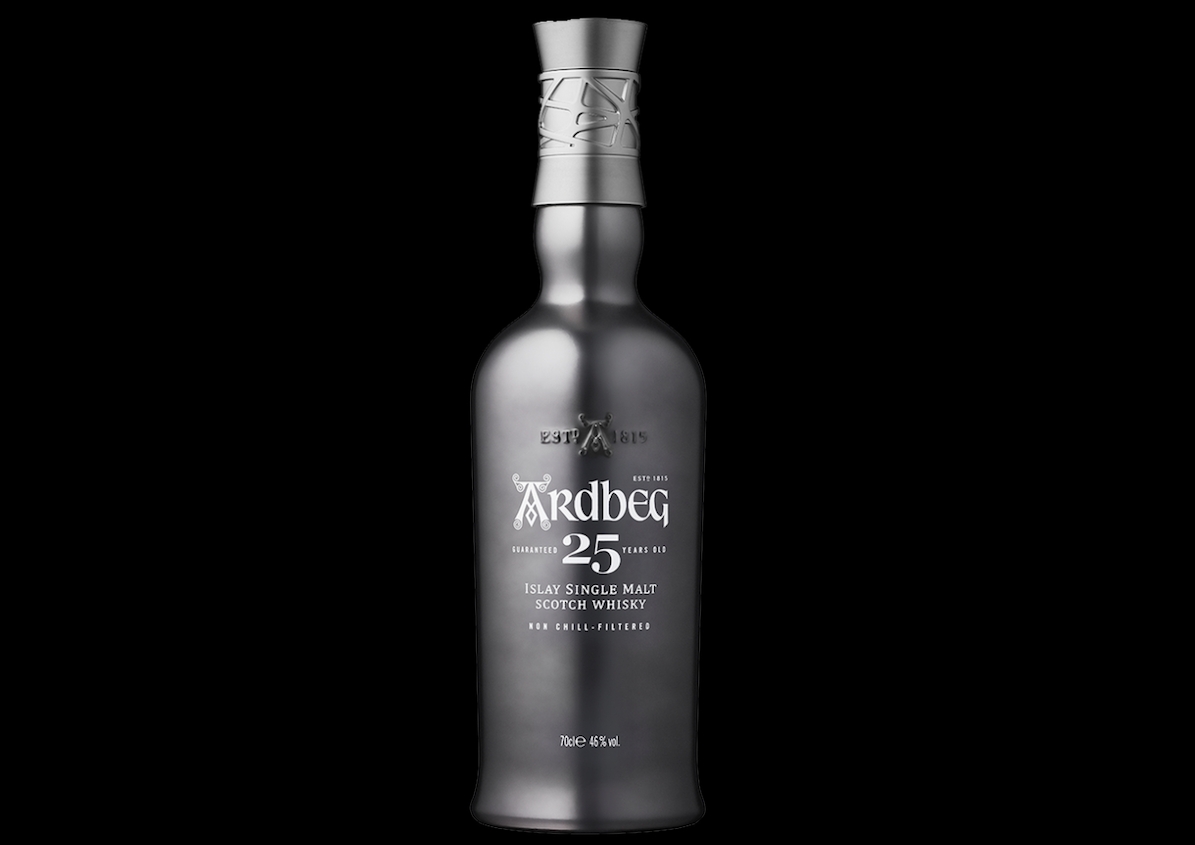 ABV: 46%
Average Price: $1,350
The Whisky:
This expression from Ardbeg is also their oldest expression (as of their current lineup). The whisky is the epitome of peat on Islay. What makes this expression so special and extremely rare is that it was distilled and casked when Ardbeg was on its knees as a company, in the early 1990s. They simply weren't making that much whisky back then and there's hardly any of it left. That makes this a one-and-gone whisky with only 278 bottles, 90 of which were sent to the U.S.
Tasting Notes:
Nose: Heavy cream, smoked toffee, lemon pith, and ashes from last night's campfire open this one up on the nose before veering toward soft sea-filled air, a touch of muddy bog, and old shovel handles from a well-worked farm.
Palate: On the palate, there's this deep sense of potting soil that's still in the plastic from the garden shop next to uncooked smoked bacon rashers with plenty of black pepper and a slightly sour edge leading back to that heavy cream and smoked toffee by the mid-palate.
Finish: Finally, hefty/spicy packed tobacco chewiness brings about a full-on head buzz — it's a wild sensation.
Bottom Line:
This is an iconic whisky. It's f*cking delicious and one of my all-time favorite Islay pours. Again, take your time with it and it will reward you with a deep flavor profile that constantly surprises your palate.