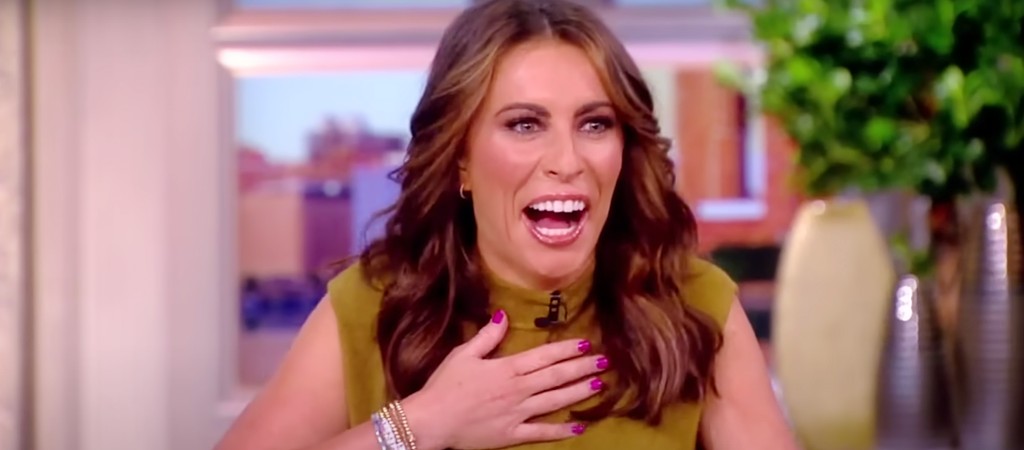 Whoopi Goldberg stunned pretty much everyone in the room when she randomly asked Alyssa Farah Griffin if she's pregnant during a panel discussion on Mitt Romney's salmon sandwiches during Thursday's episode of The View.
The outrageous moment brought the show to a screeching halt because you don't just ask a woman if she's pregnant as Joy Behar pointed out. Whoopi immediately apologized and chalked the whole thing up to Griffin having a "glow" and a "vibe" to her that prompted the question. While Griffin was understandably flabbergasted by the moment, it didn't help that her mother-in-law was in the audience and wants grandbabies.
Despite the moment quickly going viral, Griffin is taking the whole thing in stride and has nothing but love for Whoopi.
"She thinks out loud sometimes," Griffin told The View: Behind the Table podcast via Mediaite. "And I chose to take it as a compliment that I'm glowing. She's so sweet and at the break she's was like, apologizing to me and giving me the heart sign."
Griffin said wild moments are just part of being on The View:
"That's what makes the show fun. It's completely unpredictable. I thought we were talking about Mitt Romney, but then we were talking about my pregnancy plans of the future, which just again — headline news — I am not pregnant at this time."
Griffin also made it a point to thank the make-up team, who apparently did an incredible job that day. "I'm giving credit to my makeup artist for making my face look like it was glowing," she said.
(Via Mediaite)