Nobody can do what Rihanna can. The singer, songwriter, actress, and businesswoman took the Jay-Z mogul mold and elevated it — even beyond what HOV could. At the height of Kanye's powers with Yeezy Brand, back when he could do no wrong, Rihanna was still more beloved, more respected, and more vital to culture.
It's why we are still hotly anticipating a followup to 2016's ANTI. It's why people lost their minds when she revealed a baby bump during a Super Bowl Halftime performance. It's why FENTY continues to be one of the most forward-thinking brands in all of fashion. Rihanna is just different.
And only she could save PUMA.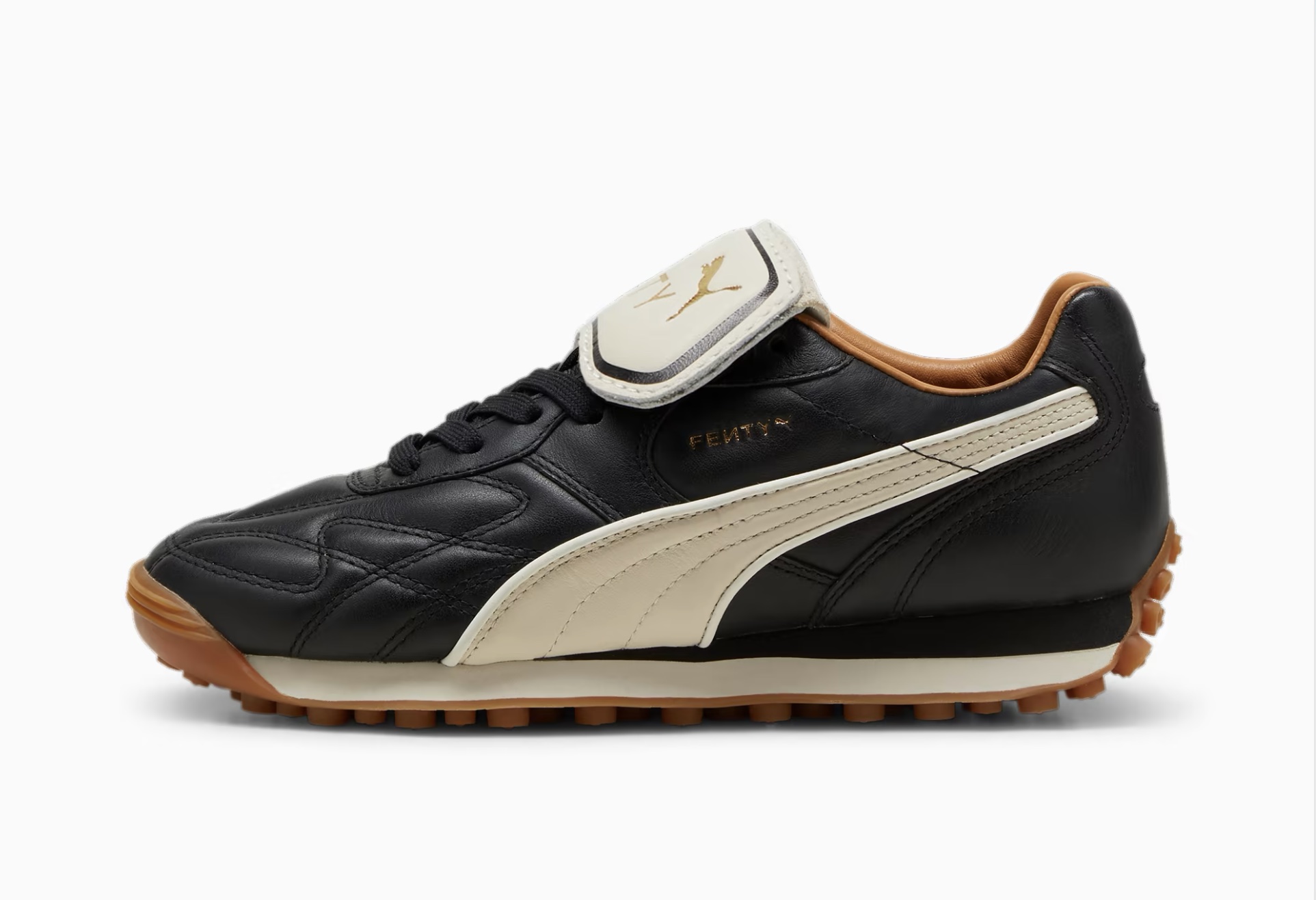 Did PUMA just eclipse Adidas, Nike, and New Balance? For one week, at least, yes. This week brought the release of PUMA and Rihanna's latest collaboration == the Fenty x PUMA Avanti, a sneaker so layered with sneakerhead geekery, that I can't help but be psyched for it.
The sneaker is PUMA and Rihanna's fourth collaboration, following the Fenty x PUMA Trainer, Fenty x PUMA Fur Slide, and The Creeper, and features a premium leather upper, dual gold foil branding, leather piping, and an attached fold-over tongue in leather, with brown leather lining and a gum outsole. It's available in two colorways, black and white, and silver chrome.
It's easy to write this sneaker off as simply a dope design, but it's actually layered with meaning. The design of the Avanti is a combination of PUMA's King Football boot, which was worn by legends like Eusebio, Pelé, and Maradona, and the heritage running shoe Easy Rider. It's a great combination of PUMA classics, but it goes deeper than that, the design of the sneaker makes a sly reference to the Jil Sander King — a collaboration between PUMA and German designer Jil Sander — who was actually the first person to combine the world of high-end fashion and sportswear. A nice tip of the cap from one groundbreaking female designer to another, right?
So you might be asking yourself, where can I pick up a pair of Avantis? Unfortunately, not at PUMA. The sneaker is clean sold out (toddler versions are still available, no you can't size down into those though), which means if you want to score a pair you'll have to hit aftermarket sites.
StockX, eBay, and GOAT are all great choices that authenticate their sales so you can buy with some piece of mind. As of now, the prices for the Avanti aren't too out of line — they're just above retail depending on size, so your options are either to pay a slightly inflated price, or just wait until PUMA inevitably drops more.
Take a closer look at the design below.