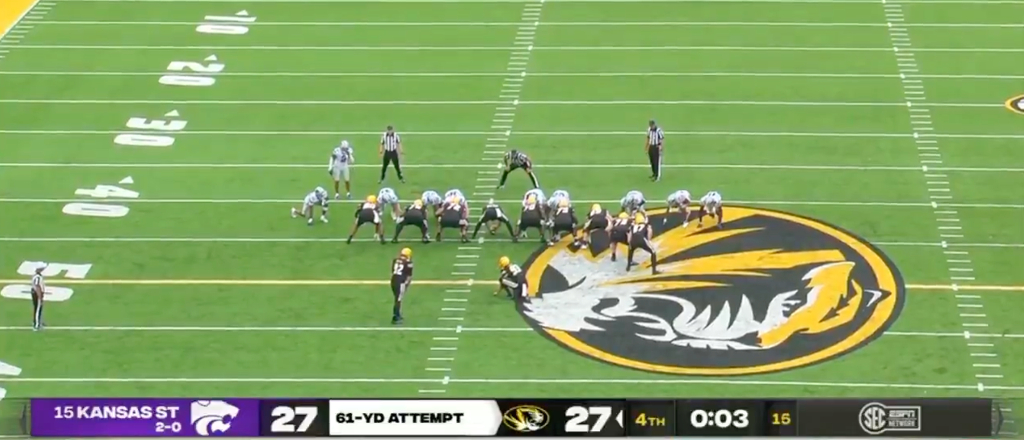 Week 3 of the college football season gave us a Big 12 vs. SEC showdown in Columbia. The Kansas State Wildcats, ranked 15th in America, went on the road to take on Missouri, which was hoping to bounce back in a big way after an underwhelming performance in a home win against Middle Tennessee State last week.
The Tigers went into the fourth quarter facing a 24-17 deficit, but banged in a field goal early in the frame before scoring a touchdown to go ahead with a little more than eight minutes to go. Because Kansas State was able to tie things up with a field goal of their own and then both teams traded punts, it looked like things were slated to go to overtime unless Missouri was able to make something happen in the 85 seconds that they had the ball.
They managed to do just that, as the team ran 10 plays to set up a field goal attempt for their All-American kicker, Harrison Mevis. It required quite the kick, as he lined up from 61 yards, but even if things were moved back a little, Mevis would have drilled this.
FROM 61 YARDS FOR THE WIN @MizzouFootball x @SECNetwork pic.twitter.com/hxGdlKI5p4

— Southeastern Conference (@SEC) September 16, 2023
This was nothing short of ridiculous, and it will go down as the longest field goal in SEC history.