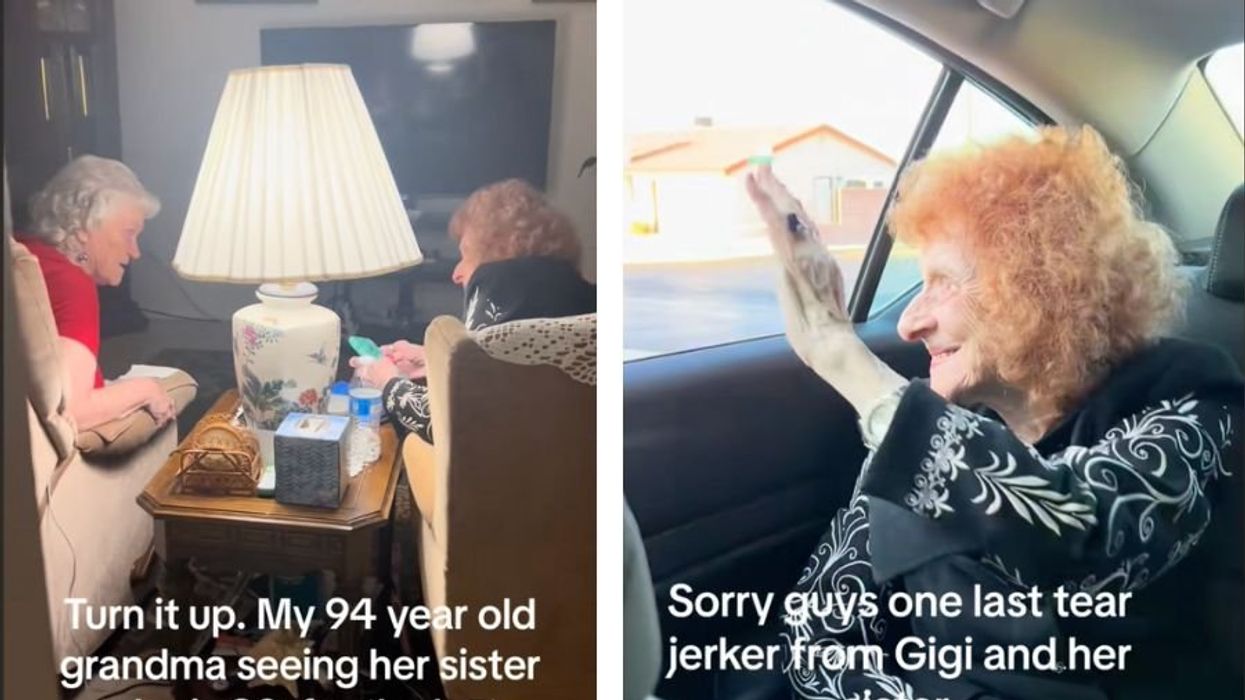 A video making the rounds online is reminding us all that love transcends all time and distance.
94-year-old Barbara Carolan of Seabrook, Massachusetts, hadn't been able to see her 90-year-old sister Shirley, who lives in Nevada, since 2020.
When it became clear to Barbara that she might not have much time left to spend with her beloved sister, she prepared to make the 2,700-mile cross country trip to say goodbye.
---
"They waited so long to see each other, and if you don't know if you're going to see someone again, you know, especially siblings, it must be really hard," Barbara's granddaughter, Stephanie Atkinson Shively, told told her local news outlet WMUR.
Shively volunteered to ride alongside her grandmother and document the trip. In a TikTok video, which has been seen over 13 million times, we see Barbara and Shirley getting emotional while reminiscing.
"We had a wonderful, wonderful time," Barbara tells Shirley through tears.
"If we don't see each other [again] on this earth, we'll see each other in heaven," her little sister assured.
"You betcha!" Barbara sobs. "You betcha."
Watch the video below, aptly captioned: "Hug your sister."
Needless to say, viewers were struck by the sweet moment.
"There needs to be a category on this app for videos that are guaranteed to make you cry cuz dammit I'm tired of randomly balling my eyes out!" one person wrote.
Another added, "It's not good bye, it's see you later. I imagine when we pass, it'll be like going home. And never again will we have to be separated from the ones we love."
Shively shared several other moments from the journeys, including some pictures of the sisters when they were younger. But the 'last tearjerker' showed grandma Barbara waving goodbye as she made her way back home.
There's a bit of comic relief in this one, as Barbara yells "until we meet again!" and gets "WHAT?!" from Shirley, having to repeat herself a few times.
Watch:
All in all, just a beautiful, heartwarming reminder to savor our lives, and all the loved ones in it.
Now go hug someone.