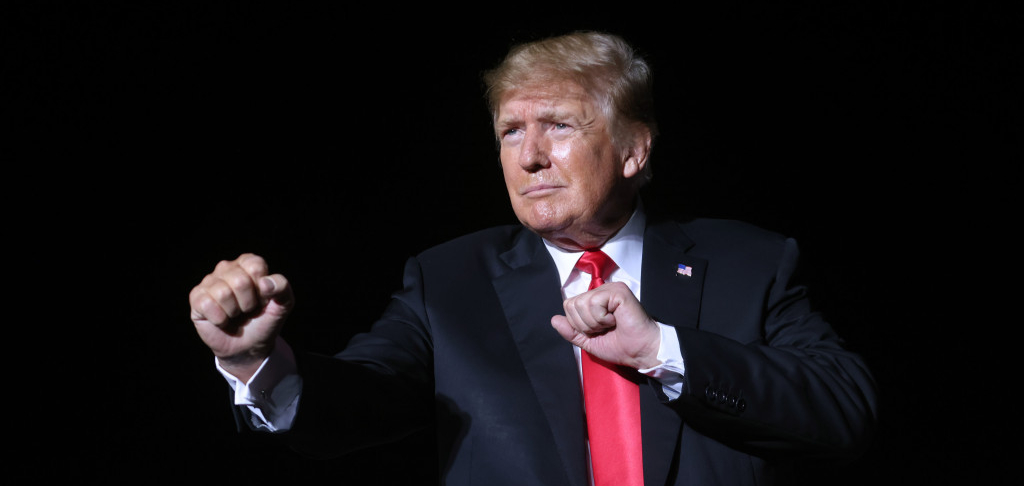 Donald Trump has long hammered away at the allegation that Joe Biden isn't so right in the head. During a speech Friday, he even claimed his presidential successor was in "cognitive decline" — while saying things like how he was leading us into "World War II." Three years ago Trump himself took a very easy cognitive test, simply meant to determine whether he was of basic fitness. And it's probably a good sign that he's still bragging about it.
In a clip from an interview Trump did with Meet the Press, which is set to air on Sunday, the former president and interviewer Kristen Welker talked about "the age issue," namely whether it's a good idea for either Biden, 80, or Trump, 77, to be running for another four-year gig. Trump repeated his belief that there should be a "competency test." He then, for the thousandth time, brought up that test he took before losing re-election three years back.
"You know, I took a test two years ago, three years ago," he recalled. "And as the doctors said — and it was in front of doctors and a whole big deal at Walter Reed [hospital], which is an incredible place. And I aced it. I get everything right. I'm all for testing. I frankly think testing would be a good thing."
Mind you, one doesn't "ace" this kind of test, which, over the course of 10 minutes, simply measures the presence of mild cognitive impairment or early dementia.
Trump also did his usual vague business about "lots of people" saying things, declaring of the test, "A lot of people say it's not constitutional to do it. But I would be for testing, to test to make sure everyone's just fine. But a lot of people say that can't happen because of Constitution."
In any case, none of the younger spring chickens gunning for Trump's slot on the GOP ticket has come anywhere close to unseating the king. As for the Democrats, the closest they've gotten is a guy who believes some truly cuckoo stuff about vaccines.
(Via Raw Story)