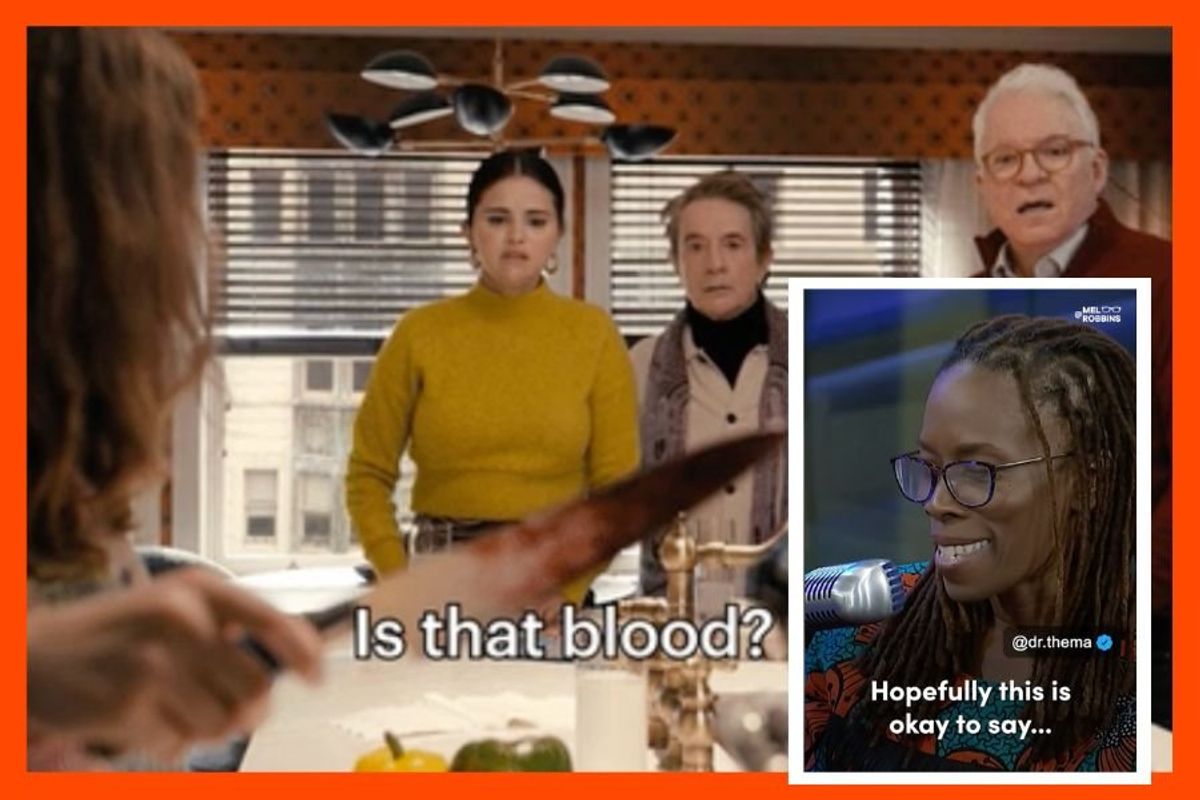 Unlike the murder victims it centers around, there seems to be no end in sight for true crime, and the cult-like following it inspires. One in three Americans consume true crime content—be it in the form of a podcast, movies, television series, books, even online forums and videos—at least once a week. Thirteen percent of those folks would even say it's their favorite genre.
But just what is it about this pop culture juggernaut that has us hooked? Danger and suspense? Mystery? Our fascination with the dark side of humanity?
Perhaps. But according to one psychologist, there's another insidious reason lurking in the shadows of our subconscious.
---
While appearing on a recent episode of "The Mel Robbins Podcast," Dr. Thema Bryant told viewers:
"If your idea of relaxing before you go to sleep is watching three episodes of 'Law & Order,' I would encourage you to think about, 'Why is trauma relaxing to me?'"
Driving the point home, Bryant follows up with, "That's what it is. It's harm, crime violation, attacks, and that's what's going to soothe me into my bedtime."
Bryant explained that her clients who engage in this activity often say they enjoy it because it feels "normal and familiar."
In other words, some of us might be crime aficionados because of unresolved trauma.
"Some of us grew up in high stress, so people mistake peace for boring," she said. "And it's like, to come home to yourself, you have to lean into the discomfort, because it's gonna feel unfamiliar."
Bryant's perspective was a bit of a mic drop moment online, with several true-crime fans coming to some shocking self realizations.
"[And] this was the moment I realized . . . I haven't watched ['Law & Order: Special Victims Unit'] since I went to therapy and started healing," another person wrote. one person wrote on TikTok.
"Gut drop…Off to journal," wrote another.
Over on Youtube, folks had a similar reaction.
"Ouch! Hit home! Never ever thought about that. Wow!" exclaimed one viewer.
Still, others weren't so sold on the theory, and attested that there was much more nuance to their intrigue.
One person argued "The trauma isn't relaxing to me- it's the justice the characters/real people often get that I never did in my own life."
Or maybe, a few suggested, people listen to true crime simply for its distinct monotonous timbre.
"I really thought it's because of the boring solemn tone of the show, the soothing voice of the narrator," one person quipped.
There might be other components at play as well. According to YouGov.com, over half of all American true crime consumers say it not only gives them a better understanding of the justice system, but it makes them more empathetic as well—which goes against the common sentiment that the genre desensitizes people to violence and makes them overly fearful or paranoid.
As any good detective knows, all motivations are worth considering. I think we can all agree that it's always interesting to contemplate why we do the things we do. Whether that's committing a crime, or using one to go to sleep.