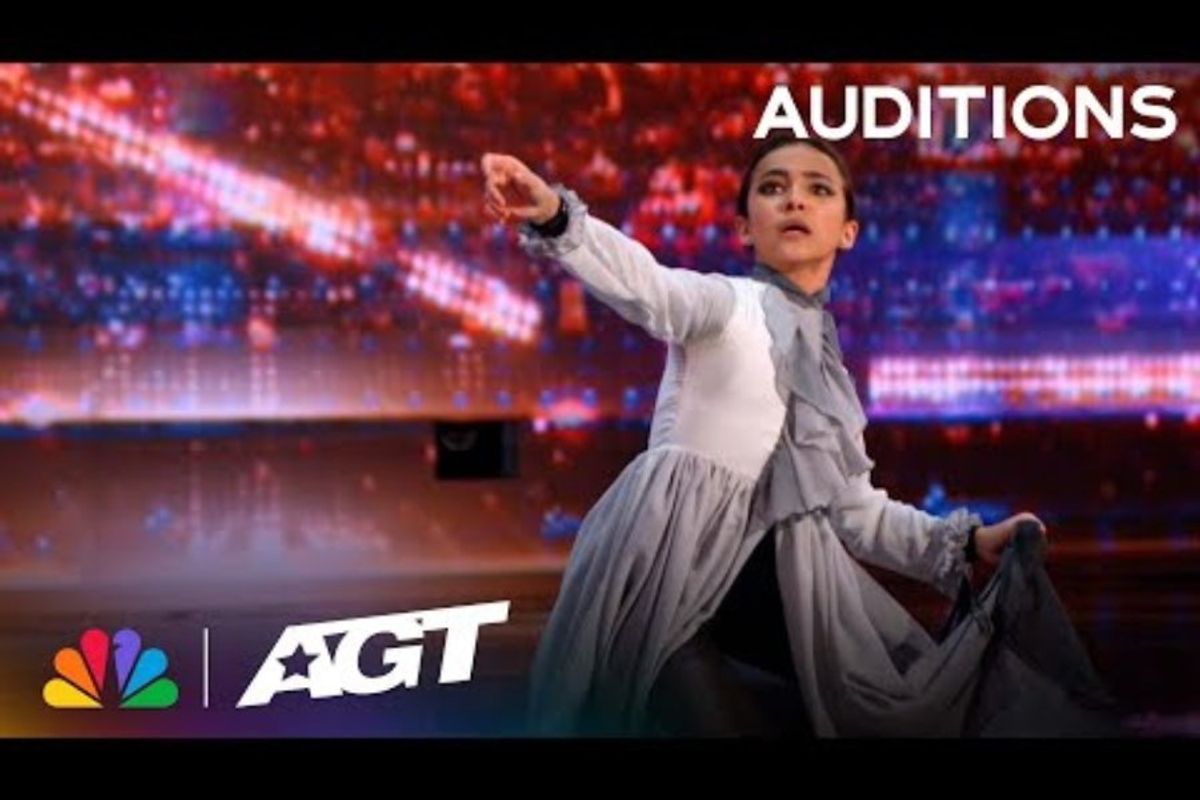 Dance is a unique art form in that the medium it utilizes is the human body itself. Simply through purposeful and graceful control of movement, dancers can express and evoke joy, sadness, fear, confusion—the whole range of human emotion. And when dancing is done well, it's utterly mesmerizing.
Such is the case with Mariandrea, a 14-year-old from Mexico who auditioned for America's Got Talent in July of 2023 and wowed both the judges and the audience with her dance performance. She has been dancing since she was 5, and as Simon Cowell pointed out, it's clear that she was born to do this.
After showing off her sparkling personality during the pre-performance interview, Mariandrea danced to a cover of Tears for Fears' "Mad World," personifying the song in her performance. But it wasn't just her intentional movement that reflected the emotional complexity of the ever-popular hit. Her facial expressions, ranging from subtle fear to a clown-like smile to genuine sorrow to angry defiance, change on a dime, adding an acting element to her routine that takes it to the next level.
---
Add in the incredible control she has of her body as it twists and turns and seems to defy gravity, both gracefully flowing and disturbingly contorting, and it's easy to see why she earned a standing ovation and enthusiastic praise from all four judges.
Watch:
For someone so young to have such a strong grasp of her craft is quite extraordinary, and people were wowed by her talent as well as her showmanship.
"I had to watch this more than once. Her smile, energy, and face reminds me of a young Natalie Portman. You can tell she is more than a dancer also, very intelligent, expressive, talented, yes acting too. Wow! Congratulations!" shared one commenter.
"This young lady has a very bright future ahead of her! The passion that she emanated while dancing was above and beyond what we have seen in half the dancers that are older than her… Can't wait to see what she does next!!!" wrote another.
"Stunned. I would have given her a golden buzzer. The sharpness, flexibility, timing, theatrics, and costume use. 10/10," shared another.
One commenter pointed out that her dance felt like a monologue, and another person called it "absolute art." Many people expressed disappointment that she didn't receive the Golden Buzzer, which would propel her immediately to the final round. But if her other performances are anything like this one, she's got a pretty decent chance of making it to the finals without it.