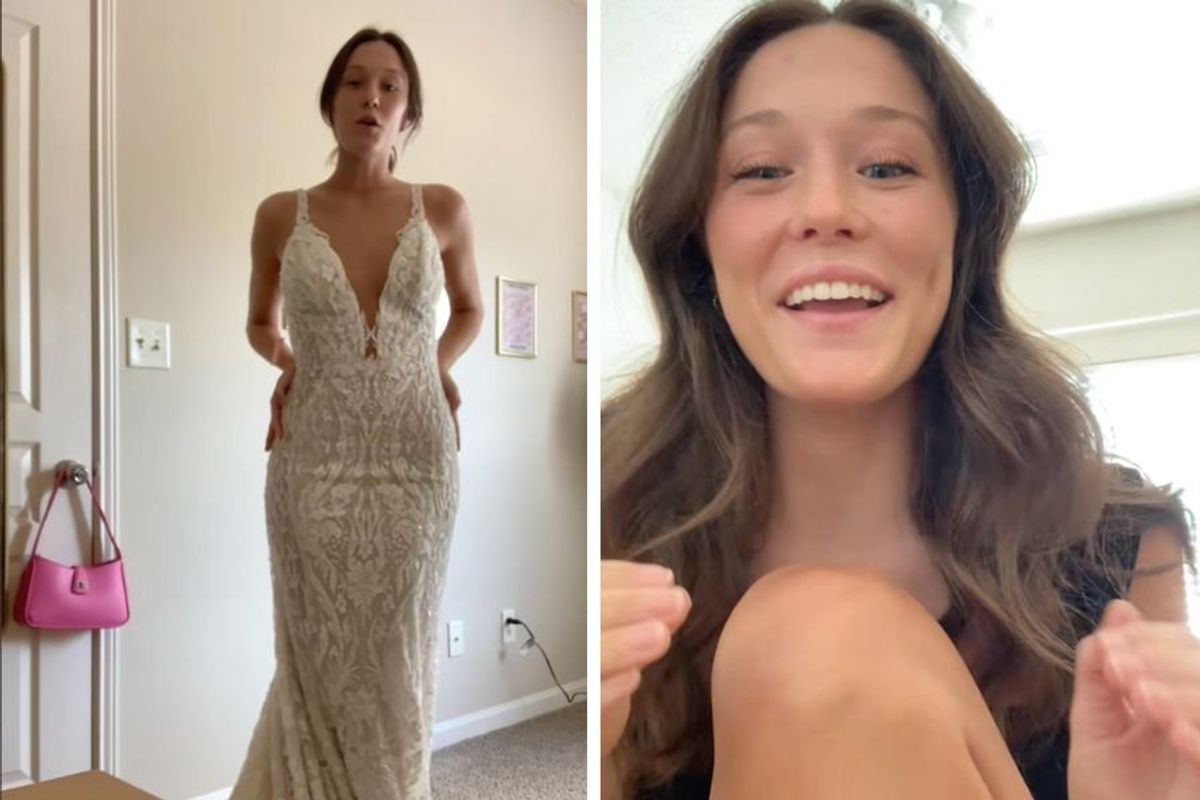 Weddings are expensive so, many brides look for ways to cut corners where they can. Designer wedding dresses can cost more than a nice used car so any sort of sale or thrift store find can significantly boost your budget for other things. Emmali Osterhoudt came across a deal so good on a wedding gown that she bought it immediately, even though she doesn't have a fiancé.
It was too good of a deal to pass up at $25 when the original tag (still on the dress) read $6,200. The fact that the dress fit like a glove right off of the Goodwill rack makes not having someone to stand at the end of the aisle a mere technicality. Osterhoudt didn't want to keep her find a secret, she uploaded a video of her future wedding dress to TikTok where it went viral.
The unbetrothed woman's post generated more than 3.5 million views and caught the eye of the dress's designer, Galia Lahav.
---
If you're into celebrity news, including all the details of their big day, then you've likely come across Lahav's name. She's designed dresses for Katy Perry, Beyoncé, Jennifer Lopez, Christina Aguilera and Paris Hilton, according to Good Morning America. The dress is truly an incredible find on a day that Osterhoudt likely would've considered a bust, since she revealed in a follow up video that she used to answer people's questions, she wasn't having luck at that particular Goodwill.
"This Goodwill is in Birmingham, Alabama, in the Green Springs area and it had nothing. It had nothing but the dress," Osterhoudt laughs. "I had gone in just to look at some picture frames for a gallery wall and I did. I had already checked out."
@emmalifaith

Answer some of the Galia Lahav dress questions with me!!! 🫶🏼🫶🏼 #goodwill #goodwillfinds #galialahav #weddingdress
But on her way out she noticed a section they didn't go through, so she went back to look. That's where she found the beautiful designer gown, which luckily for other brides won't be the only Lahav gown to hang on Goodwill racks. People received a press release from the designer revealing her plan to work with Goodwills across the country to donate wedding gowns.
"It's a reminder that sometimes, life's surprises can be as beautiful as the dress itself," Galia Lahav said according to People.
@emmalifaith

Im so freaking excited about this find, i may not even use it when it comes to the day because im not getting engaged or married for awhile but maybe its fate lol also jlo has worn this brand as well #galialahav #galialahavbride #goodwill #weddingdress @Galia Lahav
Under the original video, people are flabbergasted by the woman's thrifting find.
"As someone who has worked in bridal for 9 years and still has never seen a Galia Lahav in person, my jaw is on the FLOOR. The find of a LIFETIME," one woman writes.
"We literally sell this dress where I work for $6800 20/10 find," another person says.
"You had me at $25 designer wedding dress. A $6,175 save. To add it looks stunning on you, like it was made for you," someone writes.
There's no telling what you'll find at the Goodwill, it can be anything from used salt and pepper shakers with little monetary value or a sculpted bust that turns out to be priceless. But thanks to Osterhoudt's viral find, brides to be across America will soon be able to scour their local Goodwills to find a buried treasure left by the designer herself.