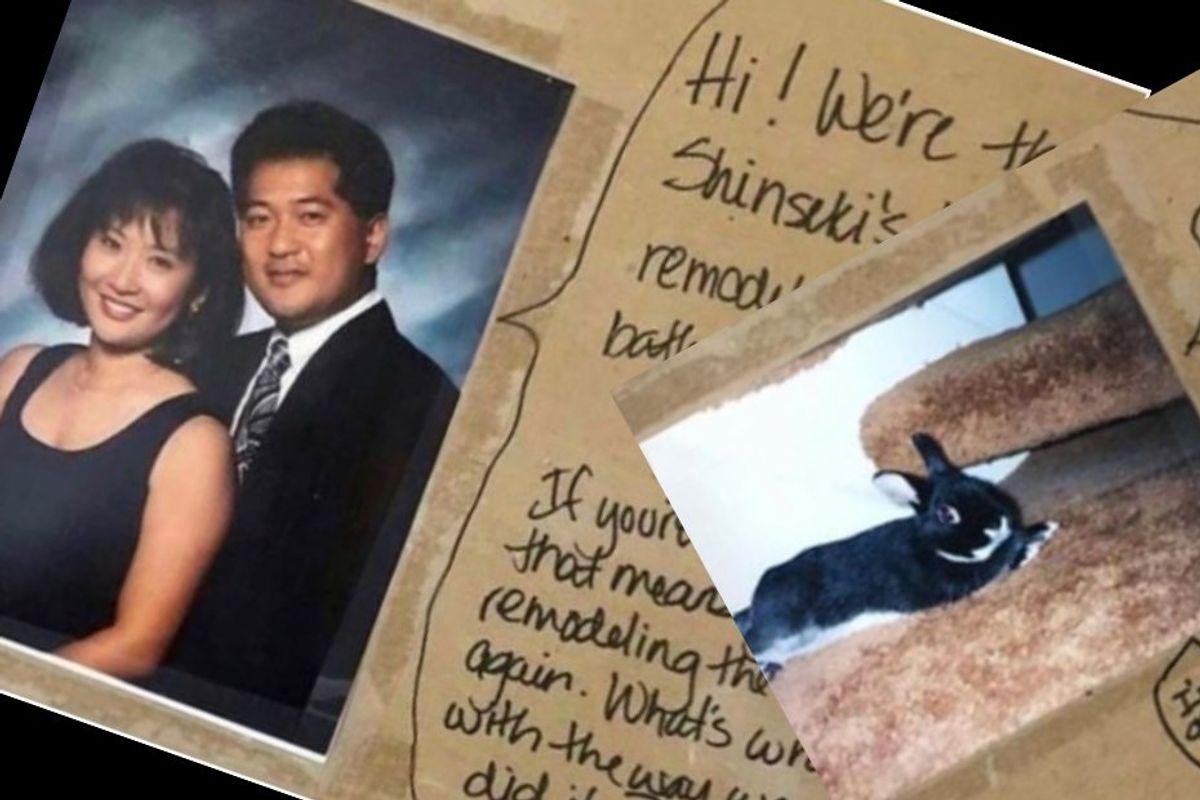 As anyone who has dipped their toe into home improvement waters knows, home remodeling is a mix of excitement and headaches. It's fun to freshen things up and make your own mark on your home, but when you're tearing out the old, you never know what you're going to find. Something toxic like asbestos or mold? Something cool like money or a box of treasures?
How about a photo of previous homeowners introducing themselves and ribbing you for undoing all their hard work?
That's what one home remodeler found when they started remodeling their bathroom, and the notes the former owners left for them are leaving people in stitches.
---
According to Today.com, Alex and Jessica Monney were having their bathroom remodeled in 2018 when their contractor sent a photo of something they uncovered during the renovation.
An image shared on Reddit shows the photo of a couple with a message written in pen on the wall next to it: "Hi! We're the Shinsekis! We remodeled this bathroom summer 1995. If you're reading this, it means you're remodeling the bathroom again. What's wrong with the way we did it?!?!?"
The Shinsekis also left a photo of their pet bunny, with the note, "Hi! I'm Cassie the bunny rabbit. I lived here, too. (I'm potty trained!) I'm going to be the next Cadbury Bunny!"
People loved the Shinsekis' humor and the entire idea of leaving notes for later homeowners.
"Srsly why doesn't everybody do this when they remodel it's awesome and interesting to see who lived there before you!❤️" wrote one person.
"We left notes, coins, pictures, etc throughout my childhood home as my dad remodeled it. That place is full of little time capsules. Poor people who find them are going to think we were crazy!" shared another.
"We found notes throughout the first house we bought as we remodeled it. No pictures but facts about the couple that lived there etc. And there was even a $1 'so we could say we found money.' We left that along with our own set of notes for the next folks. So fun!" wrote another.
When you buy a home, it's natural to be curious about the history of the house and who lived there before you. Leaving notes for other owners to find years or even decades later is a fun way to connect with people across time in the place you both have called home, and doing so with humor like the Shinsekis did just adds a whole other layer of joy to that connection.