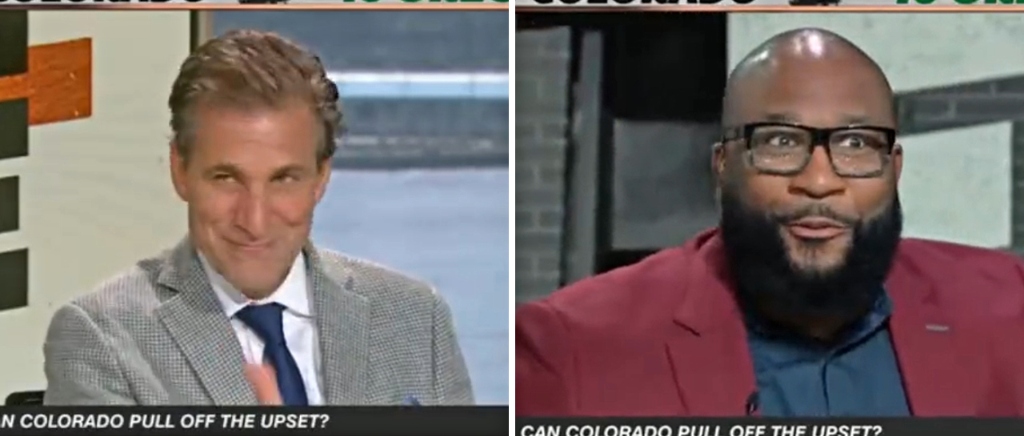 The story of the college football season thus far has been Colorado's 3-0 start under Deion Sanders, as Coach Prime has the nation buzzing about the Buffaloes.
It is such a big story that it's a leading topic on First Take, which is usually an NFL first show when it comes to football. On Wednesday, Mad Dog joined Stephen A. Smith and Marcus Spears on the desk to discuss Colorado's start and their first big test against Oregon on Saturday, where the Buffaloes are 20.5-point underdogs to the Ducks on the road. While talking about the excitement for the game, which will be the night game on ABC, Mad Dog laid out his incredible plans for Saturday, as he's headed out to fabulous Flagstaff, Arizona to visit his son.
Mad Dog is going to have a day in Flagstaff, as he'll go for a run, walk the dogs, and then get real loose by pouring a midday cocktail, popping a gummie, and getting ready to lock in on college football. Once he's good and "sauced" in his words, he'll call his bookie "Fat Rob" and put 10 dimes on Coach Prime and the Buffaloes before taking the other half of the gummie and dialing in on the game.
Nah mad dog talking bout he gonna take some gummies & get sauced on Saturday while watching college football pic.twitter.com/1pILS3hrUk

— Shannonnn sharpes Burner (PARODY Account) (@shannonsharpeee) September 20, 2023
The best part of this entire thing is Marcus Spears absolutely losing his mind that Mad Dog is detailing all of this on air, looking around trying to see if everyone else is hearing this to make sure he's not hallucinating this entire thing. Second is Mad Dog damn near doxxing his bookie by rattling off the first six digits of Fat Rob's phone number — who apparently used to be a priest in the Vatican??????
I need this to be a weekly segment where Mad Dog just details his weekly plans and comes increasingly close to giving millions of people Fat Rob's number.