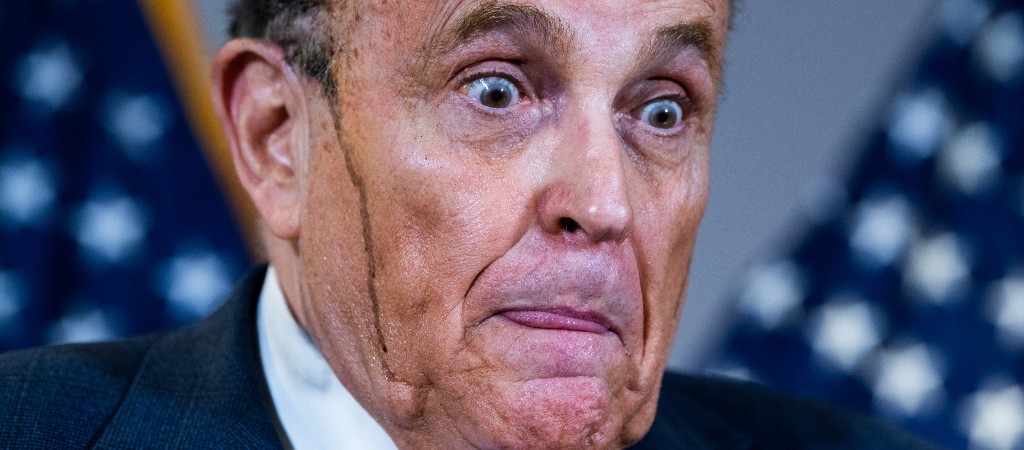 Things have gone from bad to worse for Rudy Giuliani. The one-time "America's Mayor" is getting sued by a friend, and now he's been accused of groping a former Trump aide on January 6th, of all days.
In her new book, Cassidy Hutchinson, who worked as an assistant to Chief of Staff Mark Meadows during the previous administration, claims that Giuliani put his hand "under my blazer, then my skirt" while backstage during Donald Trump's pre-Capitol riots speech. "I feel his frozen fingers trail up my thigh," she writes in Enough, according to the Guardian. "He tilts his chin up. The whites of his eyes look jaundiced. My eyes dart to John Eastman, who flashes a leering grin. I fight against the tension in my muscles and recoil from Rudy's grip… filled with rage, I storm through the tent, on yet another quest for Mark."
The Guardian has more:
"I find Rudy in the back of the tent with, among others, John Eastman," she continues. "The corners of his mouth split into a Cheshire cat smile. Waving a stack of documents, he moves towards me, like a wolf closing in on its prey.

"'We have the evidence. It's all here. We're going to pull this off.' Rudy wraps one arm around my body, closing the space that was separating us. I feel his stack of documents press into the small of my back. I lower my eyes and watch his free hand reach for the hem of my blazer.

"'By the way,' he says, fingering the fabric, 'I'm loving this leather jacket on you.' His hand slips under my blazer, then my skirt," Hutchinson writes.
Giuliani has previously been accused of calling his assistant "big t*ts" and claiming that "Jewish men have small c*cks because they can't use them after they get married. Whereas the Italian men use them all their lives so they get bigger." No wonder his life is falling apart and that he's reportedly "penniless."
(Via the Guardian)