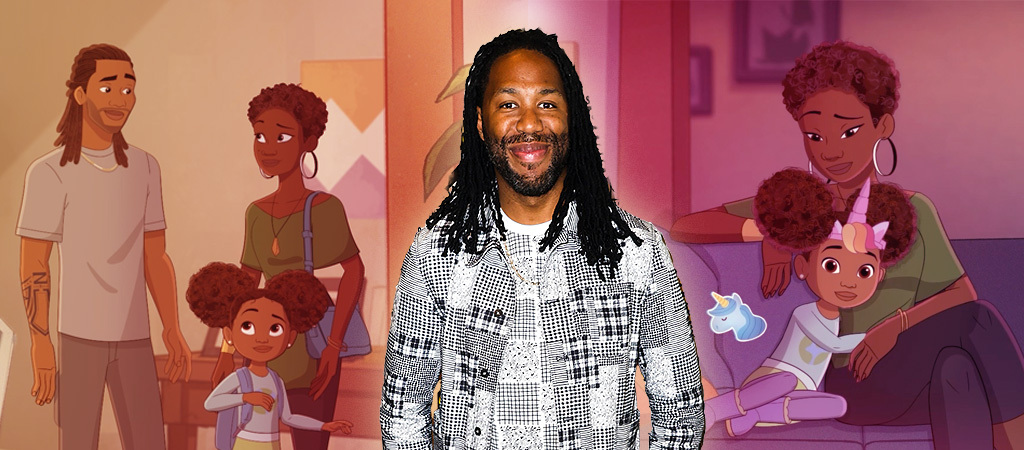 In 2017, when Matthew A. Cherry, whose talents include but are not limited to directing, writing, filmmaking, and producing, set out to launch his Oscar-winning Hair Love short film, he did it with one goal in mind. "We just really wanted to represent for that modern-day father who is more involved, and really will do whatever for their kid," he said in a 2020 interview with Deadline. Two years later, thanks to a Kickstarter that raised $300,000 for the film, far more than the over $75,000 goal, Cherry and his team were able to accomplish that goal and then some with release of Hair Love.
With Hair Love, we're introduced to the characters Stephen (played by Cherry himself) and his daughter Zuri. We follow the pair's relationship and how it evolves when Stephen must learn how to do Zuri's hair for the first after her mother ends up in the hospital to do a round of chemotherapy following a cancer diagnosis. Four years after Hair Love was released, Cherry and his team sought to continue the story with a new spin through the spin-off TV series Young Love.
Young Love continues from the events that Hair Love concluded on. We meet Angela, Zuri's mother (played by Issa Rae), who struggles to find her rhythm after her recovery. There's Stephen (now played by Kid Cudi) who is in full pursuit of a career as a music producer, which has its highs and lows. And then there's Zuri herself (played by Brooke Monroe Conaway), an ambitious young girl who thinks she can do any and everything.
The first four episodes in the 12-episode season of Young Love are out now on Max, and ahead of its release, we spoke with Matthew A. Cherry who spoke about the connection between Hair Love and Young Love, what he hopes millennial parents will take away from the series, and what we can expect next.
At what point after Hair Love or even during it did you decide that a story like Young Love was needed?
When we first got Vashti Harrison's artwork. It was just like, "Wow, this looks like a TV show. This looks like a picture book." Her art style is so warm and loving. When we first saw it, her artwork actually inspired us to be like, "Yo, we just need to offer a picture book." Ultimately, we got a deal to make one. The initial idea was formed there, but it was really once the short film and the book got out into the world and just seeing everybody's affinity for it. It was just like, wow, this is all happening off a short film. We gotta figure out a way to tell this in a little bit more of a long-form way. So, as it got out into the world, we really locked in, let's figure it out. A lot of the backstory was already created. We knew Stephen was a producer, the mom was working natural hair, [and] we knew they were living in Chicago. It was all already there.
What was the main thing you wanted to achieve in continuing the story that first began in Hair Love and now continues with Young Love?
I think just wanting it to be relatable man. There were a lot of shows that were coming out that really focused on the 1%. I was a part of one with The Kings Of Napa, and it was just not the reality for a lot of Americans. Most people relate to the nine-to-five hustle, you know what I mean? You gotta work a regular job and come home and you gotta do it all over again in the morning. You really have to value those weekends. It really was just wanting to do something that was relatable. Something that really showcased a Black family and three different generations of it [and] kind of the love and struggle that it takes to really be present, but also people that also want to achieve their dreams too.
What made Kid Cudi and Issa Rae perfect roles for the parents? They seem so naturally in these roles and the characters they're based on seem so natural to them.
Believe it or not man, neither Scott nor Issa were in the same room together. They all recorded their lives separately. We got very lucky and great with our voice directing in that they were able to make it seem like that chemistry was there. Honestly, I don't think they'd ever met before. With Cudi, I knew him from working as a creative executive at Jordan Peele's production company, Monkeypaw, and we tried to get a show set up, it didn't work out, but we were just always cool. He's from the Midwest, from Cleveland, just a real dude, not really Hollywood about them. I just always thought he would be great for this just because he's a young father, he has a 10- or 11-year-old daughter. Also, he obviously works in the music industry, so I knew he would be able to relate to the struggles that Stephen is going through from when he was early in his career. And he just loves the animation too, so just a really great choice.
Issa, [with] her show Awkward Black Girl, to me just really represented the voice of young Black, millennial women. People who were in their 20s and struggling and trying to figure it out, both on the work and the love life side of things. Her voice just has such a unique quality to it. We've been friends for a minute, and I'm so thankful that she decided to be in both the short and the series. I think people are really gonna love her man. Her character is going through the aftermath of recovering from this illness, getting back to work for the first time, and just kind of really questioning everything in life. Every episode kind of showcases her journey of really trying to get back to what life was like before.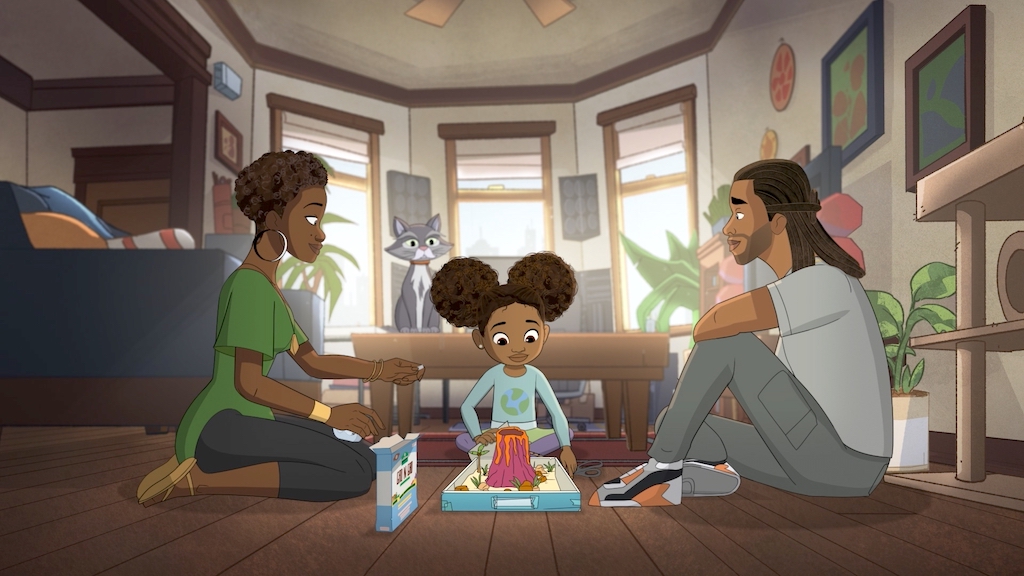 There's a tug and pull through these episodes between accepting reality and chasing dreams, something that gets complicated when a family is involved. What do you hope a parent or a millennial in general takes away from these moments?
Man, it's hard. When I was in my 20s, I didn't have any kids. I was able to basically move with reckless abandon. I would spend my own little bit of PA money and invest it in the music videos that I was trying to direct. Sometimes you end up living out of your car for a second, you know, I mean? Just things that you normally wouldn't be able to do when you have a kid you're able to do and you don't have kids. So I think the whole lesson in this is just man, it's hard to try to achieve these dreams and also be present as a parent, but it's very much worth it. I don't think any of us want to be those parents where 20-30 years from now, your kid becomes famous and they're interviewing them and they're like, "My dad was never there. He was always at work, trying to figure out the dream. I really needed him to be there." So I think it's all about just being present as much as you can.
How would you say that the individual struggles of Stephan and Angela have affected Zuri whether it be positive or negative?
I think we definitely explore that a little bit. There's Zuri acting out a bit because they never really dealt with the reality of Angela almost not being here anymore. We definitely tried to be subtle with it, we weren't trying to beat people over the head with it. But also, Zuri is a young, confident Gen-Zer who loves to just change the world. She sees a problem, she's not waiting on somebody to figure it out. She's gonna come up with big ideas, that may not be the right thing every time, but she tries to figure it out. We just tried to be real in all things and not shy away from the fact that Angela was coming off this illness and how would that affect Zuri? In a later episode in the season, we really get into that.
I love how there's a balance between Zuri's story and Stephen and Angela's stories, what went into the decision to balance it all rather than let Zuri or Stephen and Angela lead the way?
Finding that balance for the three characters was hard because, you know, people came into this story and the various parts of the show and had their favorites. Obviously, most of our writers are millennials or a little older and they all could relate more to Stephen and Angela's journey way more than Zuri. My big thing was we got this picture book, we got the short film, people love Zuri man, we can't cast her to the side and not have her be a major character. There was definitely some figuring out the balance and the mix, but I think ultimately what we ended up coming up with was something that has a really unique kind of tone. It's a family show that when we're in the adult world, we're not trying to dumb it down. When we're in the kid world, we were able to kind of elevate the issue that Zuri and her friends were dealing with to make them feel more relatable to adult situations, like the episode where she's selling the Girl Scout cookies. We've all been in a situation where we got into a work situation and they didn't pay us fairly and we wanted to strike out on our own and figure it out. We really tried to find this really interesting balance where the adult stuff, the kids could still be interested in, and also the kid stuff, the adults could be interested in. That was always the goal.
What component impressed you the most as 'Young Love' came together to be the final product that it is now?
Everything man. Taking an idea and making it into something that exists in real life will never not be amazing. People seeing the vision and then actually working hard to try to make it become a reality is just so mind-blowing. The character designs, the way it really feels and looks like Chicago, all the different hairstyles, all the variety of skin tones that the different Black people in the city have — even within the family. You know, Gigi being a little bit more on the redder side and Angela being dark-skinned. Just all of the different things that we were able to kind of do, I really appreciate everybody that we're doing the show because it really came out way better than I ever could have thought it would.
What can we expect next in the story of Zuri, Stephen, and Angela?
We're gonna do more seasons. There's so much more I would love to explore. The character Amir, who was introduced in the show, would love to see him be with the family more. Star and Stephen, I'd love to see them strike out on their own and try to put out an EP or do an album together, what would that look like? Gigi, who is played by Loretta Devine, lived in a time where she had to fall into those more traditional roles, but I know she had dreams of her own too. I'd loved to see her strike out on her own, take a risk, put herself out there, and try to find a new thing that she's into. There's so much I think we can play with. Does the family end up going to therapy? There are so many different things that I think we could touch on. So I really hope people dig it and we get the viewership and the social media impressions required to get a second season. I would love to continue to tell the story with these characters.
'Young Love' is now streaming on Max. You can watch it here.