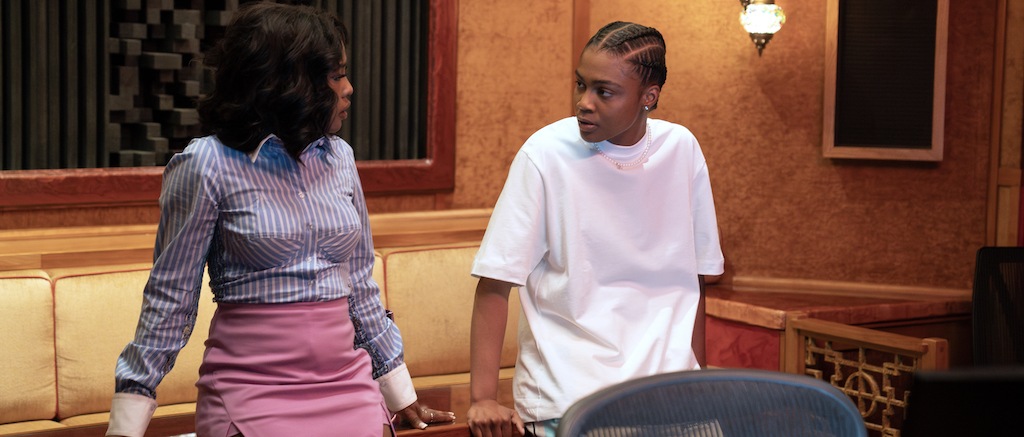 (WARNING: Spoilers for this week's The Chi episode will be found below.)
The Chi season six arrives at its midseason point where we stumble upon crucial moments for the show's characters. Kevin is ready to move to Los Angeles to continue his pursuit of a video game career. This also means that he and Maisha have reached a big point in their relationship, one that results in them exchanging "I love you"s rather than breaking up due to the distance. Rob and Emmett decide to take their shot to kill Douda, but that goes horribly wrong, leaving Victor to clean up the mess, or so it seems at the end of this episode. We also watch Papa deal with his grief which leads to surprising decisions like pursuing a career as a pastor and breaking up with Kenya. Jake decides to move into Kevin's old apartment, which leads to a disagreement between him and Jemma. They're able to work through it, but a move by Britney to appeal to Jemma sparks another argument between them.
The events mentioned above in the eighth episode of Showtime's The Chi season six, titled "Who Shot Ya," are soundtracked by songs that help to accentuate the emotions behind each scene. You can find a list of them below and details about the scenes the records played behind.
The following records were provided thanks to the Showtime Entertainment Public Relations team. Some records are unreleased and will not be on streaming until a later date. Check back for updates on a release.
BJ The Chicago Kid — "Comin From Chicago"
BJ The Chicago Kid's track plays around the 1:45 mark as Kevin rides the train in Chicago and reflects on his final moments in his hometown by looking back at key moments from his past. They include memories with Maisha, others with Kevin and Papa, his family, Emmett, and more.
Quan — "Big Booty"
We hear this record around the 5:30 mark during a sex scene between Emmett and Keisha. It happens during a bit of a stalemate between the couple, but this moment of intimacy is sparked by Emmett's willingness to take a week off to handle things at home so that Keisha can search for a job.
Durand The Rapper — "Leave Me Alone"
This song plays around the 8:20 mark as Kevin packs up his luggage for his move to Los Angeles. He's interrupted by a man who arrives at the apartment to collect his furniture. Kevin says the guy is here a few days early, and though the man doesn't believe him at first, Kevin proves that he's still early. That doesn't matter because the man still decides to take the future, saying they'll be out of business by the time Kevin's actual appointment comes around.
Penzilla — "You Or Me"
Around the 11:18 mark, this song plays after an argument between Emmett and Keisha after they had sex. Emmett believed their moment in bed was Keisha's way of saying sorry, but she quickly corrected him and said it was a thank you for him taking a week off of work. She adamantly expresses that she's still upset over Douda's money being in their house and doubles down on her request to Emmett to fix their situation.
The scene then transitions to Smokey's where we see that Papa has returned to work. Kenya approaches him, surprised that he's back to work so soon. Papa apologizes for taking out the frustrations about his father's death on her but stands firm on his decision to not continue a relationship with Kenya.
Alonda — "Ocean Flow"
This record can be heard around the 21:02 mark as Kevin, Papa, and Jake take their bikes out to the Chicago streets for one final ride before Kevin's departure. It's all smiles as once again, they reminisce on the memories they made together.
Rapsvmm — "Physical"
We hear this record around the 25:06 mark at the end of a conversation between Keisha and Nuk. We transition to Jake who lets Jemma know that he will be moving into Kevin's apartment. She assumes the apartment is for both of them, but Jake says the apartment is a place for him. This starts an argument as Jake says they're too young to live together and Jemma counters by asking how that logic doesn't apply to them having sex. She eventually storms out and Jake lays down on his bed.
Amari Noelle as Britney — "Her"
This song plays around the 29:39 mark during Britney's studio session which Jemma is sitting in. The two are vibing to Britney's new song and Britney approaches Jemma for a dance, and the two eventually share a kiss, but Jemma breaks it off. Jemma sets a boundary and calls for a professional relationship between the two.
Arrow Benjamin & Marley Waters — "Reign"
Around the 33:36 mark, this record plays after a sweet moment between Keisha and Kevin. They eventually go on a jog through their neighborhood as they used to do in past seasons.
BChe — "Camera Ready"
This record can be heard around the 37:12 mark as the going away party for Kevin begins. All of his family and friends are there as they eventually share a toast to really get the party started.
Aerin — "Energy"
We hear this record around the 37:51 mark during a meeting between Zay and Rob's mother. She tries to recruit Zay to work for her while giving him a warning that something might happen to Douda.
Dot Marv — "I'm Going In"
This song plays around the 40:03 mark as we check back into Kevin's going away party and see a sweet moment between Lynae and Kevin. They both thank each other for being supportive and bringing the best out of each other and Lynae makes Kevin promise to come back and visit.
A. Rich — "Life Of The Party"
Around the 40:53 mark, this song plays after a tearful speech from Kevin where he thanks all family and friends for their support and love. This leads to an even more emotional moment between Kevin and his mom as they share a tight embrace as the party continues.
Vic Mensa — "$outhside Story" Feat. Common & Malik Yusef
Vic Mensa's new track plays around the 53:41 mark as Kevin packs up his last items and heads out of his apartment, finally ready for his move to Los Angeles. He turns out the lights and fights back tears once again before stepping out of the apartment for the last time.
New episodes of 'The Chi' are available through the Paramount Plus With Showtime plan on Fridays at 3am EST/ 12 pm PST. Weekly episodes also air Sundays on Showtime at 9pm EST/PST.