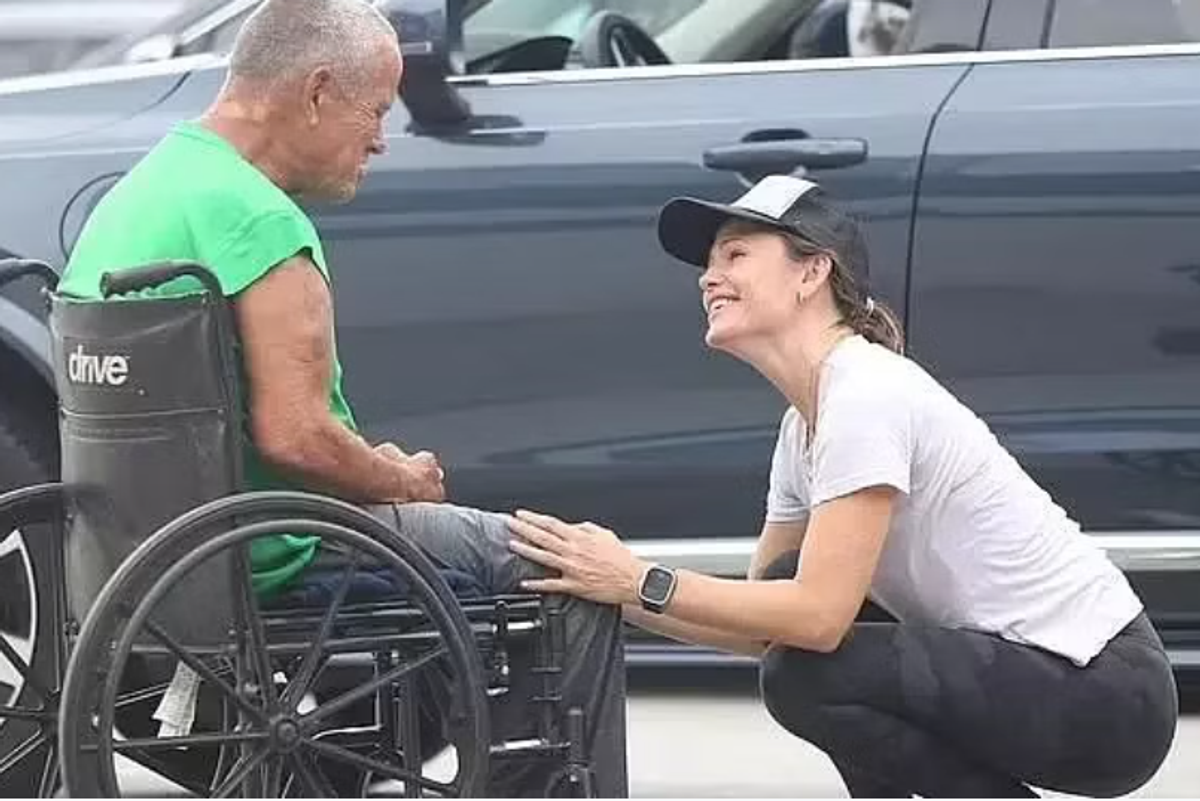 A paparazzo caught actor Jennifer Garner performing a touching act of kindness. Instead of being annoyed at having the moment filmed by the photographer, she asked him to help.
Garner was at the beach in Santa Monica, California, handing out bags of necessities to the homeless when she came across a man in a wheelchair who had no socks or shoes. Garner took the socks off her feet, gave them to the man and then attempted to hand over her shoes, but they were too small.
Garner then briskly walked over to the photographer filming her and asked him for assistance.
---
"What size feet do you have?" she asked the photographer repeatedly. "Can I buy your shoes for him? He needs a shoe." When the random paparazzo asked what size feet the homeless man was, Garner replied, "10 and a half."
@pinklover1969

Jennifer Gardner lead with kindness … takong the time to help out a homeless man in LA. Her shoes must not have fit because she rushed over to the photographer and offered to buy his shoes. #kindness #jg #jennifergarner #homelessman #spreadlove #alwayshelpothers #hockeyhelpsthehomeless #fyp #tmznews #trending #foryou
"Oh, I'm 11! Want me to give it to him? I can give it to him," he responded, adding that Garner didn't have to pay him for the shoes. The photographer had a blanket to give to the homeless man as well.
When Garner came across the man in the wheelchair, she was handing out plastic bags filled with necessities, similar to those Upworthy reported on in March of 2022. Garner created a viral video for Instagram that showed how the average person could make bags to give a "random act of kindness" to someone in need.
The underlying message of the post is that with a bit of forethought and preparedness, we all can help people experiencing homelessness.
"Gather these essentials in a quart-sized Ziploc bag and keep them in your car to give away when you see someone in need," she wrote on the post before listing some items that can really help a homeless person get through the day. "A pair of thick socks. Kleenex. Hand wipes. Disposable toothbrushes. Chapstick. A couple of granola bars. I forgot this time, but like to add feminine hygiene products, too. Add $5, $10, $20 and a smile."
Homelessness has steadily risen in the United States by about 6% yearly since 2017. According to the National Alliance to End Homelessness, roughly 421,000 people were homeless in 2022, and nearly 128,000 were chronically homeless, meaning they didn't have a place to stay for a year or more.
The rise in people on the streets is distressing, and we all hope our leaders can get together to stop the steady increase. But until then, we are all called to do what we can to help alleviate the suffering we see on the streets.
Garner is a beautiful example of taking direct action to make the world a better place. Whether she calls a senator to help pass gun control legislation, buys boxes of books to help school teachers, or helps the homeless, her philosophy seems pretty simple. If you see something wrong, do something. It's everyone's responsibility to make the world a better place.