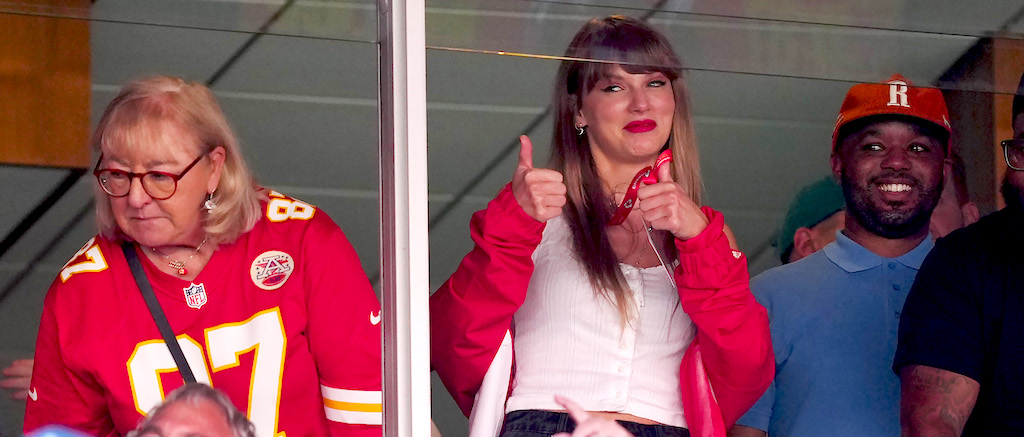 Until Bill Maher weighs in, it's Clay Travis who has the weirdest take about whatever is happening between Taylor Swift and Travis Kelce.
After Swift was spotted at a Kansas City Chiefs game eating a piece of chicken with ketchup and "seemingly ranch" (and also to cheer on Kelce), right-wing provocateur Travis wrote on X, "Travis Kelce is doing Bud Light and covid shot commercials. He needs to fire all his marketing agents. Or he needs to just go ahead and cut his dick off, become a chick, and endorse Joe Biden."
Kelce, who won the Super Bowl seven months ago and would be a first-ballot NFL Hall of Famer if he retired today, rode off into the sunset with the biggest pop star in the world after catching a touchdown. He doesn't need advice from a guy who once went on a weird rant about boobs on Fox News.
Travis was instantly quote-tweeted into oblivion (Swifites + NFL fans is a perilous combination), but he later double downed on his ramblings. "The Taylor Swift fans & the covid shot fans are now all in my mentions going crazy and it is a glorious medley of woke insanity. Things haven't been this wild on here for me since I called for canceling all halftime band performances in college. Which should still 100% happen," he wrote.
To quote Taylor Alison Swift, you need to calm down.
travis kelce balled on chicago and then bagged literally taylor swift on his way out of the stadium. he should be a god to conservatives based on their own flawed and toxic definition of masculinity https://t.co/DbaRgNKCg2

— manny (@mannyfidel) September 25, 2023
Meanwhile, Travis Kelce is a wildly successful professional athlete–maybe the best to ever play his position–in the world's most rugged sport and dating the biggest celebrity on the planet. Yet he's not manly enough.

I can't believe people fall for this dumbass shtick. https://t.co/lahmLqTi2a

— Brent Sobleski (@brentsobleski) September 25, 2023
(Via X/Clay Travis)