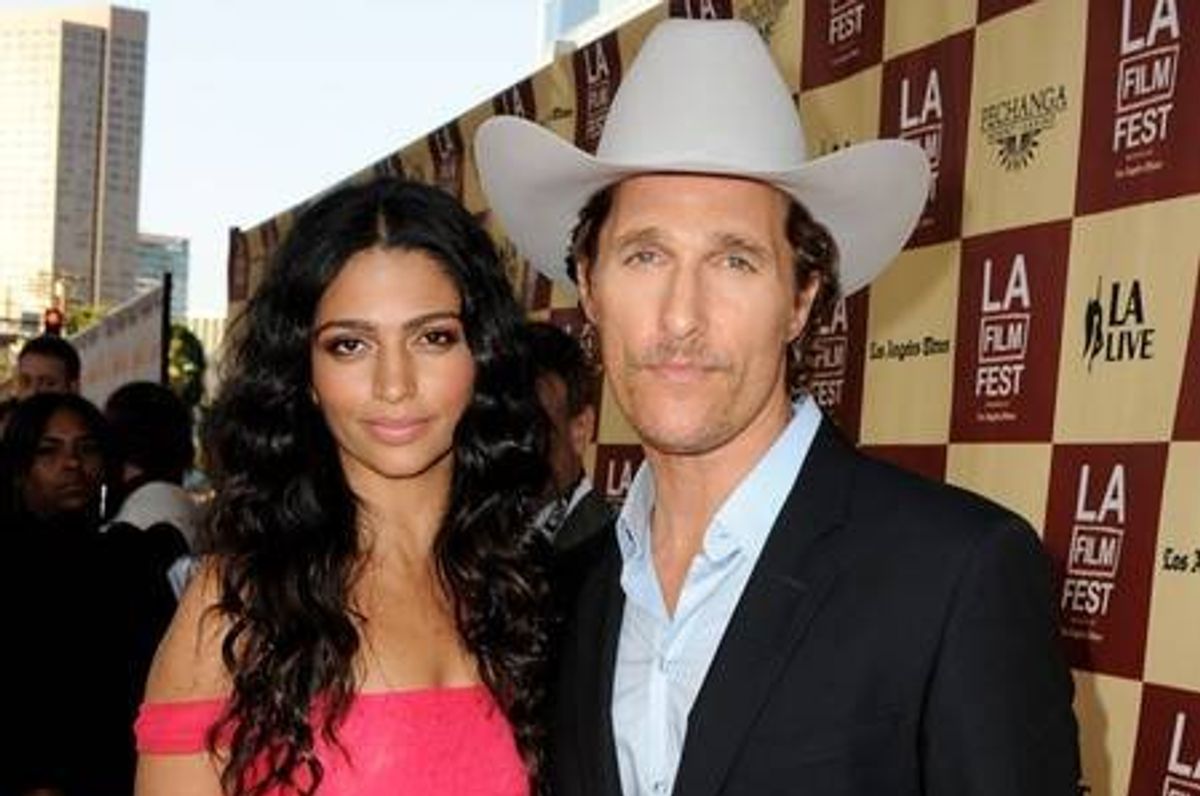 There are some people whose respect you have to earn by standing up to them and showing your assertiveness. One is actor Matthew McConaughey's mother, Mary Kathlene McCabe, nicknamed "Ma Mac" by the family.
McConaughey and his wife, Camila Alves, 41, recently admitted that McCabe went to great lengths to get on her nerves until Alves stood up to her and showed a little backbone. One of the tactics McCabe used was to call Alves by the wrong name, even "accidentally" using the names of her son's exes to get a reaction.
The couple began dating in 2006, got married in 2012 and have three children together: Levi, 15, Vida, 13 and Livingston, 10.
---
"She did all these things when I first came in the picture, right? And she was really testing me. I mean, really testing me," Alves shared on an episode of Southern Living's "Biscuits & Jam" podcast. "She would call me by all of Matthew's ex-girlfriends' names, she would start speaking Spanish with me in a very broken way, kind of putting down a bit. I mean, all kinds of stuff."
Eventually, things came to a head when the family went on vacation to Istanbul, and Alves had to stand up to the family matriarch.
"I'm putting her to bed, and I realized, 'Oh my god, she's full of s***t," Alves quipped. "All she wanted was for me to fight back and then from that day on, that night on, we have the most amazing relationship, and I have so much respect for her. She has so much respect for me. I mean, it can get tricky sometimes, you know? But we always end with a good laugh and a joke."
"Camila goes, 'I'm not asking your permission anymore.' And basically, my mom was like, 'There we go. That's right,'" McConaughey told ET Canada.
McConaughey admits that his mother's hazing of his wife is all part of their family tradition.
"We test you. And even in our own family with my brothers and mother is one of us. Me and my brothers get on our high horse about something," he continued. "Oh, my family, we humbly wait, we make you cry, and then we pick you up and make your favorite drink, 'You're welcome back.' So there are initiations, rites of passage that my family's always enjoyed."
It may be a little unfair that "Ma Mac" felt the need to test her new daughter-in-law, but it's not wrong for people to demand that others be assertive. According to the Mayo Clinic, assertive people show greater respect for themselves and others because it's based on mutual respect.
"Being assertive shows that you respect yourself because you're willing to stand up for your interests and express your thoughts and feelings," the Mayo Clinic wrote on its website. "It also demonstrates that you're aware of others' rights and willing to work on resolving conflicts."
The whole ruse could have been that the "Ma Mac" wanted to ensure her husband was marrying someone who stood up for herself and knew how to work well with the rest of the family. By all accounts, Alves has more than passed the test.