This limited-time series for UPROXX's Style Hotlist highlights world-renowned artists and their matchless wardrobes through quick chats and exclusive photos.
UK-born, L.A.-based singer, songwriter, and DJ Aluna has long been a rule-breaking innovator. Whether you've experienced Aluna's performances via Livestream or in person, you can attest that her contagious energy and vibrant style pack an allure that keeps fans enthralled.
Born Aluna Francis, the dance music darling gained renown as half of the UK duo AlunaGeorge. Then, three years ago, Aluna went solo and released her debut album, Renaissance — highlighting dance music's origins in communities of color through a daringly personal vision.
Since Renaissance, Aluna has gone on to garner international praise, award nominations, significant collaborations with artists such as Skrillex, Tchami, and Diplo. She's embarked on massive tours. And this summer, she released her critically acclaimed sophomore album MYCELiUM.
We caught up with the British multi-hyphenate during her current string of tour dates in the U.S. to tap into what inspires her style, gain her definition of fashion, and learn about her dream shopping dates.
With you being a DJ and singer-songwriter, how do you feel your lifestyle influences your style?
I've been so lucky to have developed a theme for an album cycle. That theme will always start with highly crafted show pieces. Then – because I'm making stuff and building that wardrobe – there'll be some things that work for my day-to-day lifestyle that start trickling down, so I'm almost wearing pieces inspired by my stage pieces. At home, my everyday outfits are mostly workout gear.
Correct me if I'm wrong, but did you have an Instagram poll asking if people would be interested in you starting a fashion line? Do you think that's something you'd pursue?
I'm practical, and starting a line sounds like a complete and utter disaster. I am motivated to start a line because I can't find what I want to wear. So, I'm putting all of this work into creating these pieces, and the pieces I create are often edits of someone else's product. There's a practical streetwear and wearability functionality to everything I wear. And I'm like, 'People would really enjoy wearing this,' but then there's only ever one! So, I've done a giveaway to of some of my pieces to fans in a competition, but I've never sold any of my pieces to anyone.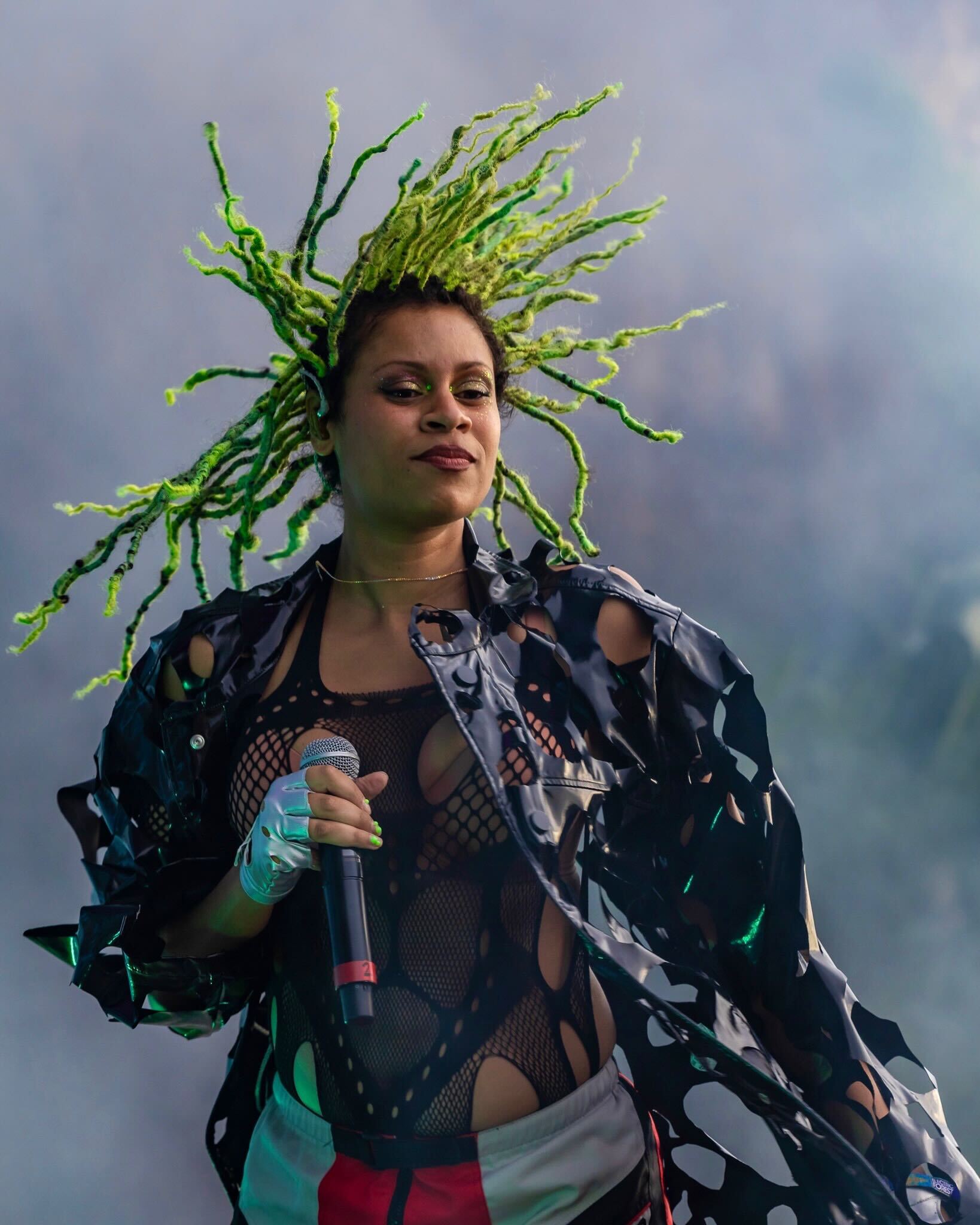 What about partnering with a brand to create a capsule?
Oh yeah, I've thought of that. For my last album, I created these gift boxes for people. The boxes were all MYCELiUM-themed, and it was one of the most fun I've had in a little while. I mean, it wasn't clothing. It was more like socks and shirts. I love the idea of collaborating. I think it would be someone who would have great ideas from my back catalog of themes or music. So,
we'll see.
I'm always curious if artists shop together – is this the case with you? Who do you shop with? Maybe you're a solo shopper.
I recently went shopping with Nao. That was so much fun because we were styling for a music video shoot for her. It was exactly how things go with me, like, 'We don't have time. The shoot's tomorrow. We don't have time to find a stylist.' I was like, 'Girl, have you been to Santee Alley?' And she's like, "What is this?" So, Santee Alley is in L.A. downtown. It's sprawling and impossible to find the same shop twice. There's so much to look through, and that's my go-to fora quick style. Nao loved it.
Sounds like a dream! What artists would you love to shop with in the future?
Kelela because she plays with high fashion and really accentuates and celebrates her Blackness. Then, Erykah Badu because I love how she's so maximalist and ethereal but also randomly comical. She's not afraid to make you laugh out loud. And then, Takisha because she's subversive, seductive, and with complete anarchy.
What do you live by when it comes to style?
Ask yourself how you want to feel at the destination. Then, when you're trying on those clothes – to stay aware – you should ask, does this send you in that direction? Trying to find a style arbitrarily based on whether it "looks good" will never get you to a satisfied place because that's not always the aim of every environment you're in. You must make your clothes work for you like a wingman or bestie. You should not make up for your clothes with your energy because then your clothes won't work.
What does fashion mean to you?
Fashion is a language, and you can make your own language, or you can learn the language that you really enjoy the sound of. Fashion communicates with the world and with your reflections. 'What are you saying to yourself, and is that what you want to hear?' So, that language is used to tell a story. It's a linguistic tool that works in a very different way, in the same way that music tells stories.
This interview has been edited for length and clarity.