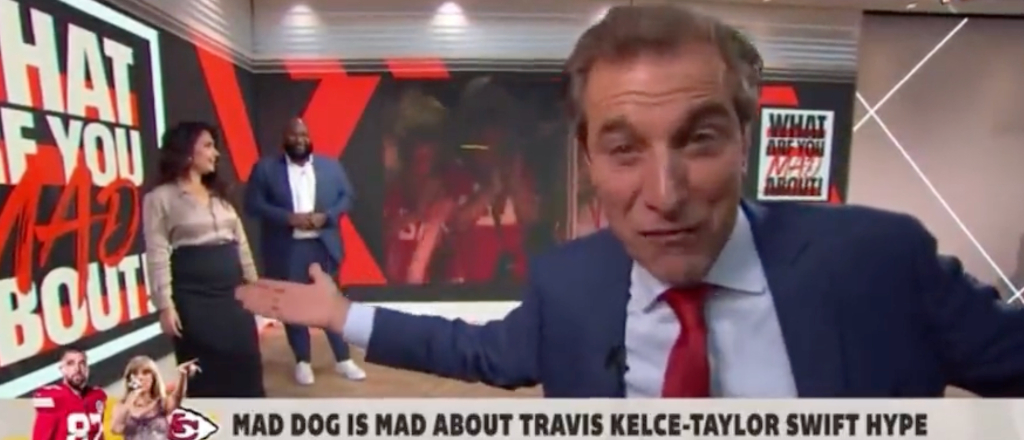 The biggest story in sports and pop culture right now involves Kansas City Chiefs tight end Travis Kelce and his flirtation with Taylor Swift. Kelce has made clear that he is … let's say a fan of the most famous person in the world right now, and there sure seems to be a lot of smoke around the two of them dating, most notably that Swift went to the Chiefs' game against the Chicago Bears this week, sat with Kelce's mom, celebrated when he scored, and left the game with him.
Kelce addressed the whole thing on the most recent episode of his podcast, but it appears that there is one person who thinks something smells funny here. That person is noted yeller Chris "Mad Dog" Russo, who took some time during his weekly First Take segment about stuff that made him mad to float his theory that all of this is about publicity.
"WHO TAKES THEIR GIRLFRIEND TWO MINUTES INTO A RELATIONSHIP TO VISIT MOMMY AND DADDY?!?!?!"

The Swifties are gonna do some damage to Chris "Mad Dog" Russo for this one. pic.twitter.com/j4NrqnYAnr

— Jimmy Traina (@JimmyTraina) September 27, 2023
"LOOK AT THIS!" Russo said, as eloquently as ever before — and maybe I am just not hearing this correctly — just screaming out a bunch of letters in combinations no one has ever put together before. He then got back on track.
"SHE WANTS TO ENJOY HER SON," Russo said. "AND WHO TAKES THEIR GIRLFRIEND, TWO MINUTES INTO A RELATIONSHIP, TO VISIT MOMMY AND DADDY? NOBODY DOES THAT! AND THEN WE'RE GONNA SHOW 'EM WALKING OUT? AND NOW ALL OF A SUDDEN, SHE'S A BIG KANSAS CITY CHIEFS FAN. SHE'S NEVER HEARD OF LENNY DAWSON."
To be clear, he might have said someone other than Len Dawson and I just am once again not hearing him correctly, but really, that part is not important here. (Well, it is kinda important in that it's crappy to pull the "I bet she has never heard of THIS athlete!" card.) (Also, Swift is a well-documented fan of the Philadelphia Eagles.) While Stephen A. Smith and Marcus Spears attempted to compose themselves, Molly Qerim prodded Russo a little bit.
"I can't believe you're mad about Travis and Taylor," she said. "They found love."
"FOUND LOVE?" Russo responded. "WHAT ARE YOU CRAZY? FOUND LOVE? ARE YOU NUTS? YOU CAN'T BELIEVE THAT. FOUND LOVE AFTER FIVE MINUTES? PLEASE. OH IT'S … FOUND LOVE? OH MY GOD, FOUND LOVE? YOU KNOW WHAT THEY FOUND? LET'S GET SOME PUBLICITY, THAT'S WHAT THEY FOUND."
I am sure they talked about other things on First Take on Wednesday morning, but I am willing to wager that nothing else was this loud.