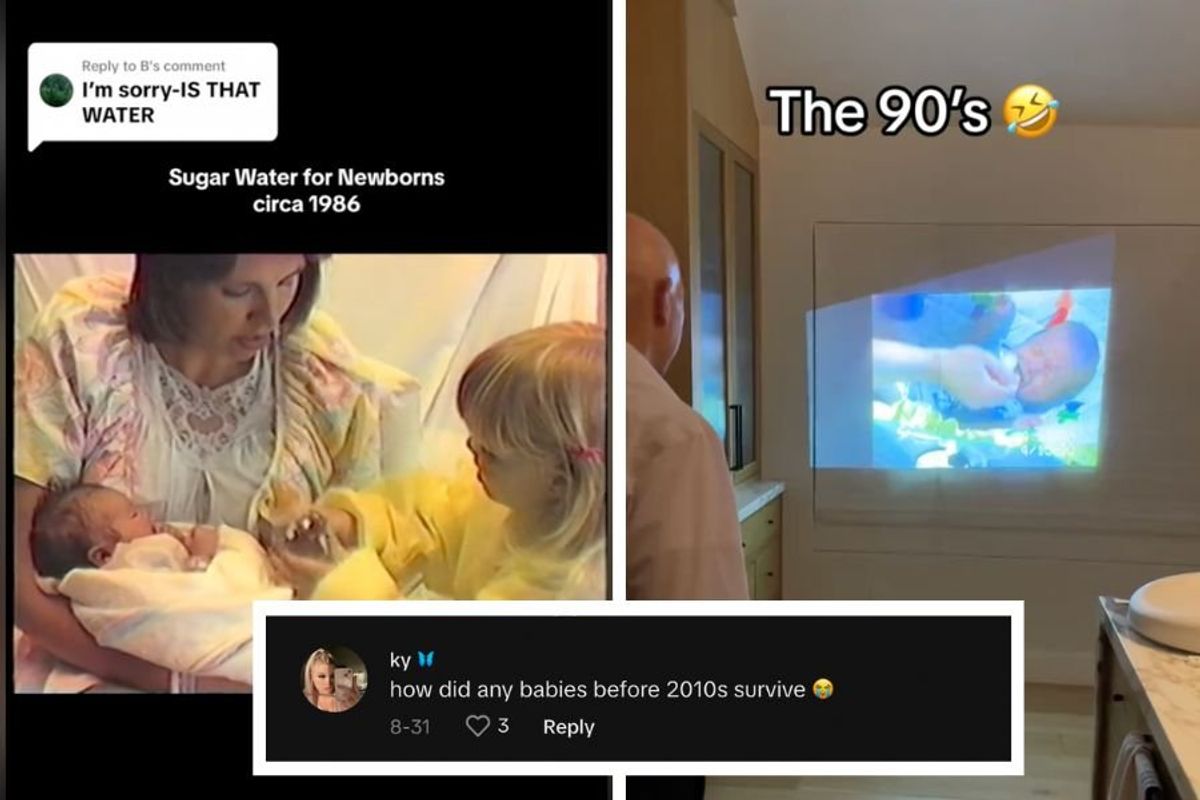 Parenting has changed. A lot. So many things our parents did that were considered normal in our childhood—that is, for all us millennials and Gen Xers—would simply never fly today.
This is thanks in large part to the digital age, and the countless ways to access information. Radio, magazines, television, books, online blogs, Facebook parent groups, informational podcasts, public studies…thousands of voices helping shape family dynamics and warn of potential dangers.
If there's ever any doubt into how far we've come, let technology once again remind you. A trip down memory lane via TikTok might be, as the kids say, a bit cringe, but boy can it help instill a little gratitude.
---
On a mission to share her childhood "one home video at a time," a woman named Rachel has an entire TikTok account dedicated to short glimpses of her younger years.
Her content is an instant nostalgic hit for those of us who grew up in the 80s or 90s. We're talking Rainbow Brite, roller skates, Sesame Street, backpack purses when they were cool for the first time. All the feel good stuff.
And also—maybe some of the not-so-feel-good stuff. Recently, Rachel shared a video of herself as a newborn with her mom…when viewers noticed something strange in her bottle.
"I'm sorry — IS THAT WATER," one concerned viewer asked.
Rachel followed up with , "Indeed, it is", writing "Sugar Water for Newborns circa 1986" in the video caption.
Once upon a time, sugar water was used as a bit of a cure-all for infants, helping fight off common colds, ease bellyaches, and everything in between.
And while some studies do show that sugar water can help ease pain, and certain hospitals do use it during painful procedures, professionals still suggest against administering it at home.
For one thing, babies don't need water until they're six months old. They get all the hydration they need from breastmilk or formula, according to WebMd.
Second, the Dietary Guidelines Advisory Committee says that any foods or beverages with added sugar should be avoided "during the first two years of life," as it is likely to replace more nourishing foods and cause nutrient deficiency, and is "linked with increased risk of overweight or obesity."
But for many parents today, this is not new news. Which made Rachel's video so horrifying.
"As a new mom this genuinely is making me want to cry 😭 There was so much misinformation back then. Those poor babies," one person wrote.
Of course, it could be worse. As one person shared, "My mom gave me Mountain Dew in my bottle 😳." Yikes.
In another video, this one captioned "parenting before the internet" and shared by dad and TikTokker Vaughn Trainor, we see another bane of modern parenting—rice cereal.
Specifically, rice cereal being fed to newborns. Experts say that solid foods should not be introduced into a baby's diet until at least four months old, when they can hold their head and sit upright on their own, start grabbing at things and show interest in food when the parents begin eating.
In this video, however, Trainor is one month old, laid back (also a big no no!) and being spoon fed by his mom, who is heard quoting the parenting magazine that suggested heavier things be eaten this way.
Over 5,000 people commented on this one, many of whom noted how this type of diet might influence common digestive issues many adults face.
And while there could be several factors contributing to this that go beyond what we were fed as babies, it is true that millennials seem to suffer the worst when it comes to gut health.
But it's not just problematic food choices. Rachel shared yet another home video, this one titled "Nursery Tour circa 1986," that showed her baby self lying in a crib surrounded by pillows, stuffed animals, and, for some reason, a mirror.
But it's not just problematic food choices. Rachel shared yet another home video, this one titled "Nursery Tour circa 1986," that showed her baby self lying in a crib surrounded by pillows, stuffed animals, and, for some reason, a mirror.
…All of which can be life threatening and lead to Sudden Unexpected Infant Death (SUID), if you ask the American Academy of Pediatrics.
Which is why this comment pretty much sums up everyone's collective feeling:
"It's a miracle any of us survived."
And while we can obviously make the case for "I'm still here, so it couldn't' have been that bad," when you look at infant mortality statistics, which is the lowest it's ever been worldwide, it's hard to deny that maybe, just maybe, being more savvy about childcare could have something to do with that.
So, yes, many parents today might lean towards being more anxious by comparison. But it's only because death is literally lurking at every corner! Yay vindication!
And as mortifying as some of these parenting behaviors might seem to us now, what doesn't seem to change is parents wanting to raise a healthy kid, to the very best of their ability. We might have gentler, more science-backed ways to go about it, but the love remains the same.