The phrase "destination festival" has had a great couple of years. Over the past half-decade, we've seen a flood of images on Instagram featuring stages overlooking the beach, DJs on catamarans, and all-inclusive resorts. And those are all great. But Alaska's Sacred Acre festival — which balances electronic music with the wonders of the great wild north — takes the idea of traveling to party to the next level.
We're talking about 1,500 attendees heading to Alaska's Kenai Peninsula just before the whole area gets cold-as-all-hell for eight or so months. It's a mission but the effort paid off. Check out my full guide to Sacred Acre below.
Part I – The Festival Grounds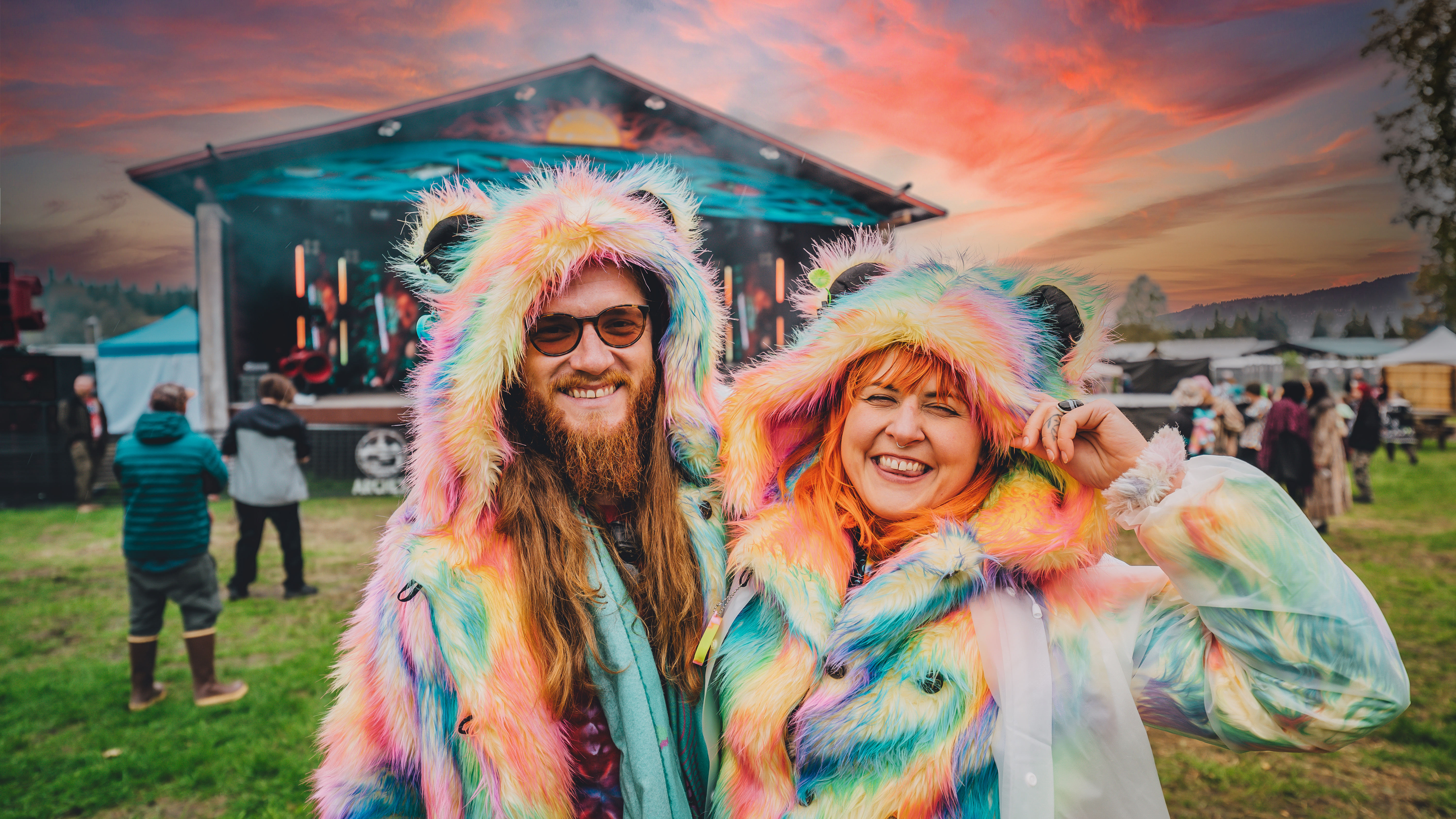 Let's be honest: Alaska isn't necessarily the easiest place to get to. Even coming from central California, I had a short layover in Seattle before making another three-hour flight to Anchorage. But that's what set this festival apart from others that I've attended on the summer festival circuit — it was really truly "out there."
The journey continued once I landed in Anchorage with a breathtaking (but, you know, not short) four-hour shuttle ride with other festival attendees and music headliners along the Kenai Peninsula. The name is derived from the word "Kenaitze" or "Kenaitze Indian Tribe," the name of the Native Athabascan Alaskan tribe who historically inhabited the area. The Kenaize called this place "the good land" and I certainly felt that on the drive. Especially as the sun set over the coast.
Once I arrived in Ninilchik, I again found myself in awe of the natural environment that surrounded me. We were nestled in the Cook Inlet off of the Gulf of Alaska. The town itself has a population of just under 1,000 people, so the festival more than doubled the town's population for three days. But from what I witnessed, the locals were very much part of the festival, volunteering and working around-the-clock eager to greet us "lower 48" folk.
Throughout the weekend, attendees were able to explore Sacred Acre's 40 acres of ancient woods and dance around-the-clock to music at the River Stage. A short walk through a hand carved wooden arch led attendees to The Sanctuary, where Alaska artisan crafts were on full display, while the Stillwater Reflection Center warmly greeted attendees with sound healing, breathwork, cacao ceremonies, and yoga workshops throughout the weekend.
There was almost always something happening — a set to dance to, a workshop to attend, or some other way to connect with others. Pretty impressive considering the scale of the event.
Part II – The Music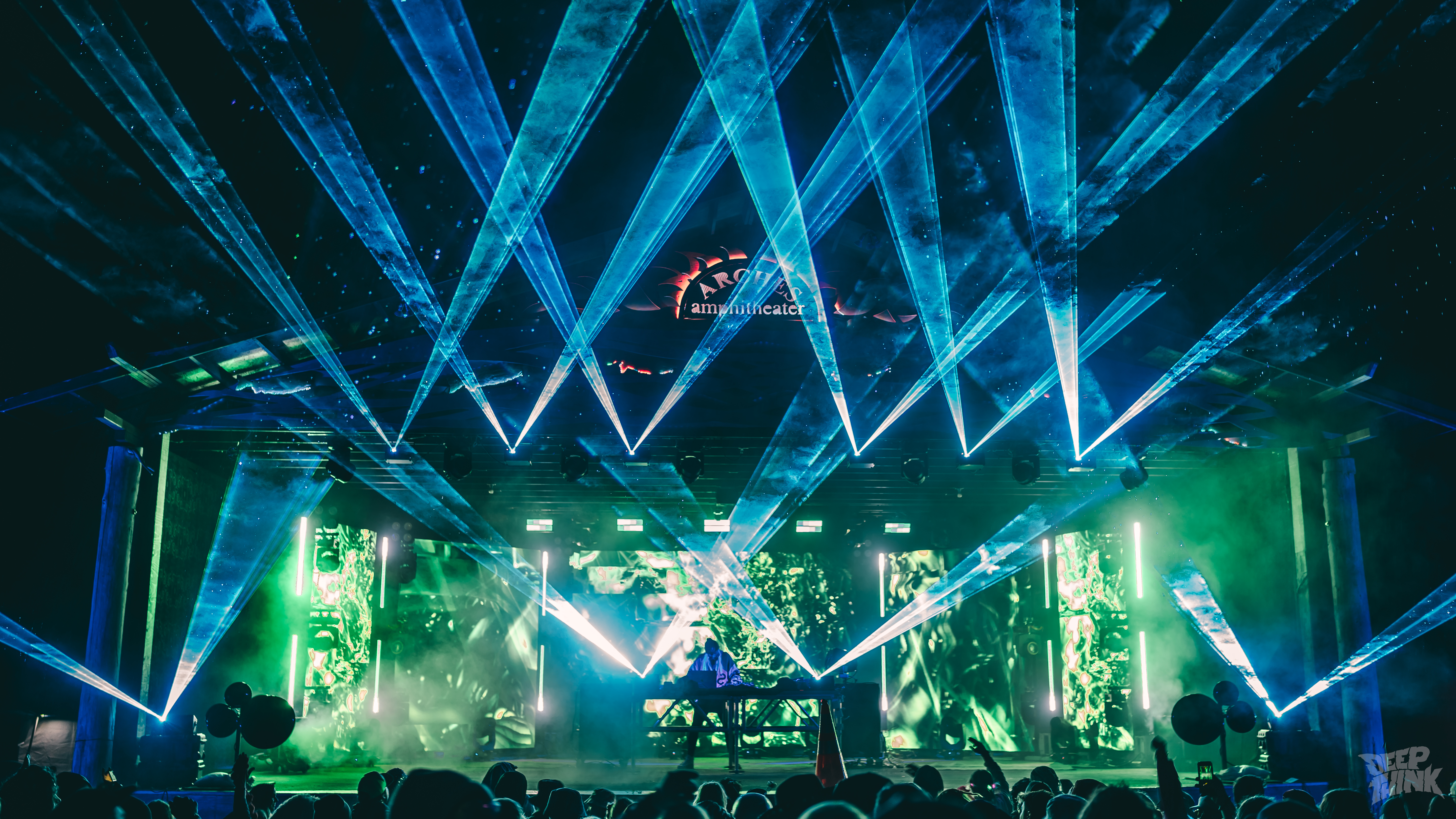 Because of the intimacy of Sacred Acre, attendees found themselves dancing alongside the music headliners on the dance floor, bridging the gap between the fans and artists for a truly unique and personal festival experience. Case in point, when Manic Focus threw down his two sets over the weekend, fans saw video projections of themselves dancing alongside him as he watched other headliners play on the main stage.
You don't get that at Coachella. You just don't.
Sacred Acre also brought the most visually stunning laser and digital art displays ever showcased in Alaska. Denver-based twin duo MZG got the festival started on Friday with their bass-driven trap beats. The chemistry between these two on stage was infectious and attendees quickly flooded the main stage to get in their first dance session of the weekend.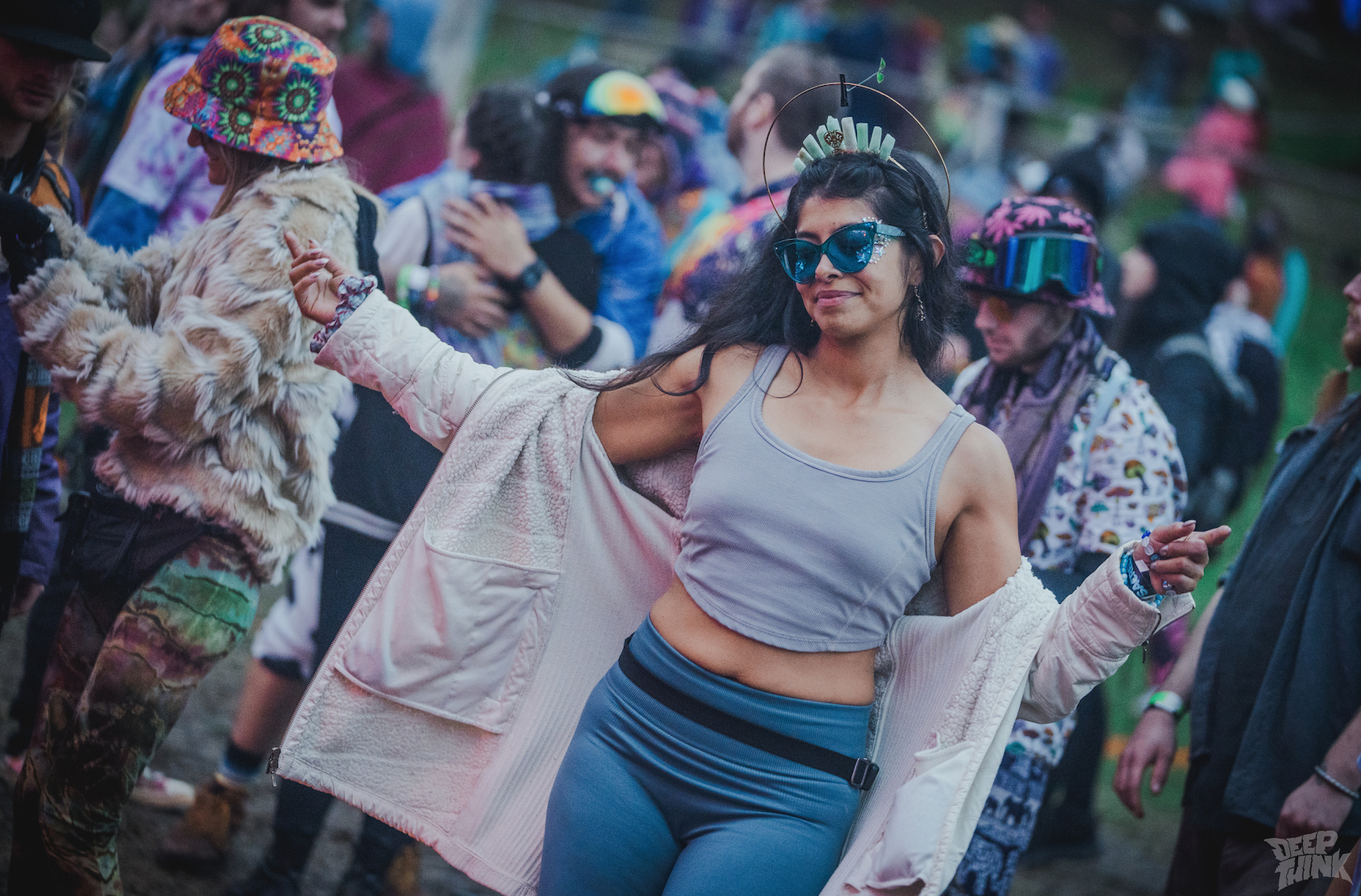 Friday evening continued with an incredible set by keyboard master and producer Jason Leech as he remixed Ludwig van Beethoven's Bagatelle No.25 (aka "Für Elise") into a filthy dubstep mix. Multi-genre producer Artifakts followed suit with his plethora of classic funk grooves and a melodic drum and bass bust-out of Dido's "Thank You" that hit everyone in the feels.
As the first nighttime set of the weekend, Maddy O'Neal strode onstage and took our collective breath away. The Denver-based, electro-soul maven took over the festival with her hypnotic, hybrid DJ/drum pad live performance, swooning the crowd with soulful, funky bass music. Sacred Acre attendees were the first to hear her recent new track, "Woofer" played live, which was well received and a special treat for her northernmost fans.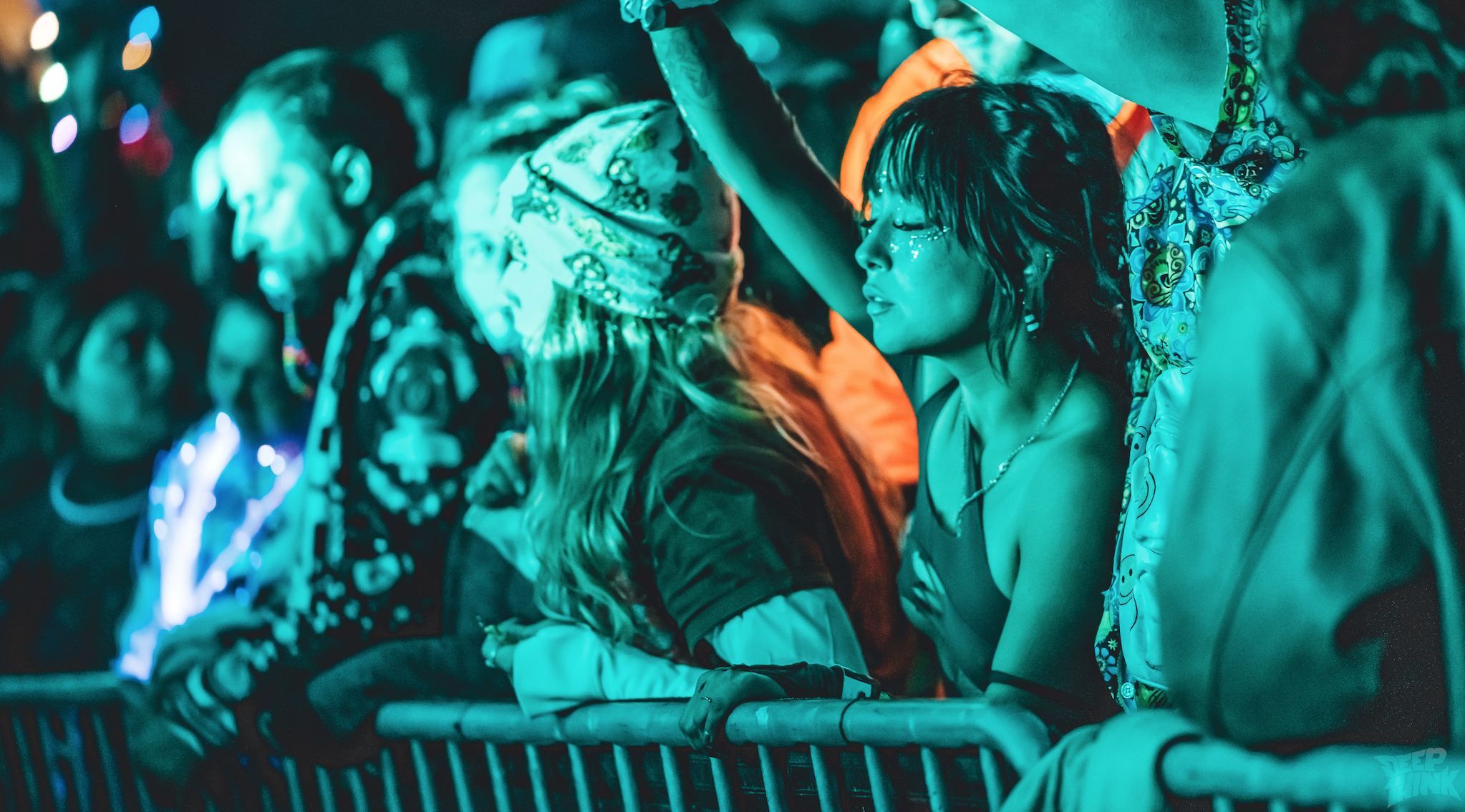 The main stage closed down for the night with specially-curated sets by Manic Focus and Of The Trees. Manic Focus sparkled into the starry night with his new-era hip-hop beats and heavy-hitting bass, while Of The Trees conjured deep-rooted bass soundscapes throughout the forested setting, sending attendees to their knees by playing out one of the electronic scene's biggest unreleased IDs by Hamdi into his set.
Although the main stage was finished by 12:30am, the party went well into the late night. Josh Teed lit up The Abyss with his intricate genre-spanning sound production equipped with his live violin. The dome-shaped mini venue swallowed you up with 360-degree LED panels, making his set one of the best and most memorable of the weekend, weaving one of his latest releases "Obsidian" into his performance.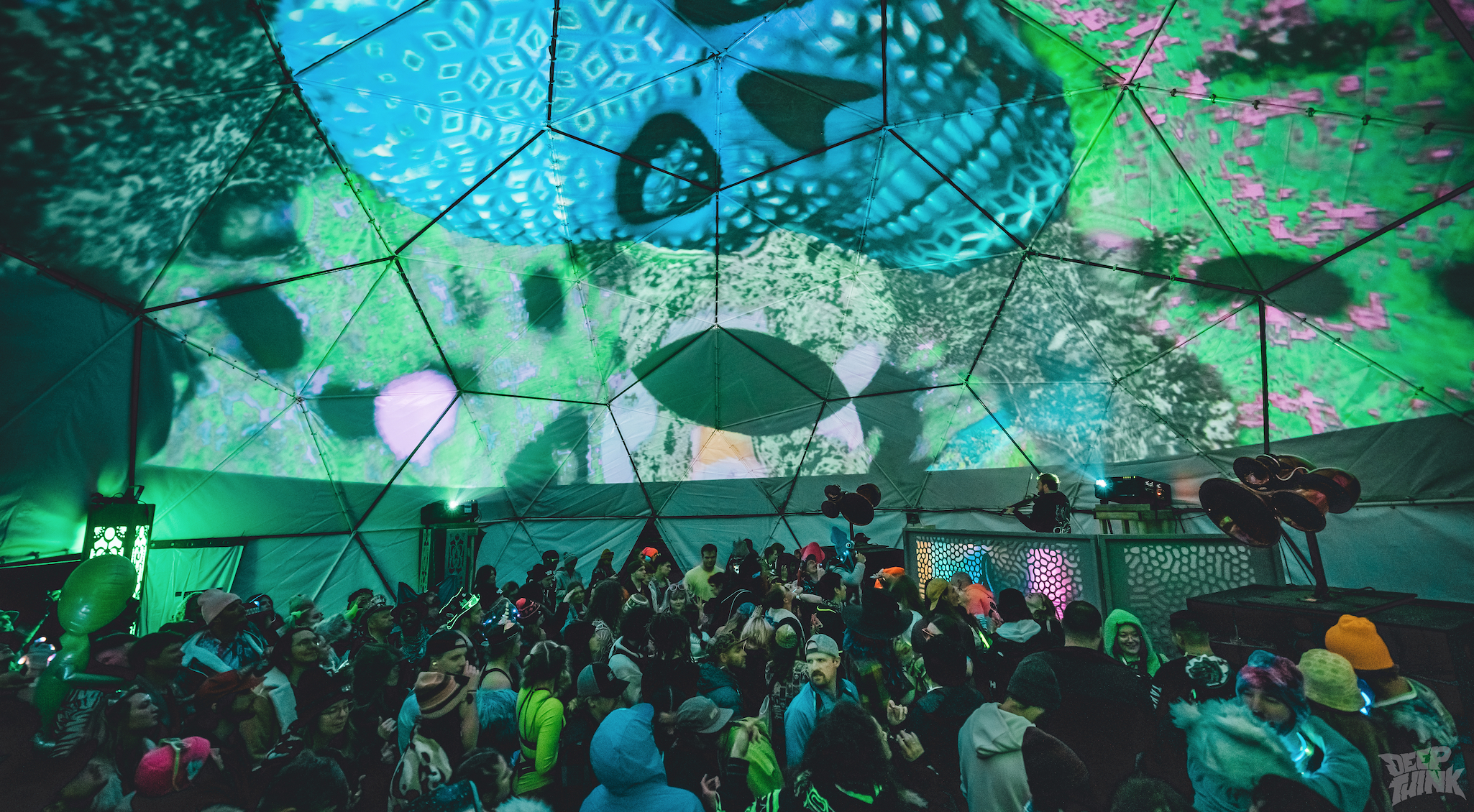 Saturday offered up a warmer day, making it the perfect day for a more bass-heavy and "wubbier" music schedule. Coming back from my helicopter ride (see below), I found Marvel Years was deep into his main stage set at 7pm, throwing down a tasty concoction of new-era hip-hop driven bass.
Making her way up from Denver, NotLö steered the evening with her dark and low-end bass grooves which effortlessly segued into KOAN Sound's precision-driven electronic sound design, equipped with some DnB bust-outs.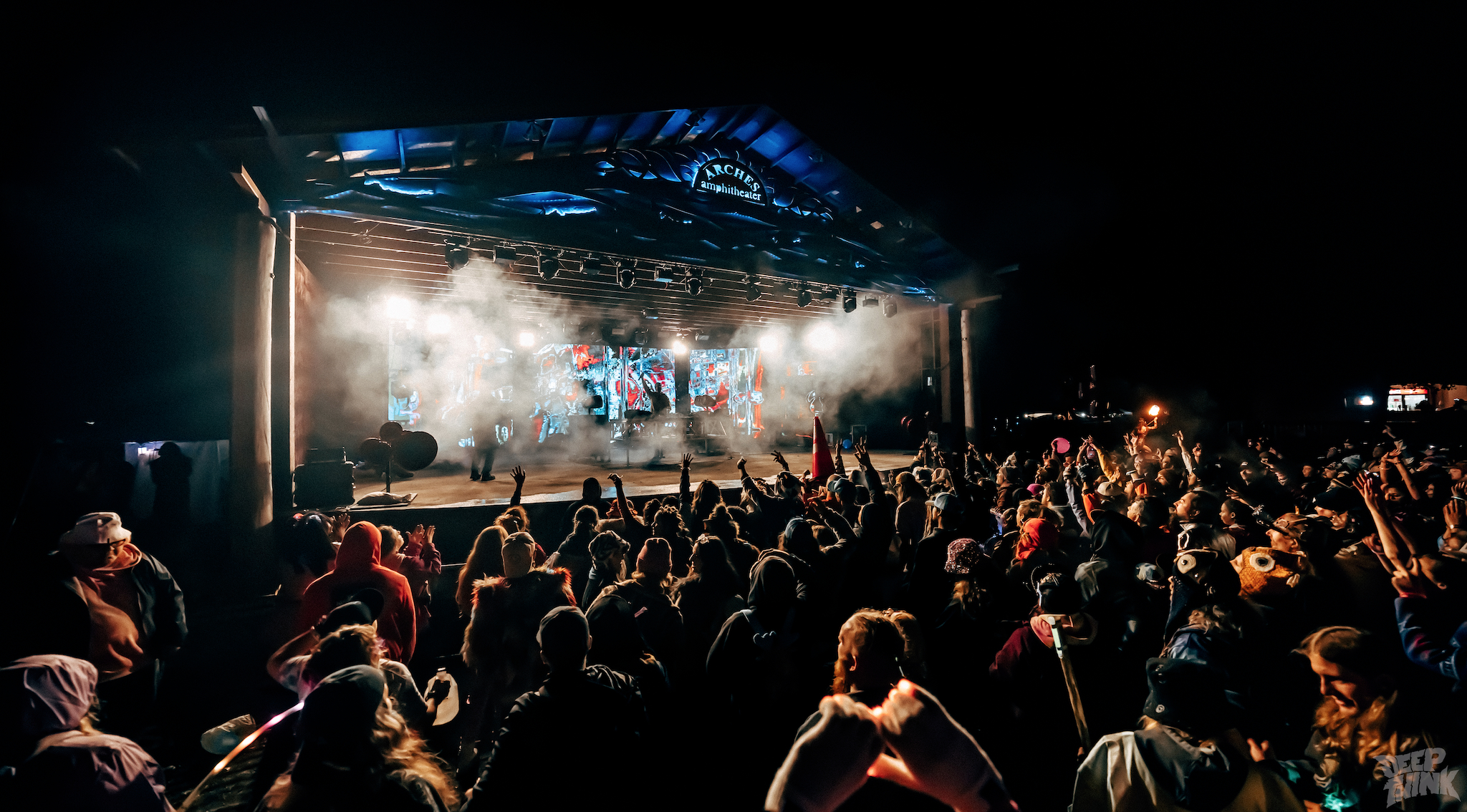 Saturday night's mainstage was rounded off the with The Widdler and Boogie T. The festival's sea creatures of the night came alive during The Widdler's set, filling the dance floor up with LED multi-person sized crabs and bottom-feeders that wiggled to The Widdler's menacing bass and dubs — including his "Sandstorm" and "Mr. Brightside" dubstep remixes. Boogie T concluded with a signature dubstep and riddim-based set, finishing off the main stage with a 420-friendly atmosphere that his fans love him for.
It seemed that Saturday night was the "party-heavy" night of the weekend, with attendees flooding The Abyss well into the early morning. Motifv kicked off the LED dome at 1:30am with a special "Pathways" set. Trading in his usual upbeat electro-hop melodies for a more reserved, lo-fi beat-driven performance, the Denver-based producer set up quite the laidback late-night scene. Late Night Radio continued the vibes through 3:30am with his unique hybrid take on electronic sound design, inspired by third coast hip-hop grooves and electrifying bass.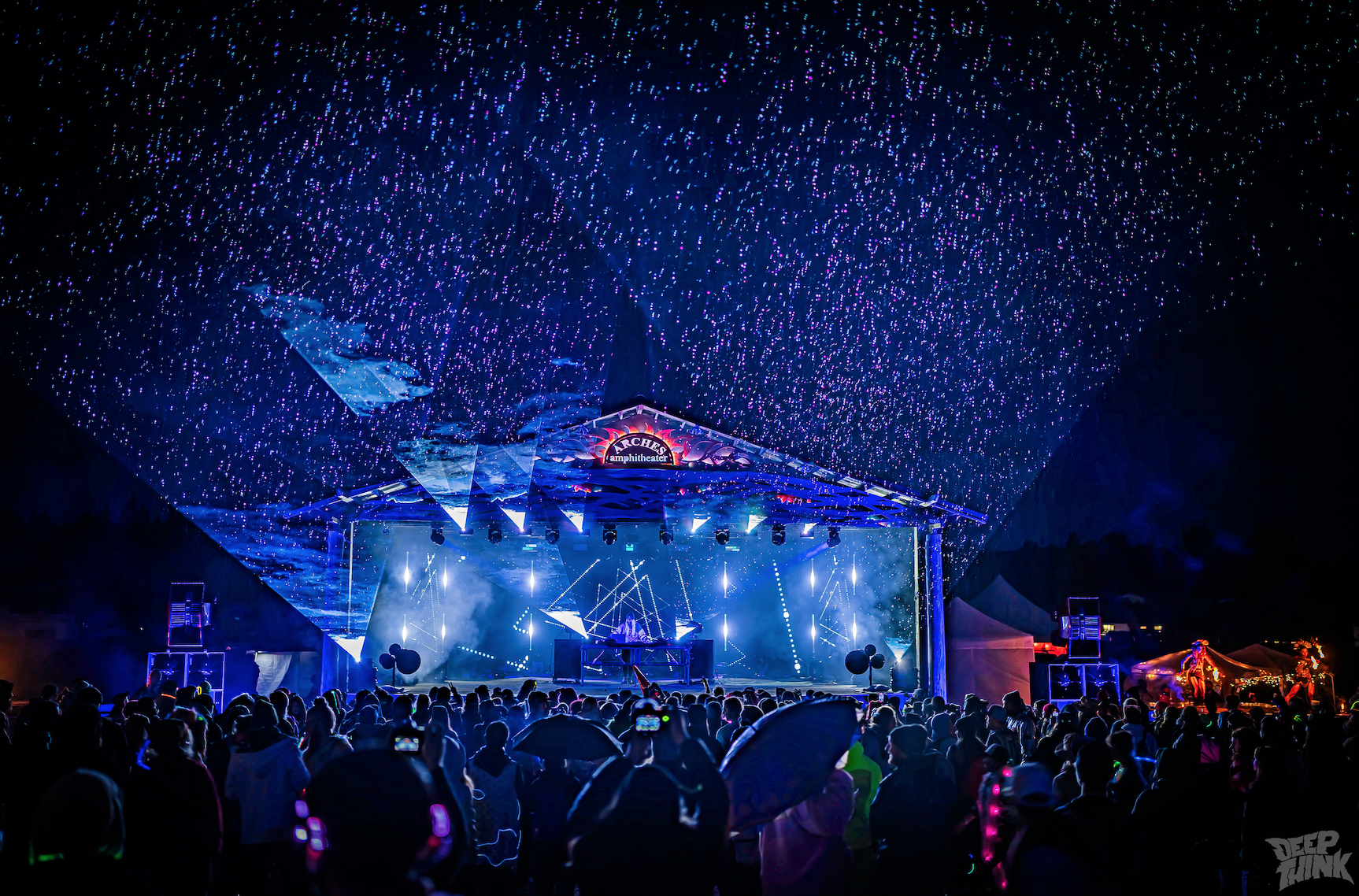 Sunday – the last day – was the warmest of the weekend and provided some clearing of blue skies and sunshine with a relatively warmer evening. Coming back from the boat (see below), I was warmly greeted with a powerhouse duo set between Jason Leech and Phyphr. Together, the two played a monstrous set with live electro-soul guitar stylings and funky key synths. Marvel Years followed after, dosing attendees with yet another soulful electro-groove guitar set. With a quick break, he returned onstage with Manic Focus and Colby Buckler for a Manic Focus Live Band performance, complete with a groove-heavy remix of A Tribe Called Quest's "Can I Kick It" remix alongside glitchy, funky beats.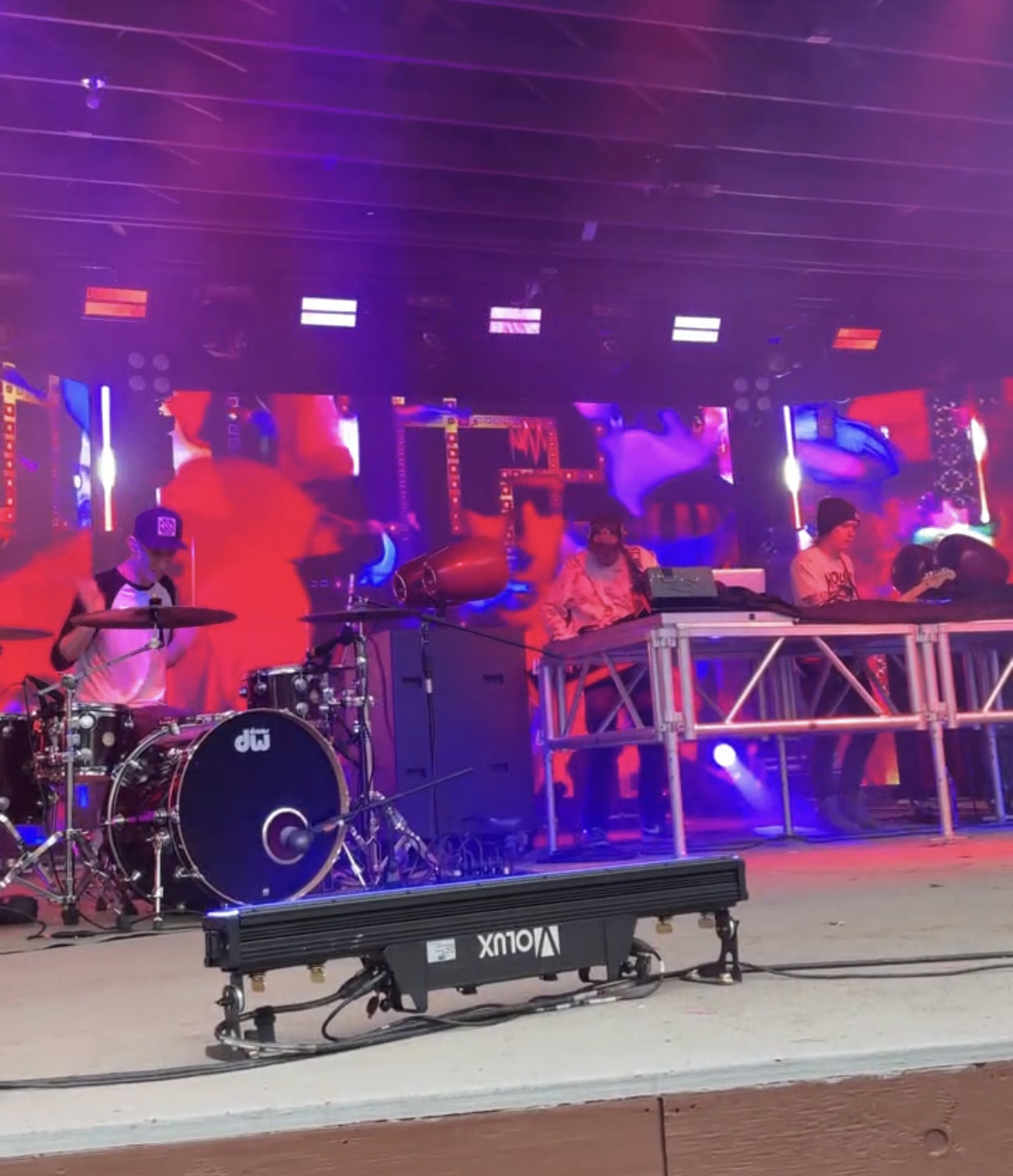 Daily Bread closed down Sacred Acre with a revolutionary electro, hip-hop soul performance. Throwing in his heavyweight track "Snickerz," iconic "Moreland Ave Blues," and an Artifakts remix, the producer ensured that fans concluded the weekend in high spirits.
Part III – Sacred Sustainability
At this point, I really won't attend a festival unless there is some hard-evidence available of their sustainability protocols. While many festivals cater to the cookie-cutter sustainability elements of "zero waste" and "zero plastic" messaging (which is still a great thing to do), Sacred Acre focused its efforts on a specific issue at large affecting its homeland — fisheries.
Sacred Acre's foundation is ultimately one of philanthropy and activism. The festival – placed in one of the biggest fishing towns in the United states – helped raise awareness around trawling: the practice of factory ships dragging massive nets along the ocean floor, destroying and catching everything in its path including sea animals and wrecking precious marine habitats. By gathering attendees in an intimate space, the festival connected, informed, and taught attendees on how to stop active destruction of oceans.
Throughout the weekend, Sacred Acre provided a space where organizations and individuals were able to distribute relevant information on trawling and other critical issues facing the ocean, wildlife, and waterways of Alaska. While this actively affects Alaska and its people directly, the real-time detrimental effects from trawling are set to trickle down and impact the rest of the world's ecosystems.
In addition to its education initiatives, the festival served all drinks in reusable metal tumbler cups and water bottles, while all vendors onsite used recyclable or compostable wares.
Part IV – Festival Curated Experiences
What's a destination festival without specially-curated experiences?
Sacred Acre blew me away with its dedication to fan experience and excursions unique to its environment. Attendees were able to choose from a selection of activities unique to Alaska, such as Alaskan native plant foraging, underwater spearfishing, glacier helicopter tours, and fly fishing.
Additionally, many attendees opted for Saturday's "Bumping By The Bay" three-hour cruise, which featured special sailing sets by Manic Focus, MZG, and Rachel Monae on Kachemak Bay among the gorgeous cascades of mountains and natural wildlife.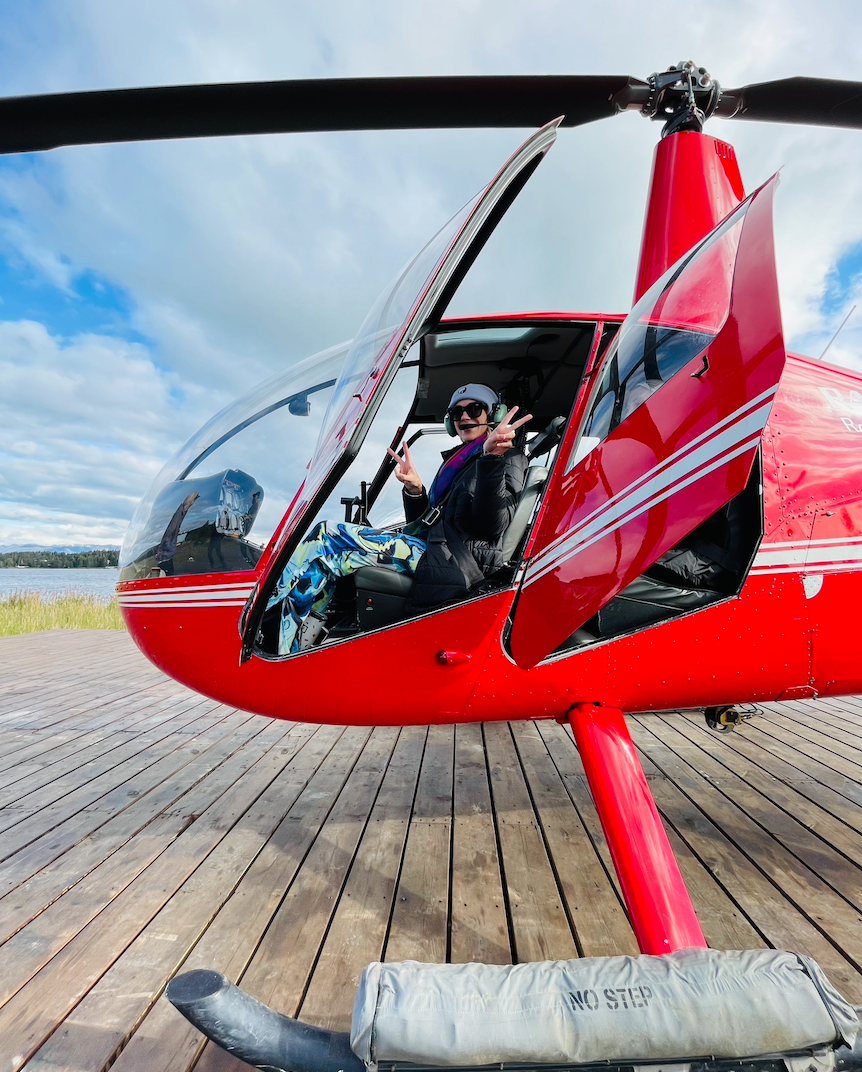 I was surprised during my attendance with a personal three-hour helicopter ride out of Homer. I arrived at Alaska Ultimate Safaris on Saturday afternoon. My pilot Kirsten made the whole experience a breeze, and I played the role of co-pilot sitting next to her for the ride. Throughout the journey, she pointed out key elements of Alaska's breathtaking environment, flying us over three glaciers – Grewingk, Portlock, and Dixon.
While flying over some fall foliage mountaintops, we made a last-minute landing to watch some mama black bears and their cubs eat blueberries and stuff themselves for the forthcoming winter season. As if that weren't enough, we ended the tour with a celebratory landing on Nuka Glacier, where I geared up with microspikes to walk among the ancient ice and pop a bottle of champagne.
On Sunday, I spent the day on the sacred waters with a personal boat tour by Naughtycal Dreams. Hosts Kira and Sandy took us out on the Cook Inlet, Eldred Passage, and Sadie Cove on Alaska's only cigarette 38 Top Gun speed boat and the northernmost speed boat in the world. This was my favorite aspect of the festival's curated excursions because it brought me right on the water that is so gravely threatened by trawling, so it was important to see these waters firsthand.
With plenty of blankets, cookies, and hot cocoa, they took us to tour Stillpoint Lodge, located on the pristine northern waters of Kachemak Bay and Halibut Cove. With spiked drinks in hand, we toured this sliver of remote paradise as it was wrapping up its summer season and sat around a campfire sharing travel stories with the owner JT, threw axes, and toured its beautiful grounds full of homegrown vegetables before taking a scenic boat ride back to Homer.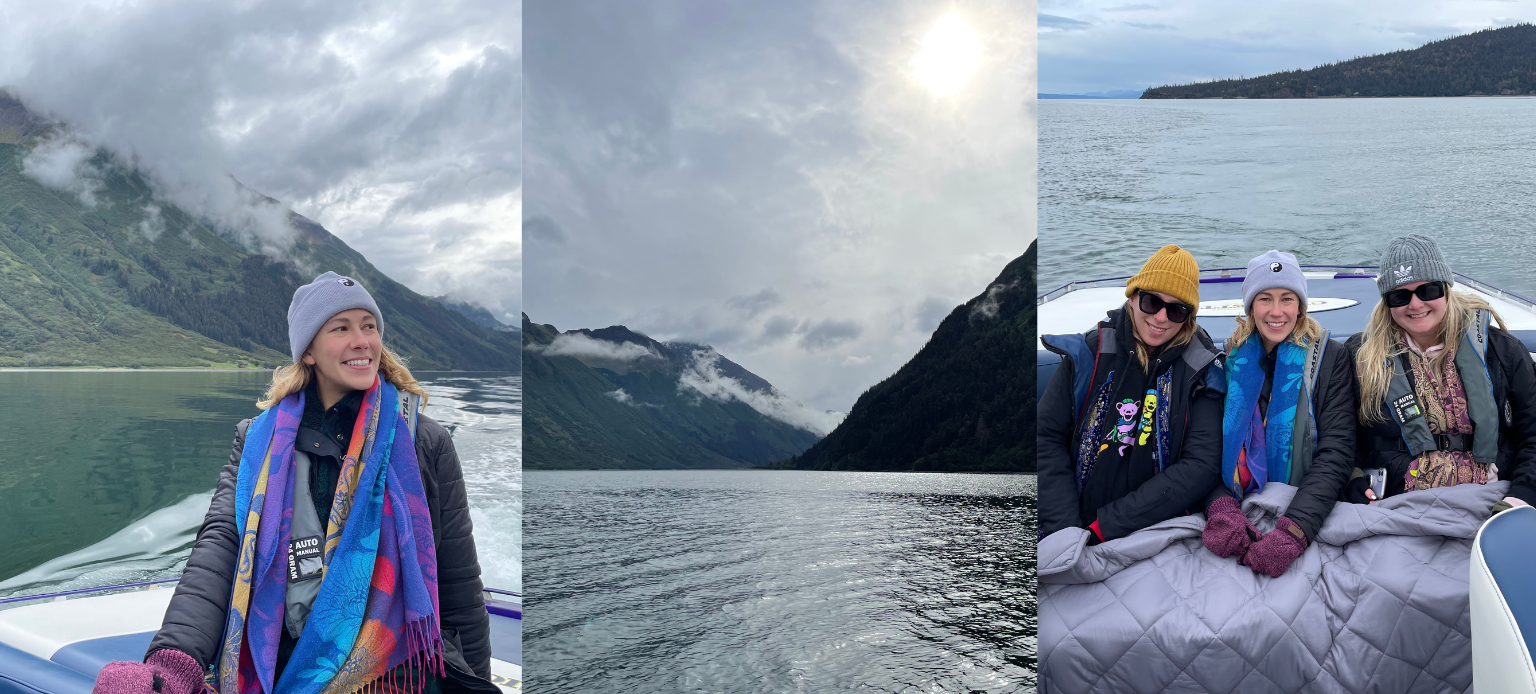 As a second year destination festival, Sacred Acre has already fostered immense connection and mindfulness to its grounds. While I always hope to see festivals gain larger attendance, I do hope that this gem will forever remain a special, intimate destination gathering for all the cool kids to come back to again and again.